Edwin Yang and Victoria Chen | GRAD-preneurs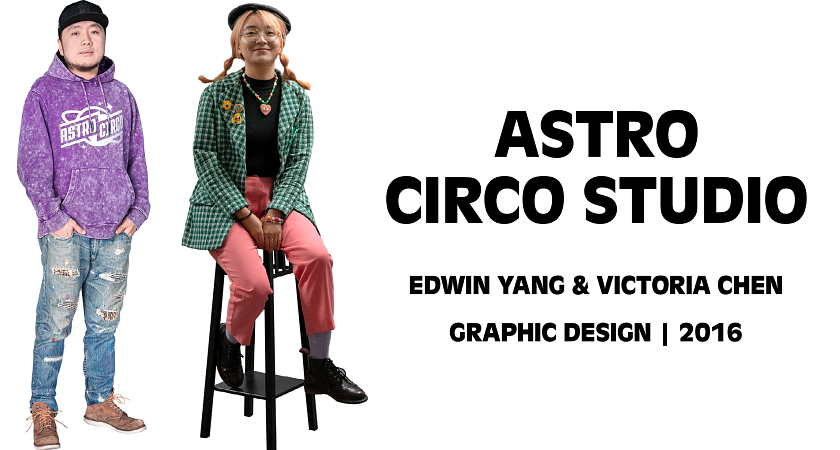 Edwin Yang & Victoria Chen are 2016 graduates of our Graphic Design program. They started Astro Circo Studio, an illustration-based graphic design studio, in 2019 and are both working as graphic designers and illustrators.
--
What's the most interesting thing you've done professionally since leaving the School of Communications, Media, Arts and Design?
Edwin: I used to hate the coding course when I was at SAC. I've never thought I would use those skills until one day I had to build a website for our studio. During the whole experience, I was kinda suffering, but it was interesting, and it was very satisfying when it launched.
Victoria: The most exciting thing I have done is to create a fresh new story with one of our clients. They are a tapioca milk tea shop and need to upgrade their old brand. We knew their 100% handmade tapioca is the most significant selling points in the rebranding project's progress. In order to make all the correct details, I've participated in their making process and observed those workers over several weeks. Finally, I proposed creating a few tapioca characters and sketched a funny story about their making progress. It let their customers know how they work. Joining the client's working line to get my design idea is very interesting.
What's your favourite memory from your time at the school? 
Edwin: The student art show at each end of the academic year.
Victoria: On the first day in SAC, I met my future husband and business partner, Edwin.
How did your experience at the school shape your entrepreneurial goals?
Edwin: I had to treat the assignments as real cases in the program and follow the instructors' requirements very precisely. It was stressful, but very lucky to have the experience. It made me well prepared for taking a real project.
Victoria: I have to say the school assignment is beneficial, even if you don't know right now. During school, I remembered I used to complain about the project's requirements being too picky; Why did the professor ask me to make the whole poster in 14 point text or ask me to use only one font that he/she wants? Now I understand that because of some clients you will meet after school.  Those experiences shaped me to have rigorous thinking power and helped me to achieve my entrepreneurial goals.
What advice can you offer students who have entrepreneurial dreams?
Edwin: I think it's important to recognize your core capabilities, strengths and weaknesses before you start.
Victoria: Recognize your core capabilities.
What's the best piece of advice you received when starting your business?
Edwin: If you want to run a business well, you have to learn a lot of things that are out of your scope or find a reliable partner.
Victoria: To choose a development direction that works for you.
In one sentence, what does the School of Communications, Media, Arts and Design mean to you?
Edwin: I feel very lucky that I didn't waste anything that I learned from SAC, including coding skills.
Victoria: Bring me to the real graphic design industry earlier. Let me know what I should start a project on and finish it.
How did you come up with the idea or concept for your business?
Edwin: I always knew that one day I would set up my own design studio. It doesn't have to be big, but it has to be creative and high-quality design. Since I graduated from school, I've been working at a branding agency for almost three years. A lot of work in a professional company will give you a faster experience growing and start your own business earlier.
Victoria: I was tired of repeating life in a formal company, and I didn't want to waste my creativity. I think starting a studio is the only way.
What have the results of your business been?
Edwin: We are couple-studio, which means we have only two employees. (and a cat) On this scale, we are far from "success" but we feel very happy that we could do commissioned work and our creativity project at the same time.
Victoria: Astro Circo Studio has been running for two years now, and we have still decided to work at home, which is enough for us. We are focusing on branding design for small businesses, doing logos, posters, and packaging design. Sometimes, we also sell our illustration talents to them, and they also like it.
What's next for your business?
Edwin: Our next goal is to expand the creative part of our work. We are planning to produce some fun products in the title of our studio.
Victoria: Our next step is to bring our design and art to real life; we hope people can wear our design, use our design and even taste our design.
It's your call - tell us something interesting, cool, odd, unique etc. about you or your business.
Edwin: We put tons of fun and odd stuff on our website and Instagram, indescribable by word. Please follow us to get instant updates on what's going on! :D
Victoria: Besides working on client projects, I also have my own hobbies, such as being a Youtuber where I share how I draw on iPad; making clay art by hand selling them on Etsy; welcome to find me on Instagram @victorydeptstore
Be sure to check out Astro Circo Studio on their website, Instagram, and Facebook.
--
GRAD-preneur is a weekly series that highlights some of the outstanding School of Communications, Media, Arts and Design graduates who have successfully started their own businesses. This series shares the stories of our graduates and their time at our school, as well as provides valuable advice about being an entrepreneur.