Samantha Mok | GRAD-preneur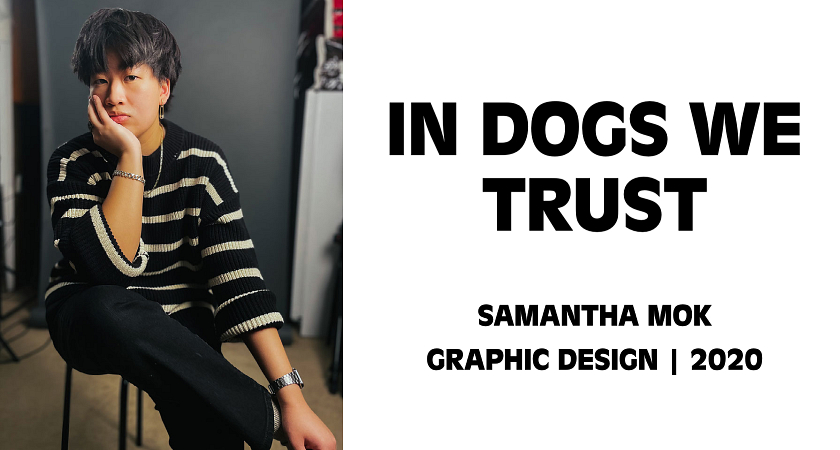 Samantha Mok is a 2020 graduate of the Graphic Design program. She created IDWT ('in dogs we trust') - a dog treat and supply company based in Scarborough that makes small-batch, gourmet dog treats and desserts.
"I came up with the idea in 2019 as part of my thesis project, but formally launched the business in late August 2020. Like many small businesses, IDWT is more or less a one-woman show at the moment. I handle every aspect of the business – so that means I'm the one doing the designs and content for the site, social profiles, and packaging, but I'm also the one doing the accounting, order processing, customer service, etc. And most importantly, I create all the recipes and make everything by hand in our home kitchen (that's the fun part, though!)."
--
What's the most interesting thing you've done professionally since leaving the School of Communications, Media, Arts and Design?
I graduated this past April, right in the midst of the pandemic and subsequent lockdown – so things have been pretty unplanned and unconventional, to say the least. The most interesting thing is definitely finding the confidence to take IDWT and turn it into an actual business. I've been having a lot of fun with it, both as a designer and accidental baker, and it's been a great way to connect with awesome people and pups (through Instagram!), even if we can't hang out in person.
What's your favourite memory from your time at the school?
I wouldn't say this is a favourite memory for a positive reason, but I remember just totally losing it after my first RGD review – like, full-on ugly crying in my prof's office. I felt like I had poured so much into my (first year) portfolio, and the feedback I got on it was so…. Lackluster! The reason I look back on it as a "favourite" memory is because the year after, I had a much better review (and portfolio), and by the time I graduated I received multiple design awards from RGD and other organizations. Although I wasn't laughing at the time, it's funny to look back now and remember my reaction at the time, as if things weren't going to get better.
How did your experience at the school shape your entrepreneurial goals?
I didn't go through school with the intention of starting a business at all – at the time I was presenting IDWT as my thesis project, I even told my professor I had no intention of turning it into one! The thing is, though, I've always been good at 'going with the flow', so to speak – so when I found myself two months out of school in the middle of a pandemic with all my prior job prospects on hold, things kind of just fell into place for me. I wouldn't call myself a traditional entrepreneur at all; mostly I'm just driven by doing what I want to do and what I think is cool.
What advice can you offer students who have entrepreneurial dreams?
Jumping off from my last point, my advice is always this: go for it, but be smart about it. Risk is necessary, but you can make a calculated one. A lot of people have dreams of starting things, but end up finding reasons not to – be it personal motivation, finances, other priorities, etc. I'd love to be the kind of person who goes "Just do it, put 110% into it!", but the reality is, not everyone is in a position – financially or otherwise – to jump into things blind. To be frank, when I decided to start IDWT, one of the biggest influences was the fact that I had some award money to invest. That $1000 was my budget for everything, and my only goal for the first quarter was simply to make it back. That way, if the business failed, I didn't really lose anything, but if it succeeded, I had a lot to gain.
What's the best piece of advice you received when starting your business?
I've had this graphic saved since 2013 that basically says the only difference between a creative and non-creative person is the mindset of "it would be cool if someone made [blank]" Versus "it will be cool when I make [blank]". I love that idea and go back to it a lot – instead of just sitting on ideas and waiting for someone else to make them happen, do it yourself.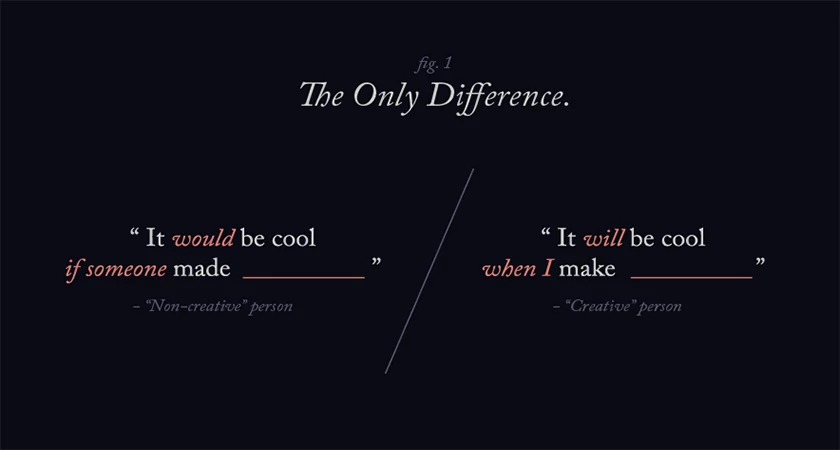 © Olly Moss
In one sentence, what does the School of Communications, Media, Arts and Design mean to you?
There are opportunities at every corner, as long as you want to take them!
How did you come up with the idea or concept for your business?
The short answer to this is that IDWT was actually my final thesis project – so I already had all the designs for the business/packaging etc. ready to go. The longer answer is that my dog Walter – whom I love very much – is also the pickiest eater in the world, so I tried my hand at creating some homemade dog treats in late 2018. Incidentally, he wouldn't eat them, but everyone else's dogs loved them, so I was literally giving away dog treats to anyone who would take them! Because I'm a sucker for package design, I started making little labels and such to go with them, and as you can probably piece together, it snowballed from there.
What have the results of your business been?
Since our launch in August 2020, we've done three "pop up menu" launches and have developed over 30 varieties of treat recipes, including dog ice creams and biscuits. Because everything is small batch and made in limited quantities, I basically get to play around with new recipes and designs every month – so it's been a great exercise creatively. In terms of business, I was blown away by just how big the pet parent community in Toronto is; we've been able to connect with so many cool people and pups all across the city simply through our love of dogs and spoiling them with treats.
What's next for your business?
Obviously, with the current ongoing pandemic, it's hard to make plans for anything beyond our current online operations – so in that sense, our biggest goal right now is to just stay on course and see where things go. Dreaming a little bigger, though, I would love to try my hand at a physical storefront one day! 
It's your call - tell us something interesting, cool, odd, unique etc. about you or your business.
In addition to IDWT, I also freelance as a content creator under the name Boy Division and specialize in photo, film, and design. I love collaborating with other creatives, so hit me up! https://www.instagram.com/boydivision.studio/
You can find more about IDWT on Instagram and on their website.
-- 
GRAD-preneur is a weekly series that highlights some of the outstanding School of Communications, Media, Arts and Design graduates who have successfully started their own businesses. This series shares the stories of our graduates and their time at our school, as well as provides valuable advice about being an entrepreneur.