Storyworks Case Study | Cookie Dance Commercial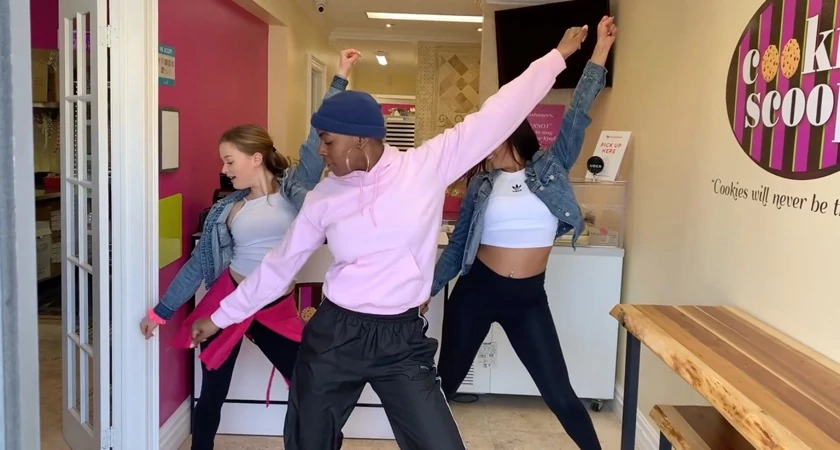 Incorporating Storyworks in programs that are focused on the Arts often takes out-of-the-box thinking and planning, especially since there is a graded component required of students. The skills taught and practiced within Storyworks, such as client communication and project management, can often be vastly different than what students are used to in their other courses. However, the adaptability of Storyworks provides the opportunity to curate material that benefits the students, and where they can develop skills that will inevitably assist them regardless of the field they are studying in.   
This was the case for students in the Dance Performance program. In 2019, students took the initiative of finding a client that would be interested in working with them to create deliverables that they could then be graded on for Storyworks, as well that the client could use for their business. After approaching a local cookie store near their dance studio, Celestine Eagle, Program Developer and Coordinator, says students within that group introduced themselves to the manager and proposed the idea of creating a social media commercial for the store. "They already had something in mind, and then they had to find a client that they thought would be suitable," Celestine explains. "The goal was to step out of your comfort zone."
Shortly after the manager of the cookie store approved of their commercial idea, students got to work on planning out how it would be carried out. Celestine says that a cookie store probably would not have thought about having dancers promote their product, but that is the beauty of Storyworks. Students in programs such as Dance can acquire these important client skills while still incorporating their field of study into the work they produce. "[Storyworks] teaches them group work, how to communicate and collaborate with the client, understand what the client's needs are, it teaches them networking, and so on," Celestine explains.
The imaginative spirit was certainly not lost on this group of students, as you can watch the final product below.
Students in this group worked together to produce, direct, and edit the video while continually checking in with their client to determine they were successfully fulfilling the deliverables set in place. Celestine points out that they had a very short amount of time to create the finished product, as Storyworks is in itself a short course. "There is a very well-known saying, from the page to the stage, and that is essentially what this is. They have to do that in a short amount of time," she explains. "This Storyworks project really allowed them from the ground-level up to create the idea and then execute the idea, and actually have a finished product at the end of it."
Student Statements:
"When beginning the process of our Storyworks assignment, I was both excited and nervous as I knew it would be a challenging yet rewarding process. We began by speaking with the lady who owned the cookie shop and started discussing the vision she had for the commercial, and from there, we made a plan. We would meet on a day where we had no school and film in various locations in the store to showcase all of the wonderful aspects that went into making and producing the cookies. Once we had all of our clips done, we went to work on editing the video. I personally was the one who handled most of the editing; it was very rewarding to see what we as a group had filmed, and putting it all together was a load of fun. I had no past experience with editing videos, let alone commercials, so YouTube and advice from my fellow group members kept me going strong.
Overall, seeing our creation was a turning point in my school career, I was able to see how far we had come and what we had accomplished. Creating that commercial was one of the highlights in my school career, and it is a video I look forward to showing my family and friends for years to come." – Victoria Moumouris
"[This project was] great for the client of our choosing to gain more traffic, awareness, or publicity, and provided an amazing opportunity for both the dancers in the program and Centennial's Dance Performance program itself. It's a great program and should be utilized within the other artistic programs Centennial has. My friends Olga, Aj, and I came up with the idea when we went to their store to buy cookies. Initially, we were joking around but thought it would be cool if we would do a dance video for their store. Unaware we could do an assignment like this with Storyworks, we were thrilled to find it was possible. Our team worked well together, and in the end, we were able to make our client very happy." – Ashley C-D
By: Alexandra Few - A 2020 graduate of the Communications – Professional Writing program at Centennial College who has first-hand experience with Storyworks and is an avid supporter of its push for experiential learning in the classroom.