Centennial Students Win Big at the 2021 Ubisoft Toronto NEXT Competition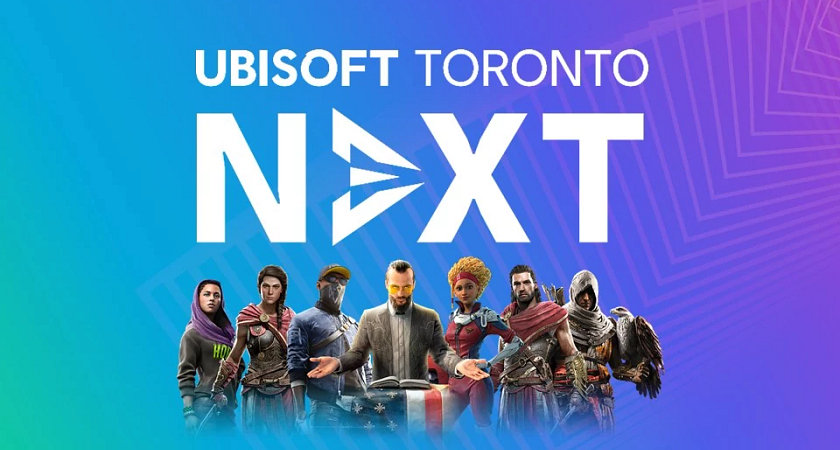 Gaming giant Ubisoft Toronto held their annual Ubisoft Toronto NEXT competition. In its eighth year, the competition provides the chance for post-secondary students and recent graduates across Ontario to showcase their talents and expertise in the video game industry. The categories students can submit their work to include – 3D Art, Animation (Cinematic + Gameplay), Programming, Level Design, Technical Art, and Concept Art. Winners are awarded several prizes, including six-month apprenticeships to help kick-start their careers.
With nearly 200 submissions this year, we are proud to announce two Centennial College graduates took home first place! Game – Art graduate Maria Kniazieva won in the 3D Art category, and Animation graduate Yourim Kim won in the Cinematic Animation category.
The Planning
The amount of planning put into creating the work that was submitted for the competition was intense, as Maria says, "There were hours of brainstorming, creating lists of ideas and drawing 2D sketches on paper. During my work on the project, I faced some obstacles that forced me to think outside the box and tried new approaches to the problems! The main obstacle was that I didn't have a chance to model spaceship environments before and I knew nothing about spaceships, so I collected as many references as possible from sci-fi games and movies."
Maria had a certain vision in mind when creating her work to submit to the competition. She says, "My scene tells the story of an old Captain James and his spaceship. Captain was forced to leave his ship service on the Earth and became an intergalactic smuggler to be able to make some money for a living. Possessing quite extensive skills in technology, he was able to give an old abandoned spaceship a new life. The Captain collected some cargo from his old naval vessel and repurposed it for the needs of the new spaceship."
She continues, "My submission consisted of several items: project documentation, 3D environment renders, tech shots, 3D environment video, cover letter and resume. It took me two months to prepare a submission for the competition. I started by brainstorming ideas and creating sketches, and after I started to build my 3D environment from scratch. There were thousands of iterations of rebuilding/recreating/rethinking the project, but I'm pretty happy with the result. It was very hard to pick the one idea that would work best and with which I want to proceed, because there was room for creativity, and I had so many ideas (and I liked them all)!"
See Maria's work below:
Yourim had a similar process in that he had a vision going into it. She says, "From the beginning, I thought it would be nice to have a paradoxical and fun story, and I was inspired by the Santa character from the animation Guardians, which I thought was impressive. It was interesting that Santa, who gives dreams and hope to young children, looked like a Russian mafia, so I thought it would be fun for Santa to have a secret and dark hobby like us." She continues, "While I was working on this animation I was working for another company, and it wasn't easy to finish this work on deadline… It was tough, but I'm glad the results were good!"
Thoughts on Winning 
Maria says her first thought when she won was, "omg is this real?" She explains, "I received an email that said that I'm a winner. When I opened it, I couldn't believe my eyes! There were so many talented artists and amazing submissions, but the Ubisoft judges selected me as a winner! It took a couple of days to realize that I'm not only a finalist but also a first-place winner and, besides, there is also an upcoming internship! I still can't believe it. I was very excited, grateful, and happy; this is one of my greatest achievements so far!"
Similarly, Yourim was surprised at her win. "To be honest, I never expected that I would win.
When I was asked to interview as a finalist, I was very surprised, and I was so happy that [I was a] finalist. I really didn't expect to win first place, so I was revising my demo reel and updating my resume because the end date of the contract with the current company [I worked at] was coming to an end. When I got an email saying I won, I cried out in surprise! Wow! Did I win the competition? No way!" 
See Yourim's work below:
2020 Ubisoft Toronto NEXT Winner
Donghoon Choi, a Game – Art program graduate, won the competition in 2020, and says, "I put lots of time and effort into the competition work. At some point, I felt I was really attached to the work and at the end, I was thinking that I'm happy with whatever the result is because I enjoyed the time I spent and learned so many things while I worked on it. When I got contacted by Ubisoft that I won the competition, I was really glad that my effort and time spent brought me the result I wanted."
After winning, Donghoon had the opportunity to intern at Ubisoft, which is one of the 1st place prizes at the competition. "I worked as a 3D asset artist for Watch Dogs Legion and it was an amazing experience because I really enjoyed playing that franchise some years ago. Because of the pandemic situation, I didn't have a chance to work with the team in the studio, but I received very good training and a lot of help from my co-workers online, so I could finish my internship with a very positive outcome. From the beginning of the competition and finishing the internship, it was a very good life-changing experience for me because I had to study new skills to win the competition, and as a prize, I also had another chance to learn through the internship."
The dedication and talent put in by our graduates was outstanding. Congratulations on such a monumental win!
Written by: Alexandra Few