Contemporary Journalism Students Highlight Small Businesses and The Impact of COVID-19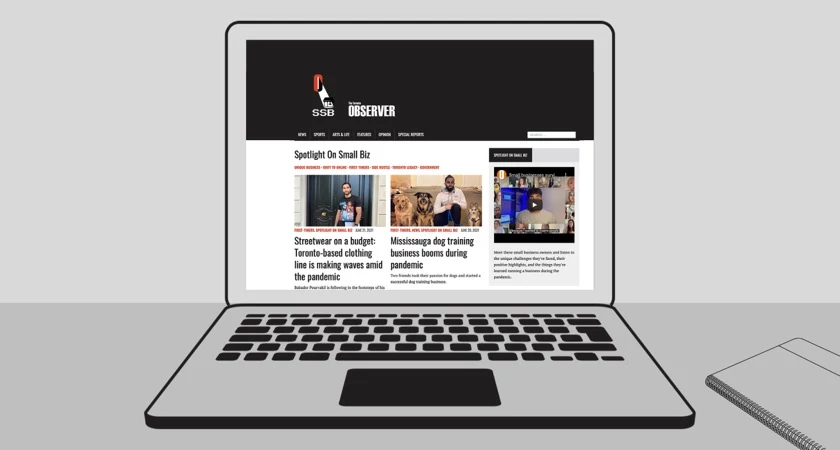 In their final semester, Contemporary Journalism students worked collectively in their Entrepreneurial Reporting course to create a series of articles focusing on small businesses and the impact of the COVID-19 pandemic. The project, Spotlight on Small Biz, consisted of 29 stories written by 29 students, published on the Toronto Observer – a multiplatform news organization run by students in the journalism programs at Centennial.  
Akash Sidhu, one of the students who worked on the project, says, "After much deliberation, we decided on the topic of small businesses due to the unique challenges small businesses have had to face during the pandemic. We knew that a lot of their stories were not being covered by the media and needed to be shared. With that in mind, we decided small business would be the focus of our project." He adds, "The motivation and goal behind the project was at first to complete the course and get a good grade. However, as we all soon realized the project was also an opportunity for us to take ownership of a project and work together as a class on something we could be proud about."
The way the project was organized, allowed students to each have a different role, which Akash explains ranged from editing to social media and everything in between. "Everyone beyond their project role had to write a story, and we each pitched to the managing editors of the project for approval. We worked with our main source, who was typically the business owners, to capture an in-depth story and get visuals from there. The categories for stories included first-timers, government, shift to online, side hustle, Toronto legacy, and unique businesses."
He adds, "I personally enjoyed working through the process and being able to take ownership of something that was exciting and challenging. The stories felt more personal, and I was more invested during this process. Another thing was that working in our smaller teams, we each had the opportunity to work closely with our teammates, and for me personally, that was an enjoyable experience."
Alexander Varoutas, who was assigned as Audience Editor, says the project went extremely well. "Along with my partner Akash, we were responsible for bringing attention to the story much like a PR rep might. We wrote and published a press release and cold-called dozens of relevant news outlets to see if they would pick up our story. During the course, we were also able to meet with Donna Lindell, an instructor at Centennial who specializes in public relations, who taught us quite a bit about the world of PR, or what many refer to as 'the dark side of journalism'."
Reflecting on the course itself and what he learned from this project, Alexander says, "Often when you graduate from a school program you enter the workforce with a lot of theory but no actual experience working in a professional setting. This course has allowed us to simulate a fully functioning newsroom where each student was given a role to make their own. From pitching to publishing, every student in the program was accountable for some aspect of the project. We had to actively coordinate with one another every step of the way in order to make progress. This gave many of us an opportunity to learn a lot about simply communicating effectively with a team, juggling multiple deadlines and dealing with unexpected interruptions."
Caroline Minks, another student involved in the project, echoes the positive opinions about the project as her classmates. "The project was challenging, especially with everything being approached virtually, but it was a rewarding experience nonetheless. It ran as smoothly as we could hope for with a team this large – I think we all learned pretty early on that communication really is key.
I was the visual editor for the latter half of the project after taking over from Dominique Lalama, and she really paved the way for an easy transition of roles. I was primarily responsible for brainstorming visual content and ensuring everything is running smoothly and will be ready on time. Another major part of my role was being the team's leader because this meant delegating takes strategically and being available to problem solve at all times. This could take up a really large part of my day sometimes, but it was crucial in order to make sure everyone was aware of how to handle obstacles that may arise," she explains.
Based on the lessons learned from this project, Caroline adds, "I learned that leadership is a full-time job and that it's a lot harder than I thought it'd be. It really requires everyone doing their part in order for the whole system to work successfully. I think my communication skills improved overall. I was able to gain valuable experience that will likely be directly applicable in my future endeavours."
Ethan Anderson took on the role of text editor for the project, and says, "As the lead text editor for theSpotlight on Small Biz project, I was responsible for managing the text editing team. The team consisted of five other students (Anson Wong, Agnes Felis, Amos Mina, Jake Crump, and Morgan Lightle), and we all worked together to edit 29 stories in total through copy editing, proofreading, and fact-checking. I want to thank this team for the work they put in while dealing with stress, jobs, and personal commitments at the same time."
He adds, "Overall, it was tough to get 29 students on the same page at times, especially when only communicating virtually between the various teams we had. But I do think that the project went well in the end. We managed to deliver all stories and hit our deadlines, even after overcoming a few obstacles. This experience really made me see that clear communication is key, both online and offline. Also, having easily accessible project guidelines makes a huge difference when working as part of a large group."
With a team of three other editors, Arsheen Shamaila worked to design the project. "That included dates things were due, subheadings, approved story ideas, helped people find stories and angles, led the class discussions and lectures and gave project updates to 29 students including myself. It was a lot," he says. "Overall, this project symbolizes teamwork, hard work and perseverance. With the entire program being online due to the pandemic, open communication and trust were essential for the success of this project. We relied on a lot of spreadsheets, meetings, and reminders. I think with the success of this project, all 29 of us pushed our limits and abilities to the max. If anyone was ever doubting their journalistic abilities, they've definitely knocked out that imposter syndrome after the completion of this project. I'm proud to have led this project for the first term. I'm proud that the editors that took over after me did justice to the strong foundation that the first four editors left behind."
Each of the 29 articles published delved into such an array of different topics, but with the pandemic being the commonality amongst them. Be sure to check out the articles for yourself to gain a greater perspective on the pandemic from various points of view.
Written by: Alexandra Few