Dance Student Directs and Choreographs Commercial for Silencia Eyewear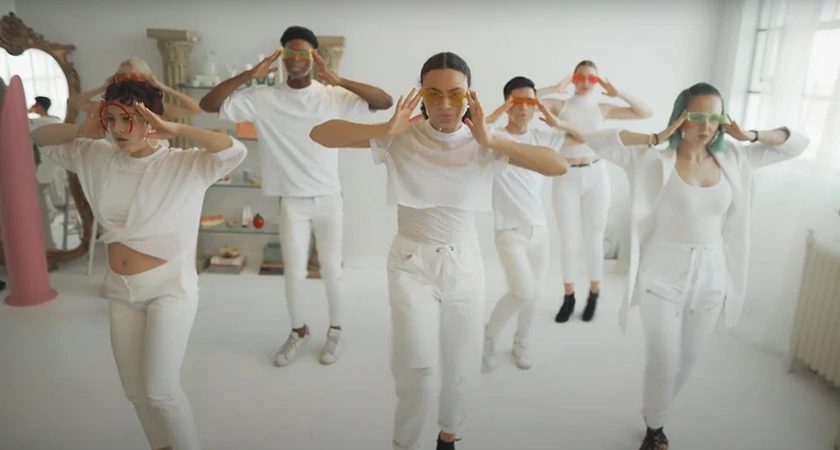 Mikaela Rojas, a new graduate of the Dance Performance program, had the opportunity this year to dive into a creative project for her Storyworks course that brought together her creativity and skills in dance to produce an outstanding, professional commercial for her client.
Storyworks allows students to branch out and work with real clients on real projects, and the work produced is never short of amazing. This year was no exception, as Mikaela worked with Silencia Eyewear to create a commercial that she planned from start to finish. "I started with some meetings with the client trying to understand their vision as a brand and what products they wanted to promote. Then, I proceeded to make a file with a mood board, options of songs, style, and format of the video for my client. After that, I asked the dancers to be part of it and assist with some virtual/presential rehearsals. Due to COVID-19 restrictions, it was super hard to plan but I'm glad that all worked well. Then, I had to plan the place, videographer, music editing and back scenes. The day of the shoot was super exciting and fun," she says. 
Specifically in the Dance Performance program, Nina Strazzulla, Professor and Acting Program Coordinator, says they try to leave Storyworks as open-ended as possible for students since there are so many avenues they can choose from, such as dancing, choreographing, arts management, teaching, etc. "They are guided by the professor through one-on-one meetings and feedback on their initial assessments, but the success of the student relies heavily on their own initiative and go-getting," she explains.
Mikaela had the opportunity to pick her own client, which she says was an easy process, thanks to her experience working with small businesses before. "My client was super nice to trust my ideas and vision 100%, and he gave me a lot of freedom during the process. Respecting the end product, I'm a perfectionist so I always think that something could have been better, but I'm very happy with the result and especially the impact that it had with my client," she says.
The commercial, which you can watch above, reflects a bit of what Mikaela had already been hoping to achieve for a while, but with a new twist. She says, "I had the idea to do a professional choreo for a long time but adjusting to a commercial video where the focal point is a product was definitely a challenge but very fun and a lot of learning through it!" She adds, "It was a lot of work but I'm very glad that everyone was happy with the experience and result. 
In response to the work Mikaela submitted, Nina says, "Simply put, I think Mika did a fantastic job. I watched her video probably about ten times when she first submitted it, and I am very proud knowing that a soon-to-be graduate of the Dance Program is capable of something so professional and unique."
The real-world experience students obtain in Storyworks cultivates an array of skills they can use throughout their program and after graduation. Nina says, "I think Storyworks is a great component in the Dance Program because it exposes the students to experiential learning. Different from field placement where a dance student would often shadow or assist their mentor, Storyworks forces the student the take initiative and be responsible for a lot of decisions. Since it's the student's job to create a tangible product for their client, the student not only gains work experience but also something to add to their portfolio."
Mikaela echoes this, as she explains, "Storyworks helped me to put myself in a situation that will be very similar to a real job situation, and I definitely feel more prepared now that I know that I can do all those things by myself and also that I learned from my mistakes."
Congratulations, Mikaela, on such great work!
Written by: Alexandra Few