Centennial College Press Expanding Titles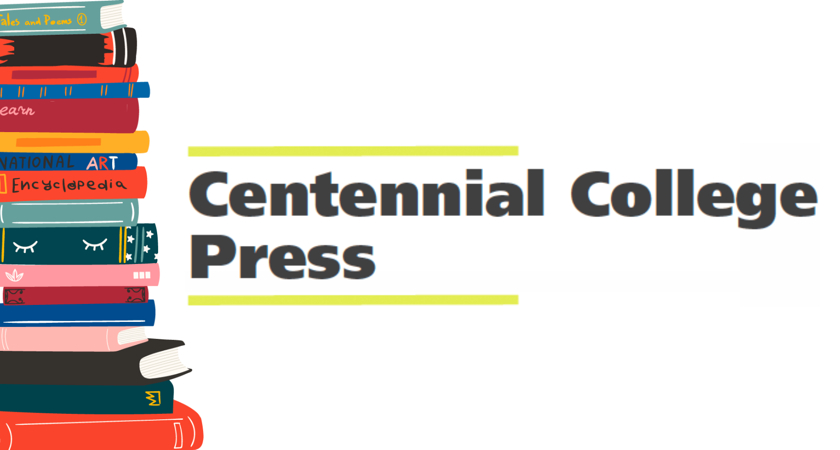 Did you know Centennial College has its own Press? Founded in 1974, Centennial College Press (CCP) is one of only two College presses in Canada and is nestled on the campus of the Story Arts Centre. Run by David Stover and Jeremy Lucyk, CCP has previously only focused on producing education material, such as textbooks, but has now taken the leap to branch out and explore new genres to add to their growing list of titles.
Prior to working at CC Press, Jeremy graduated from Centennial's Publishing – Book, Magazine and Electronic program in 2011 and began working at Nelson Education, Canada's leading educational publisher. After deciding to make the switch to work at CCP, Jeremy went from working with hundreds of people to just one other person in the office – quite a stark difference. However, this change in setting has been beneficial for him. "It's really enjoyable because I am able to try my hand at pretty much everything. We share all of the work between the two of us. I was trained as a pure editor, and now I'm basically our Director of Sales and Marketing, I run the warehouse, and I deal with a lot on the production side, so it has allowed for a much more varied experience than I would have anywhere else," he shares. "The Story Arts Centre particularly is a great space to work, and I enjoy all of the people who we interact with there. It is a building full of storytellers, so you could not do any better for somebody who gravitates towards something like publishing."
David joined CCP in 2018 and has taken on the responsibilities of budgeting and financial management for the Press, in addition to a variety of editorial, production, and marketing activities. "Since we're a small press, I do lots of hands-on work, which I really enjoy, after many years in senior management roles elsewhere, including eight years as president of Oxford University Press Canada," he says. "It's been great fun to be part of the Press and also to work with Jeremy, who is a terrific editor."
Before David joined the team, Jeremy says CCP settled into a reliable but somewhat static pattern. He explains, "We were a purely higher educational publisher, and all of our books were aimed at post-secondary students, primarily in Canada. We were focused on subjects related to the trades - automotive, construction, and plumbing/gas-fitting - with a particular emphasis on test prep books for nationwide apprenticeship certification, such as Red Seal exams. All of our sales were to College and University bookstores, rather than consumers (you could not buy new copies of our books in other stores or online). We were, on average, publishing a new book every two years."
When 2018 came around, David joined CCP, and Jeremy explains, "With the enthusiastic backing of Nate Horowitz and SCMAD/Centennial management, we embarked on a complete overhaul of the Press' mandate and operations."
Their first focus switched to publishing books that showcased the unique expertise and interests of Centennial faculty, both within SCMAD and other divisions. Jeremy says this involved: "Continuing to publish updated and new titles related to the trades, in conjunction with Centennial faculty (ex. the School of Transportation); moving beyond our focus on the trades, to publish higher education titles related to programs offered at SCMAD; and for the first time, publishing books that are less applicable to the classroom, but appealing to more general readers — e.g., republishing a management manual, and publishing our first-ever novel, Sprog."
Other focuses have been on increasing profitability by publishing more books across more sales channels; providing professional experience and logistical support to other publishing and content development ventures across the College; deepening the integration with specific programs and initiatives within Centennial, such as raising the Press' profile throughout the College, continuing the field placements CCP offers Publishing students, and improving the Publishing program both David and Jeremy teach in; and employing as many students and graduates as possible.
"I should note that all this would have been ambitious enough without COVID to deal with. The first quarter of 2020 was disastrous for the educational publishing industry as a whole, but we persevered, managed to accomplish all of our goals for the year, and did not take a financial loss while doing so - unlike many of our colleagues and competitors." Jeremy shares. "This wouldn't have been impossible without the support and understanding of the College and management, as we pivoted to a WFH model (while still shipping orders from SAC), grappled with issues with our bookstore partners, and addressed rising production costs for all of our products. Two of our initiatives, begun well before the pandemic, turned out to be prescient: shifting much of our business online through Amazon and looking towards digital textbooks and OERs, which are increasingly favoured in higher education."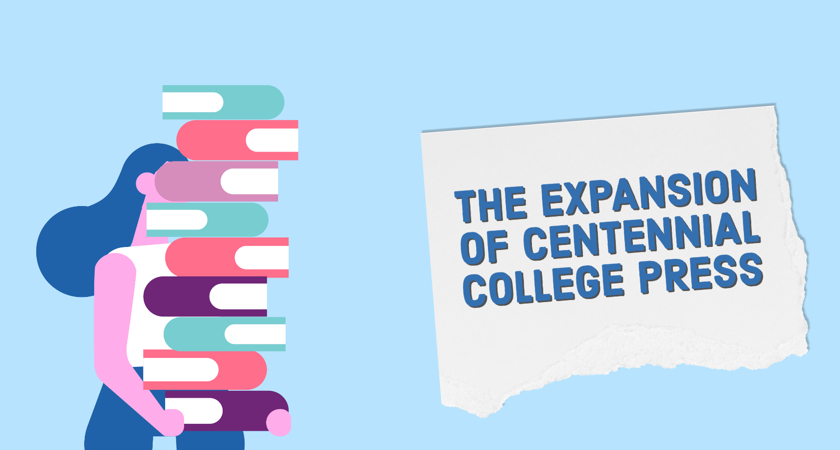 With the expansion, Jeremy notes that they want CCP to be much more involved in assisting others around Centennial by offering any expertise to help them realize their vision within publishing that they may not have considered before. He says that David and himself have been joining in on meetings around the College to pitch CCP to instructors and staff, as many may not have known about the Press, or knew publishing with them could be a possibility. "There's so much talent both at Story Arts and within the College as a whole… [and] we really want to be there to assist them to realize their visions," Jeremy says.
David is looking forward to the expansion of the Press, as he shares, "It's a very exciting time at CC Press as we expand our list, and also plan to publish a more diverse range of titles. The expansion will make us a more useful and prominent part of the Centennial community and allow us better to contribute to the College's educational mission." In terms of the future of CCP, he says, "I'm looking forward to a future for CC Press in which we publish a broader range of titles, both in our traditional textbook areas and general interest books. We are also looking forward to playing a greater role in the College helping faculty and staff develop open educational resources (OERs) -- Jeremy and I have lots of contacts in the publishing industry who can do the kind of editorial work that's involved in producing high-quality OERs."
NEW 2020/2021 Titles from CCP: 
Proactive Media Relations: A Canadian Perspective, Third Edition by Mark Hunter LaVigne (Faculty in the PR program at SCMAD) 
Production 101 by Raquel Benitez Rojas (Faculty in Children's Media at SCMAD)
The Manager's Mentor, A republication of a perennial management guide by Les McIlroy, with a new introduction by his daughter, SCMAD's own Jennifer McIlroy.
So You Want To Be An Art Star (***working title***, forthcoming). A practical guide to the business side of being a professional artist, by Fine Arts faculty member David McClyment.
Sprog – The first novel to be published by CCP, and written by Malcolm Kelly, coordinator of the Sports Journalism program.
Written by: Alexandra Few