Sports Journalism's Students Travel to Florida, Virtually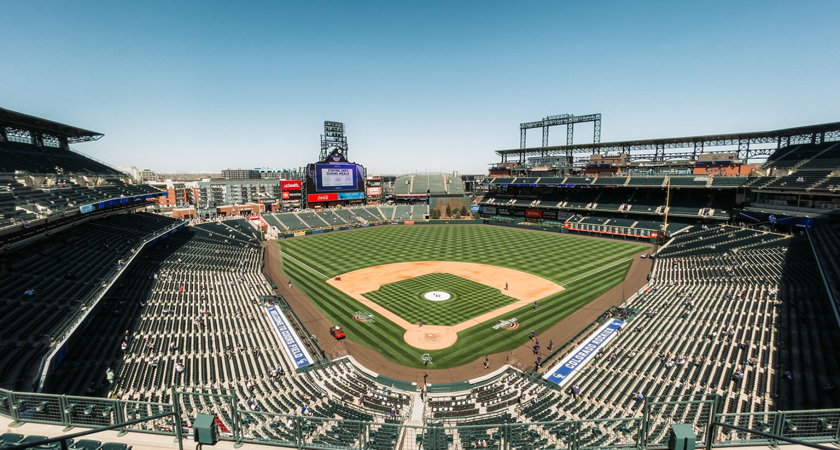 Most of us are used to watching sports on TV, but with that being our only option this past year due to the COVID-19 pandemic, it has been interesting to see how the industry has taken on some creative alternatives to ensure the watching experience is as engaging as possible.
Speaking of creative alternatives, students in the Sports Journalism program had to make several in order to replace the program's annual trip to Florida this year. In previous years, students would cover the highlights of the Blue Jays Spring Training, NCAA sports, and more. However, because that was no longer an option this year, students instead had the opportunity to flex their journalistic abilities in a slightly different way.
Sports Journalism instructor Malcolm Kelly shares, "2020 was a bit of a difficult year for everybody, but for us, we were very lucky that we got the Florida trip in. But then, everything shut down. That also meant that the trip to cover the Paralympics in Tokyo last August, which we spent four years planning and was completely ready to go, was a no-go. When we got to the class of 2021, we knew we were going to have to come up with something to replace Florida. We really had to come up with something else because the students regularly tell us every year that the Florida experience, where we throw them into the deep end (with lifeguards), is so important to their development. They work so hard in Florida for the week, they do so much writing and photography, and they improve so much… so we knew we had to do something."
An idea hit Malcolm, which he describes came to him while in a panic of wondering what he was going to do, which ended up carrying out the entire project quite successfully. The class of thirty-seven students split into four groups, each with approximately eight students. Amongst the sports teams/organizations that Malcolm arranged to partner on this project, there were upwards of around ninety different aspects that students needed to cover. The "virtual trip" took place from March 8th to the 14th, which meant students had about a week to put all of this together.
Group A was assigned to Swimming Canada for half of the project and the University of Tampa Spartans baseball team for the other half. During that time, they covered para-swimmers and some Olympic swimmers as well. Group B was assigned to Wheelchair Basketball Canada, and they covered the men's and women's wheelchair basketball teams as they were getting ready for the Paralympics. Group C covered the University of South Florida Bulls women's softball team, which students have been covering since almost the beginning of the nine consecutive years of the Florida trip, while Group D was assigned the University of Tampa Spartans all week. Malcolm notes that students also worked with: the Manitoba Moose, who are members of the American Hockey League; the Toronto Marlies, also part of the American Hockey League; and the Toronto Blue Jays, which he says have always been so fabulous to the Sports Journalism program for its entire run.
Each student had one-on-one Zoom interviews, and then they wrote an accompanying story, along with a picture provided by the teams. Not only did their work get published on Centennial's The Toronto Observer, but the sports teams/organizations that worked with students, such as Swim Canada, Wheelchair Basketball Canada, and University of Tampa Spartans, picked the stories that they liked and published them to their respective websites.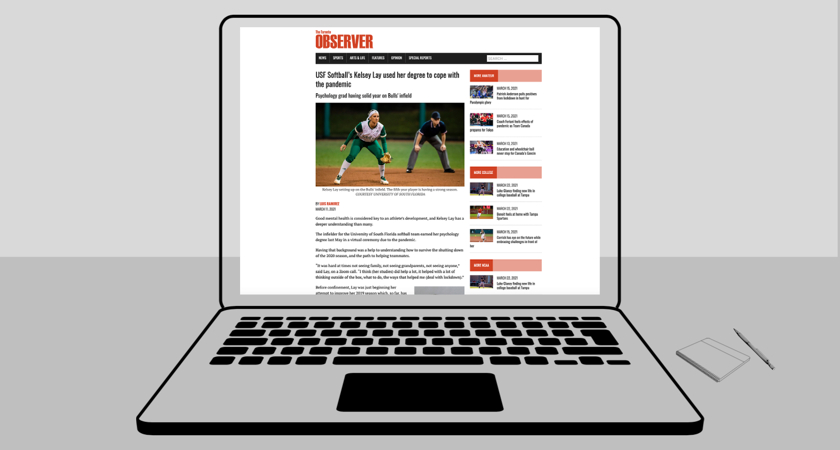 One of the components of the Florida trip that has remained consistent with the Sports Journalism program is the feedback they receive from industry partners. Malcolm says, "Our feedback from our industry partners on this has always been excellent because we get them ready, but they also show up to their interviews prepared, researched, properly dressed and are always professional. That's the feedback we get from the industry partners - that your folks are always professional and always prepared."
Another component of the "virtual Florida trip" was a multimedia report that each group had to produce on their specific topic/team, which Malcolm says is something each cohort does every year in Florida. "Each of the groups had a professional instructor with them to handle the editing, the organization, and to help them with the story; it was craziness, but it really came out well," he explains.
Entering 2021 without knowing exactly what was going to happen with the Florida trip, to then having the project transform into a tremendously worthwhile accomplishment for students, proves how much cultivated talent lives within this program. Malcolm shares, "We went in, and we told the students before we started that this has never been done, so we have no idea if this is going to work, but we are going to try, and it worked."
This cultivated talent is shared amongst all programs at the School of Communications, Media, Arts and Design, which Malcolm explains helps staff challenge each other to be better and generate some of the top opportunities for students. "Every time somebody in one of the programs - which is all the time - comes up with these fabulous things, you want to go out there and do something that is equal to it. I think that's one of the reasons why we continue to have such great stuff coming from our school. Our campus blows my mind with everything we do," he says.
Student Statements
"When I first learned about the program, one of the things that caught my eye was the opportunity of going to Florida to experience spring training. It was certainly a bummer when the pandemic didn't slow down, and it was clear from the beginning that making that trip would not be possible this year. However, as an international student who was taking classes from Peru, I was extremely grateful to Malcolm for all the work he put in to make the virtual Florida trip the best experience possible. Making it all online allowed us to also have experiences with hockey teams (the Toronto Marlies in my case), which gave me extra opportunities to learn about sports that are not well known in my home country. Personally, I went from knowing almost nothing in baseball and softball to be able to interview professional coaches and players, and publish articles about them.
Overall, I think the virtual trip to Florida was great, and it showed me what the future may look like after being done with the program. It really set the bar high for any other experiences we come up with during the second and third semester, but it certainly got me excited for what is to come." – Luis Ramirez
"Although we were unable to travel to Florida, the experiential education week was incredibly valuable. Each group had the opportunity to interview elite-level athletes and work with knowledgeable editors to write several stories throughout the week. Working remotely presented learning opportunities including interviewing an athlete and getting them to open up over Zoom, and also introduced the class to the challenges of writing an article without having a sense of the environment at the venue. A huge thank you goes out to Malcolm, Shi, Kym, and Nick for organizing this Virtual Florida week for our class. Having the chance to speak with such accomplished athletes and work alongside skilled industry professionals was so memorable, and this irreplaceable practical experience is one of the main reasons I chose Centennial College's Sports Journalism program." – Justine Jones
Be sure to check out the collection of articles students wrote during their virtual Florida tip via The Toronto Observer.
Written by: Alexandra Few