What to Expect from Centennial College's COVID-19 Response Documentary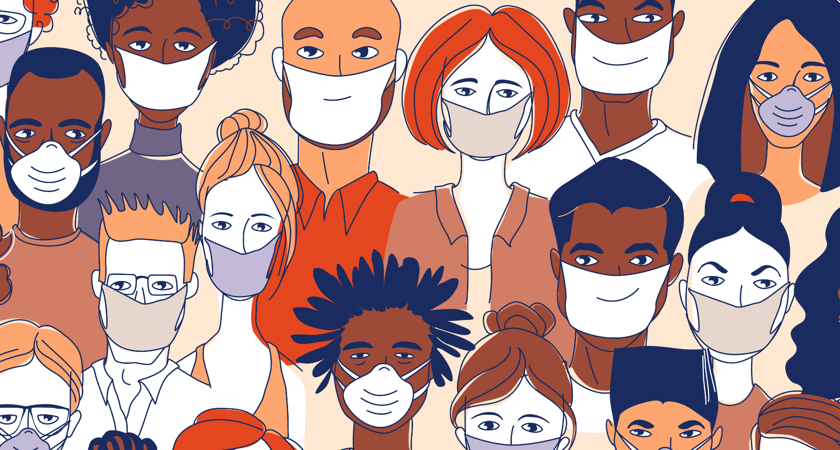 It goes without saying that the COVID-19 pandemic has infiltrated many areas of our lives – education being one of those areas impacted in terms of its access, delivery, and instruction. Now that we are well over a year into this pandemic, logging into an online classroom has become second nature for many, but getting to that point has certainly been a journey for everyone involved. This is exactly what the new Centennial COVID-19 Response documentary will help illustrate, as it will act as a look behind the scenes of what went into Centennial's response to the pandemic, and it will include the perspectives of those who have put this response into action.  
Initiated by the Dean of the School of Communications, Media, Arts and Design, Nate Horowitz, and spearheaded by Broadcasting – Radio, Television, Film & Digital Media Instructor, Karen Shopsowitz, including many other individuals playing a role in its production, this documentary will piece together various types of footage including pre-filmed material from students and faculty, recorded Zoom interviews, and footage captured from one day of filming in-person, which was initiated by Karen and the other producers working with her.
Karen notes that the documentary will emphasize the programs you wouldn't think could be held online, who have had to deal with this transition. The way the programs have taken material that more often than not requires in-person instruction, and has transformed into an accessible online format to students, has been such a phenomenal task throughout this pandemic. Of course, even the programs that have easily transitioned to online learning still required an adjustment, which the documentary will touch on.
The ways communication has come into play is also something the documentary will feature. Karen says that talking with Centennial's President and CEO, Dr. Craig Stephenson, about how the school has communicated the move to online learning and the reactions that have come along with it are key features. She notes, "One of the themes that have come out so clearly in the documentary is the importance of communication, but also the importance of looking at people as a whole and understanding that it's not just a matter of how do I switch a course to online, but how do I switch a course while also dealing with the emotional impact? It's not like any of the staff, students, or faculty are immune to the fact that we're living in the midst of a global pandemic."
The documentary will feature various perspectives - a faculty perspective, a student perspective, and an administration perspective. All have reacted to this transition to online learning differently but have collectively undergone the emotional toll that this pandemic has caused, which really brings together all perspectives. "Everybody that we have interviewed has been open about how [the pandemic] has been affecting them personally and how they are juggling that," Karen says. "We have been looking at the emotional toll it has taken on students, faculty, and staff as well, and what have been the things that everyone has done to keep us safe mentally and physically."
There have also been many positives that have come out of the switch to online learning, which will be emphasized in the documentary. Karen explains that, of course, nothing will replace in-person learning and the connection that it brings, but there have been aspects to celebrate. "I really want to show how different things are, but it's also a celebration of what people have done and how they have done it, while also being realistic that it has taken a toll on us at different levels," she explains. "We wanted to show there has been a lot of positives that have come out of a really weird situation, and that's something that everyone we have talked to has been clear on. It has shown people's strengths and things they didn't know they had, and it has made people think of ways to deliver programs in classes you wouldn't imagine would work."
Working with graduates on this project has been really important to Karen. She explains, "I really wanted to bring in some grads to work on this because they have a connection to the school, they understand the issues, and they are at a level in terms of their career where they really know what they are doing, and they are really good." Throughout the project, Karen has worked with recent graduates of hers, Colin Walker and Julia Morais, who she says have been amazing and have become her co-producers. Centennial graduates will also be the ones editing the documentary, so there is really an emphasis on collaborating with those that have direct experience with the school.
Colin, who is a 2020 graduate of the Broadcasting program, says, "I think we have an opportunity to make something a little different than people are used to when it comes to documentaries. We have had to find creative solutions to filming and conducting interviews in the time of a pandemic, so I believe we can really lean into that and doing something that is emblematic of the times." He continues, "I think the doc will show people how difficult it was to basically turn an entire institution on a dime to continue providing a valuable educational experience in unprecedented times. Centennial not only adapted but excelled when it came to shifting to online and hybrid formats of teaching."
When will you get the chance to watch the documentary? Karen says that they are aiming for the end of May. Stay tuned!
Written by: Alexandra Few