Children's Media Students Create "The Power of Story" Video for Scholastic Canada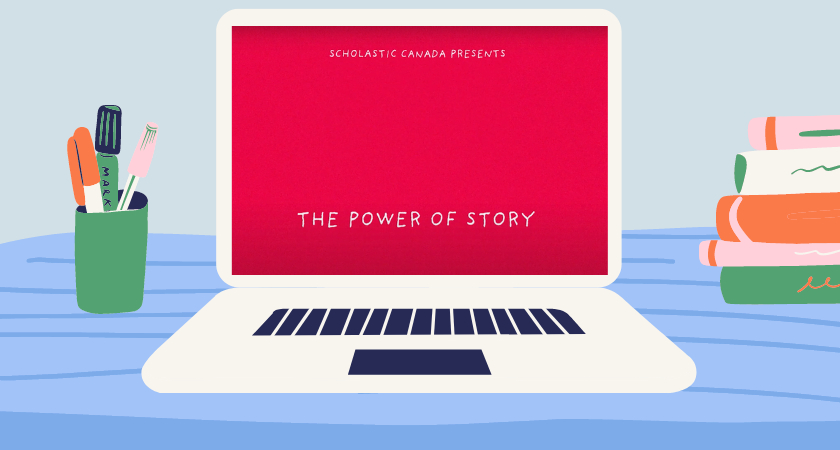 "With the power of story, the future is kind" are some of the final lyrics to end an incredibly moving animated video created by a group of students in the Children's Media program. As part of their Storyworks course, students collaborated with Scholastic Canada to create a video that brought awareness to Scholastic's book catalogue, which emphasizes diversity and inclusion. 
The video, called The Power of Story, includes original work by students – the animations, the song, the lyrics, the music, everything. Guided by their client at Scholastic, who happens to be a graduate of the Children's Media program, Rachelle Lozon, students worked diligently to put together a phenomenal video that showcases their impressive talents. The video even earned them a School of Communications, Media, Arts and Design Dean's Award for Entrepreneurship and Innovation this year! 
"Creating a video was listed as an option within the project. I knew I wanted to work with the group to create something around Scholastic's Power of Story initiative but wanted to leave it somewhat open-ended so the group could take advantage of existing skillsets or decide to work on developing ones beneficial to their future lines of work. I find that commitment to, and enthusiasm for the project is higher when the students take an active role in shaping it," Rachelle says.
In the beginning stages of the project, the group of students worked with Rachelle to plan out the best way to approach the Power of Story initiative through a video medium. Rachelle explains, "In our first meeting, I gave an overview of Scholastic and our Power of Story Campaign. My main direction to the group was to create a piece that features our books while emphasizing the importance of building empathy for others through reading. From there, I left it in their hands to go back and develop a pitch. I guided them on book selection and made sure they had the materials they needed, but in terms of concept and execution—it was very self-directed by the students themselves."
Children's Media instructor, and Storyworks instructor for the program, Liz Marshall, strongly emphasizes the numerous benefits that Storyworks offers students, which are especially evident within this project. She shares, "It's your opportunity to work with a real client, on a real project, in the safest space possible. You've got an instructor as a coach and a mentor to make sure that you are putting your best foot forward on your project, and you've got a client that has agreed to coach, mentor, and behave as a client, but in a safe way so that it's a learning experience, and a positive experience, for everybody."
Students set weekly check-ins with Rachelle as a way to get their questions answered, and to receive client feedback to determine they were on the right track. "The group was very professional, and it was clear a lot of thought and work went into every aspect of the journey, from emails to deliverables to the creative concepts. It was a pleasure to work with them and watch the project evolve and come to life," Rachelle shares.
The Power of Story video, which you can watch above, really brought together the talents of each group member, who, by the way, are included in the video as an animated child version of themselves. Liz says that the students were really able to connect the dots for people on how a story is so powerful, and the song was a way to bring it to life. "I'm super proud of them. They played me a rough cut of the music, and I got all teary-eyed, and now every time I see it, it still brings tears to my eyes."
During the final presentation in Storyworks, each group of students, along with their clients, present what they created. For this project, Rachelle brought a colleague with her from the marketing department of Scholastic, and Liz says they were thrilled with the outcome. 
Liz shares, "For me, watching the students in this program grow over the course of the thirteen weeks while working together virtually, which group work is hard at the best of times, so the fact that they were carrying their course load, doing this work, interacting with the client, being professional, being creative, and bringing out the best in each other was just so gratifying. The end result is some of the best work that I have seen, and I have an advertising background. To see the students, who some of them have professionally done some things like this, but for them to come together in a student course and do something of that calibre was just phenomenal."
Echoing the positivity surrounding this project, Rachelle says, "The final product was beyond my expectations. There were so many thoughtful touches; the lyrics of the original song really captured the sentiment of Scholastic's Power of Story initiative, I loved that the children in the video were based on the child versions of the students, and how the Zoom style video captured today's reality."
Rachelle being a Children's Media grad herself, says, "I love staying connected with the students and the program because it keeps a certain creative light on inside me. My year as a student in the Children's Media program (ten years ago now!), was one of creative expression, ambition and optimism – you're dropped into the middle of a new industry, successful and inspiring professionals and this big, exciting question mark of what the future holds. The quality of that feeling is one I'd like to carry through my entire career, in fact – my entire life!" 
Student Statements 
"I've had the opportunity to work with many clients and Rachelle from Scholastic Canada is one I will remember fondly. As the Account Manager of The Story Rangers agency, I understand the value of having a seamless communication to succeed in any project. Expectations were met, and if our client is happy; we are happy.
We take great pride in the final product of The Power of Story video. We accommodated the visuals to reflect the Pandemic times we live in, using a 2020 animation software that our lead Marel Alemany masters. This, combined with the guidance of our instructor Liz Marshall, resulted in a timeless piece that evokes emotion and sends a message of inclusion. This is just a sneak-peak of the many great ideas for the industry that will come out of the Children's Media Class 2021." -Guillermo Herrera-Valencia
"The Story Rangers, as we called ourselves, created a video for Scholastic to promote their new section called the Power of Story. It is an inspiring selection of books that encourage kids to empathize with people different from themselves. I was fortunate that my first experience with a client was with Rachelle Lozon, the National Account Manager for Scholastic Canada. Scholastic was always on top of things, responsive and always ready to help by providing us resources. The success of this project really was the great teamwork. My part of the team was compiling a project scope, so everyone was on the same page, taking minutes in meetings, creating the final presentation to showcase our work, and editing and delivering everything before their deadline. The proudest achievement and skill I gained was learning how to use the program, character animator, to animate my character for our final video." – Priyanka Aryal 
"Scholastic was a wonderful client. Rachelle provided us with a clear picture of what the project was about and, at the same time, gave us a lot of room so that we could propose what we felt would play into our strength. I was the lead creative and the team manager, but I would say the team managed itself, and on that front, I just had to adjust expectations of what seemed realistic. The main idea for the video was a collective one, and after our initial conversation, we used the research we were able to gather to make sense of it to the client. I also composed and produced the song that was the central part of the idea and proposed how we would execute the video. The main challenge was to teach the rest of the group how to animate their characters with Adobe Character Animator. I think [the video] is a pretty decent product taking into account we had no budget, and we were also involved with eight other projects to finish our semester." – Marel Alemany
"Working with Scholastic was truly an honour. The process was well organized and professional, which resulted in a great learning experience for my team and me. Throughout the project, we were given all the tools and resources to make the product a successful one by both our client and our instructor. I was the animator/ illustrator and the one responsible for doing the market research. I illustrated the characters in the video, animated the backgrounds and book titles provided by Scholastic. I also presented a thorough competitive analysis of where Scholastic Canada was vs. its competitors. After the final edit by Marel Alemany, we all got to see the project together, which was, indeed, a pleasant surprise. I really enjoyed the song; the lyrics are meaningful and brings tears to my eyes – I hope this becomes an anthem in the world of Education through Storytelling." – Syeda Khunsa
"Scholastic Canada gave us the objective to look at ways to promote their Power of Story section which included the diverse books of their catalogue. Because our entire year was based on online learning and school children were also 'zooming', we thought it would be a great platform to promote the books. I am presently working on a book idea for a program I created and suggested we do a zoom style video using real children who I was working with. Because of legalities, we decided to use animation instead in case Scholastic decided to use our video. So two of our team members took on the challenge of creating characters that represented each of us, and we all had fun learning the animation program. One of our members is a children's music and jingle writer so he came up with a wonderful, inspiring song that was the foundation for our project. The message in our video is that kindness and understanding makes our world a better place. It is our hope that Scholastic Canada showcases our wonderful video on their website and in their marketing plan." - Patti O'Connor
Written by: Alexandra Few