New Graduate Advisory Committee Launches Virtually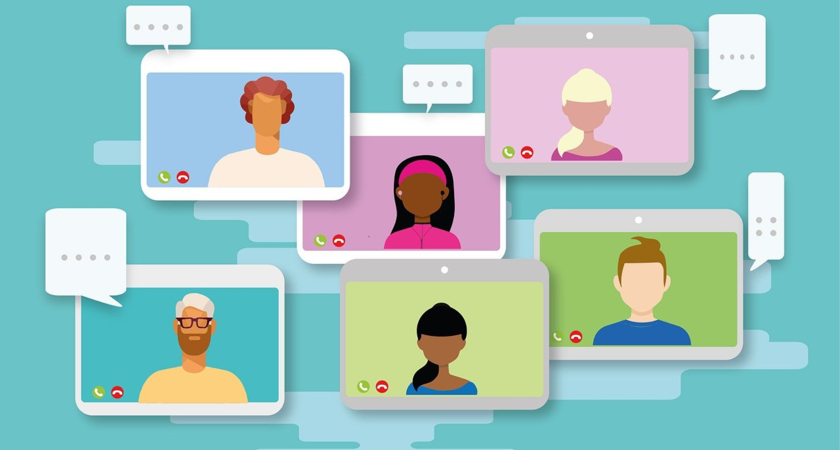 Launched near the beginning of the year, the School of Communications, Media, Arts and Design (SCMAD) formed a Recent Graduate Advisory Committee, the first of its kind at the school. Initiated by Nate Horowitz, Dean of SCMAD, and comprised of fourteen active members, the committee regularly meets on Zoom to share ideas, and generate new and unique possibilities for the school.  
Nate started this committee because he wanted to hear and get inspiration from the recent top graduates of SCMAD, as just another way for the school to continue to remain a centre for excellence in storytelling. After sending out a message to faculty asking for names of their recent top graduates, the committee was able to form to what it is now. "There's no limit to what we can do in advising our school, and a lot of that may end up impacting the student experience across Centennial," Nate says.
Lohan Santhirasekaran, Assistant To The Dean, has also played an influential role in organizing the committee. He shares, "When Dean Nate Horowitz initiated the School of Communications, Media, Arts and Design Graduate Advisory Committee, I knew this would tap into new ideas from a unique perspective – ideas we may have never thought about. What I wasn't expecting is the enthusiasm, commitment and passion our graduates had to help students succeed in their education and careers. The energy was contagious."
With a variety of topics discussed in each meeting, such as community engagement, industry leadership, and ideas focused directly on the centre for storytellers, the committee is excited to continue to foster new ideas for current and future students at the Story Arts Centre and help build long-term community partnerships for SCMAD. 
Thoughts from some of the committee members
"I feel the current committee offers students a voice to help the school become a stronger community. What we have started here with this first group is laying a solid foundation for building a communication between students and teachers. It was built to help build awareness of what goes on with the programs, as well as set up future opportunities for graduates to build upon the ideas given from the first committee and add upon it to help strengthen previous ideas." - Jayson Williams (Photography Grad)
"When I received the first email about the Grad Committee, I felt grateful and excited to represent the Fine Arts Studio program within an incredibly talented group of Storytellers. After the first meeting, I realized how much of an impact we were going to be making to the Story Arts Centre and probably to Centennial College as a whole. It has now been almost two months of regular meetings and I am delighted to see the level of awareness and commitment to excellence everyone involved has put into this project. The idea of integrating graduates in the conversation is fresh and very clever since we have an understanding of the school that will bring innovative and hands-on ideas to the table that probably have not been considered before. I feel incredibly honoured to have the opportunity to be part of this ground-breaking project hoping to be able to make a positive change that will benefit the educational experience of the current and new generations to come." – Sara Vargas Nessi (Fine Arts Studio Grad)
"Being a part of the School of Communications, Media, Arts and Design Dean's Top Graduates Advisory Committee is an incredible honour. Not only are we able to collaborate with other students who are driven to make the Story Arts Centre better, we are empowered by the college to make a real difference in the experience students will have for years to come. A great example of this is working with the members of the committee and the local community to showcase student work through a mural. This doesn't just add a splash of colour, it shows students the tangible projects they can accomplish at the Story Arts Centre. This hands-on learning experience is what sets this college apart. Being able to add to that experience is rewarding and adds a sense of accomplishment." – Andrew Rudyk (Public Relations Corporate Communications Grad)  
"I think the Grad Advisory Committee is helping to improve the student experience by breaking down barriers and being a voice for students - advocating for what students feel is important in their learning journey, career development and relationship-building. The alumni in the committee come from different backgrounds and programs. They provide insights to faculty and executive staff on their personal experiences at the Story Arts Centre and how they think the school culture or curriculums can be improved. I remember feeling really good after our first meeting because a wave of nostalgia washed over me. I thought of my time at the Story Arts Centre and how much I love the teachers and the Graphic Design program. Being a member is quite rewarding because I get to meet grads from other programs, talk about my past as a student and feel understood. I'm also happy that I can give back to the school and community. I hope that the ideas we come up with really improve students' experiences and that more people will apply to the amazing programs that the school offers." – Carren Ku (Graphic Design Grad)
"The SCMAD Graduate Advisory Committee is great for the entire Centennial community because it will open up new experiences and avenues of learning for current and future students. It will build relationships with the community, students from different programs and faculty. Combining academic and personal experiences will only make the Story Arts Centre and Centennial community stronger and have students better prepared for their post-graduate endeavours." – Marcus Rebelo (Sports Journalism Grad)
"After finishing the post-graduate contemporary journalism program at Centennial College last spring, I was honoured to be asked to be part of the SCMAD Graduate Advisory Committee. Volunteering for the committee means I can give back to the school that helped me start my career and collaborate with alumni from all programs to expand upon the college's vision. Past, current, and future students alike will benefit from the committee's initiatives because it will propel the SCMAD to be the best place for people around the world to come tell stories in a variety of ways. Those who have been fortunate enough to study at the SCMAD already know the unparalleled educational, community building and experiential opportunities that the school provides, but the advisory committee believes there is even more room for storytelling excellence. Some ideas that we have come up with include cross-program collaboration, showcases that attract the east-end community, and weekend student-led drop-in classes. The success of these projects will positively impact the SCMAD community, and I look forward to meeting more students, faculty and community members in the process." – Meredith Omstead (Contemporary Journalism Grad)  
"Firstly, being a part of the Graduate Advisory Committee (GAC from here on) is very special. As a brief primer, I'm part of the second graduating class for Arts Education and Community Engagement (AECE) program, from 2019-2020. I feel very strongly about this program and I owe it so much. Many of the opportunities and successes I have now, even with the circumstances surrounding COVID-19, are phenomenal, and I would do anything to pay back my teachers and SAC/Centennial itself.
Serving on this Dean's Top Graduates Committee/GAC feels like only a small way I can return the favour. This is a group of dedicated creatives who have achieved in their respective programs enough to gain the confidence of the program coordinators and the dean. I think that being a part of the GAC, regardless of the length of the "tenure", lets us create legacy projects and initiatives. Then, when the timing is right, we get to pass on the responsibility to newer, fresher ideas than even our own (as new grads). This makes the GAC so much more thoughtful and responsive to the environment at Centennial in the spaces and among the students. It also feels constructively contrary to how things have run in many industries, in that people don't tend to leave their posts to open the way for the new. It feels organic and will be reflective of the students who come through year after year."  - Dani De Angelis (AECE Grad)
Everyone involved in this committee is eager to continue working together to put ideas into action. Nate explains that the committee helps to establish what SCMAD can do structurally, and how they can change things, and those factors are what help guide the committee with each meeting and idea.
Written by: Alexandra Few