Communications – Professional Writing Students Work with the University Health Network to Create 1st KITEworks Magazine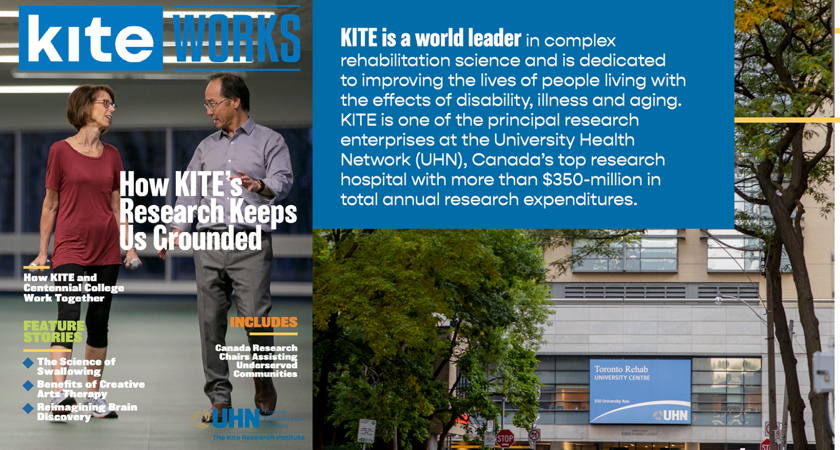 Students in the Communications – Professional Writing (CMPW) program had the exciting opportunity to collaborate with KITE – UHN, a world leader in rehabilitation science, and the research arm for the Toronto Rehabilitation Institute, which is part of Canada's leading research hospital, the University Health Network.
As part of their Storyworks course, students worked with Anthony Palma, Director of Operations at KITE, as well as Janitha Shanmugarajan, Operations Planning Coordinator at KITE, on a project that was brand new to the research enterprise: a digital magazine. Titled KITEworks, the magazine is expertly designed and full of engaging articles about research, the people and technology at KITE, and the stories of those who have been positively impacted by KITE's work.
Anthony says there wasn't a specific strategy in place behind choosing a magazine for this project, as the selection was rather organic. Selecting a magazine as the medium of choice acted as a great way to gather information about KITE and provide students with the chance to gain experience in knowledge translation and writing through a healthcare lens. It was also a great medium to highlight the various types of writing styles by students, which Janitha says added a lot of character to the magazine. "I found that [the magazine] was more exciting to read that way because you knew that each story was already unique in itself, but that extra little level of flavour from the author was really engaging."
Writing for KITE required students to really immerse themselves into KITE's culture, in order to effectively communicate information through each of their respective articles, and Anthony says they did this very well. "They really grasped the essence of who KITE is and who we represent, and I think they maybe became part of KITE," he explains. "Janitha and I worked hard at really getting them to understand who we are and what we do to set a platform, and I think having that time to do that with them allowed them to really write with that culture in their minds."
Jennifer McIlroy, Coordinator of the Storyworks course at the School of Communications, Media, Arts and Design, worked directly with students on this project and was extremely pleased with not only the final product but with how hard students worked and the skills they acquired as a result. She shares, "This was a hard project, and at first the students were nervous about its scope. Bit by bit, and leaning on each other, they achieved more than they thought possible. It's testament to the generous mentoring of Anthony and Janitha at KITE, and the students' determination as a result of the confidence they built throughout the project. I was inspired by the creativity and ingenuity of everyone involved."
Marren MacAdam, one of the students involved in this project, and who wrote a story for KITEworks, says, "Honestly, the project was really daunting at first; going from a small Storyworks client the first term to KITE – UHN was… scary. The prospect of having to interview important researchers in the medical field was even scarier to me, as I'm definitely not well versed in medical sciences." Despite the initial nerves at first, they explain that the entire process was amazing. "Everyone on the team, from students to the KITE folks, were on the ball and very supportive of each other. The researchers I interviewed were very lovely and managed to take their high-level research and make it accessible. The fact we managed to pull off such a beautiful and high-quality magazine in only a few months is still amazing to me. Being part of such a large-scale project was an invaluable experience."
Adele Paul, another student who also wrote one of the stories for the magazine, shares, "WARNING: This is not a drill! This is Storyworks. The CMPW's project for KITE was anything but a school assignment. Building a magazine for publication as a remote team over the course of 8 weeks was not only a challenge to me personally, but it pushed the boundaries of what I thought could be achieved through mere 'coursework.' The KITEworks project was PROFESSIONAL work for a PROFESSIONAL organization. Plain and Simple."
Dylan Godfrey similarly shares the nerves and excitement as his fellow group. He says, "At first, the Storyworks project in term two seemed overwhelming. I can't do this, I'm not ready for this, how can they expect this from me? - These were all thoughts I had before it began. But when you start to get into it, you realize that CMPW has adequately prepared you for this work.  And not only that, through working with the people at KITE, you learn that as impressive or intimidating as people might be, they generally are all normal people, too. They'll talk to you, explain things clearly, and answer your questions without making you feel unintelligent. As much as you might want to, you don't have to be the subject matter expert; let the real experts be the experts. Don't be afraid! This lesson is my biggest takeaway from the KITEworks project and is the biggest lesson I'll take into the real world after my time at Centennial."
Devon Cornelius, one of the students who worked on this project, and who helped design the magazine, shares, "I was one of the designers (with Jenny Popelyak) for the KITEworks project. We had the unique challenge of deciding how to present the stories in an appealing format. What I wanted most was to create a beautiful, finished piece that honoured KITE and their innovative work. It had to be more than a collection of white papers. And I wanted our classmates to have something they could proudly show in their portfolio. That's how we landed on the magazine. I underestimated the time it would take but I was committed to seeing it through. This project taught me a few important lessons that I'll carry into my post-student career. The first is to not be afraid of ambitious goals. I had never designed a magazine before this, but I LOVE the finished piece! Second, sell your vision to the client and get them excited about where we're going. Storyworks was the highlight of my student experience."
Based on this project, Giselle Gardonyi, another student who worked on the magazine, has continued the partnership with KITE by completing an internship with them. She shares, "I decided I wanted to do an internship at KITE based on my positive experience working on the KITEworks project. From conducting interviews with Subject Matter Experts to the editing process, it was a valuable learning experience. 
Not only did the students gain valuable experience working on this project, but the clients did too. Janitha shares, "What I really enjoyed was all of the creativity and the different perspectives that the students have. It really allows us to really think outside the box, and that's why I really enjoyed [Storyworks] so much because it allowed us to be creative as well."
The work students did was nothing short of amazing. Be sure to check out KITEworks for yourself here.
By: Alexandra Few