Storyworks Case Study | It's A Shell's Life
Collaborating with organizations, big or small, is always a worthwhile experience for students within Storyworks, as it allows the opportunity to build upon skills that can propel them into their future careers. Over the years, the partnership between the Toronto Zoo and Storyworks has always been a particularly exciting one, given the subject matter students have been assigned. Back in 2018, students in the Children's Media program had the opportunity to work on a project that stemmed from a manuscript written by Jennifer Howard, a dedicated volunteer of the Toronto Zoo's Turtle Tally program (which aims to save endangered turtle species in Ontario), about turtles in Ontario as a way to bring awareness to the species. However, the manuscript needed some work, and that is how the project began.
Denise Schon, who taught the Storyworks class at the time, helped to organize the project by dividing students into three groups as a way to represent various age ranges: young children, 7-9 years old, and 11-12 years old. The idea was to take the original manuscript and repurpose it to appeal to children in those age ranges. Creating work specifically for a specific age is not new to students in this program, as Denise says, "In Children's Media, the students learn about what kind of language you need for children's' developmental stages and what they can manage." Once completed, the manuscripts were sent to the client at the Toronto Zoo so that they could select which age range was going to fit best with their audience who engage with the Turtle Tally program. It was decided that the manuscript made for children 7-9 years old would be best.
Once the manuscript was selected, a few years went by before students in the Publishing – Book, Magazine and Electronic program took part in the same project. In 2020, Liana, a student in the program, worked with Instructor Kendra Brown, to edit the manuscript further so that it was ready for publication. Kendra says, "When I was hired by Denise to teach the Writing for Publication class, she asked if I could try to incorporate the turtle book project into my lesson plan—and I was totally game! As the former editor of OWL Magazine, I am really passionate about nature and animal conservation stories, so I was excited to help out and get the students involved! I gave them the original manuscript with some direction in terms of age range, language and word count, along with some samples of other children's non-fiction book manuscripts and magazine articles, and I asked them to give it a good edit. Liana showed a lot of interest in the project right away, and she turned out a really well-edited manuscript that we were able to move forward with."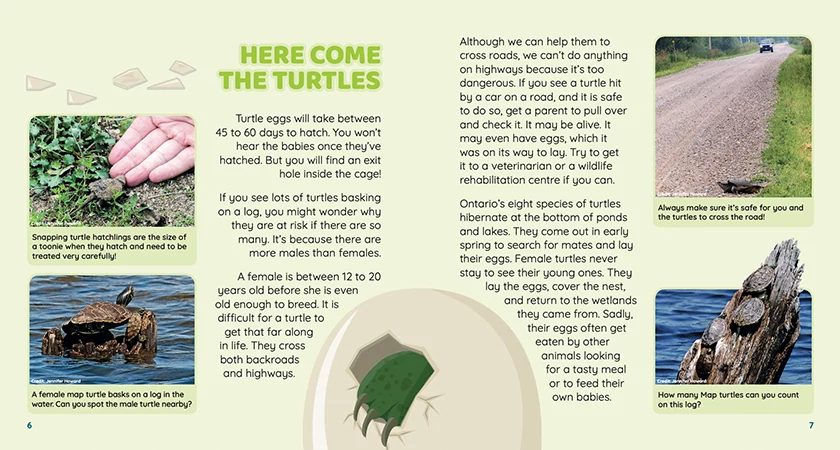 © Photographs by Jeff Howard, Jennifer Howard, Anne Lewis, and John Wright / Image layout and captioning by Sofia Zanetti / Design by Pauline López
With the refined manuscript complete, Denise asked Instructor Ken Dyment, the program's design teacher, to oversee Pauline López, another student in the program. Pauline took the work and designed an entire spread ready for print. Pauline shares, "At first, I had no idea what the book was about besides that it was about turtles and that included lots of images. When I learned more about the project, my first thought was to use simple vector illustrations to interact with the photos, of course, giving the importance that the pictures needed. Since this is a book that illustrates the different species of turtles and the ways to help their conservation, I felt the necessity to make the photographs the protagonists of the design. It had to be eye-catchy for children, but still keeping it informative and to the point. I counted on the guidance of Ken and Liana's input to choose which direction to take, and then the book took shape pretty fast. I had so much fun working on every page, and to be honest, I learned a lot about turtles. I love doing what I do, and that is designing, so this book, although it seemed a challenge at first, motivated me to give my best for such a wonderful cause."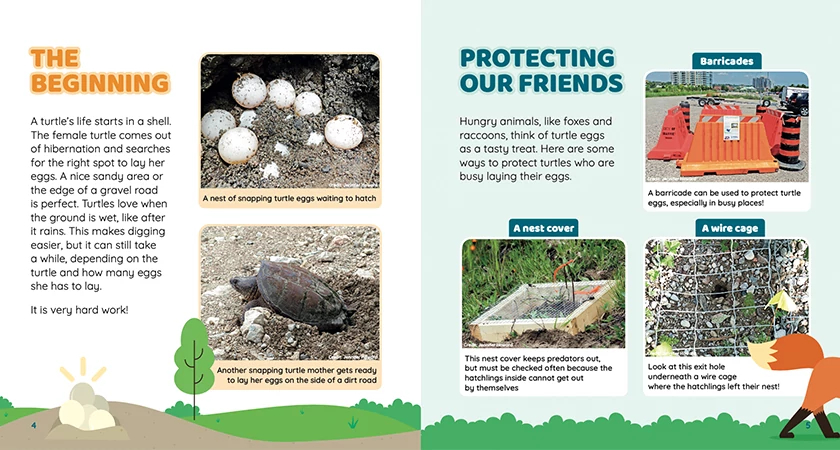 © Photographs by Jeff Howard, Jennifer Howard, Anne Lewis, and John Wright / Image layout and captioning by Sofia Zanetti / Design by Pauline López 
The final product was something everyone was proud of. Denise shares, "It's a nice project where the students got to work on something real. It's a really beautiful book." While the staff at of Adopt-A-Pond at the Toronto Zoo were also very impressed with the work. They shared, "The manuscript was written by Jennifer Howard, a committed Turtle Tally volunteer who is an incredible steward for turtles in Ontario. Jennifer kindly donated the manuscript to Adopt-A-Pond, and we are very excited to see this book serve as a valuable resource for budding conservationists for years to come!
We have been impressed by the professionalism and exceptional work put forward by the students of the Centennial College School of Communications, Media, Arts, and Design. We have worked with Centennial to prepare the manuscript for publication, through providing expertise and comments on drafts throughout the process. It has been a great experience for us to see the original idea grow into its current form. We are excited about the outcome, and we are incredibly grateful to everyone who has worked on the project, and to all of our amazing Turtle Tally volunteers!"
* This case study is adapted from the material published in a previous blog post that you can read here.
By: Alexandra Few - A 2020 graduate of the Communications – Professional Writing program at Centennial College who has first-hand experience with Storyworks and is an avid supporter of its push for experiential learning in the classroom.