Grad Profile: Gabby Marcuzzi, Museum and Cultural Management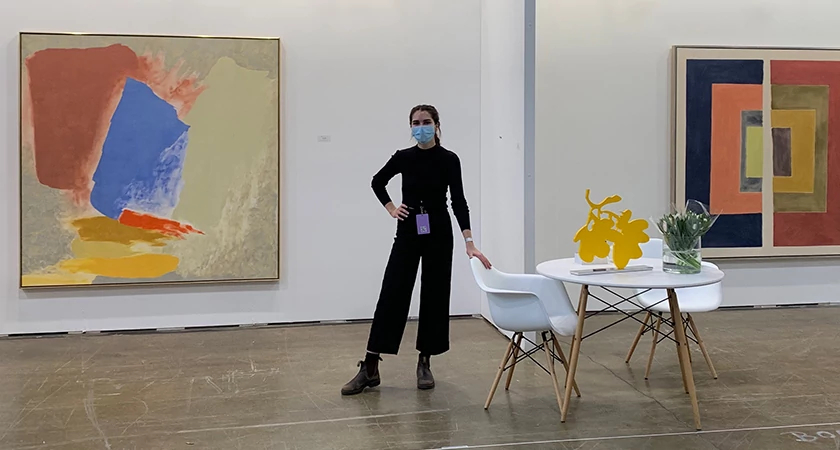 Gabby Marcuzzi is a 2021 graduate of the Museum and Cultural Management (MCM) program who has already successfully launched into her career within an industry that she has acquired both immense interest and skill in. 
In high school, she wanted to be a curator at an art gallery or museum, and this led her to complete an undergrad in Art History and, subsequently, a master's in Art History. Upon graduating in the spring of 2020, Gabby shares, "I was looking for a program that would give me a lot of hands-on experience in the field. I also wanted to find a program that would help me figure out exactly what kind of role in a museum or gallery would be the best fit for me." That is when she found the MCM program.
As with all programs on campus at the time, the MCM program converted to a remote learning environment. However, many of the same learning objectives, course materials, and important lessons remained the same as if it were in-person, just with a slightly different delivery. 
Gabby shares, "Learning remotely was definitely an adjustment, but overall, I think we found ways to create a sense of community and make online classes hands-on. On Halloween I remember people dressed up in costume, I got to see a lot of my classmates and professors' pets, and we did an assignment for one of my classes where we had to write condition reports for objects in our own homes. Learning remotely also gave me extra practice with platforms like Zoom, which has been really helpful in my job now." 
Post-graduate programs at Centennial have the unique ability to provide students with hands-on learning taught by instructors who are professionals in the given field. This allows students the opportunity to obtain a skill set that provides confidence for whichever industry they enter. For Gabby, this was especially true, as she explains, "We were taught how pack and ship artworks, how to write gallery labels, and many other skills that have proven to be really useful in my job. I felt confident knowing that I had that experience as well as a great network of people I could reach out to for help."
After graduating this year, she obtained many great lessons from the program, one of which includes the importance of building a professional network. "Especially during lockdowns, it was easy to feel isolated, but all of my professors really encouraged me to reach out to people working in the field and stay in touch over email, LinkedIn, and Zoom. My classmates were also really wonderful, and everyone has been so supportive of one another. For example, in our online group, people share job postings, interview tips, and local arts events."
As for advice to those interested in this program, she says, "My best advice would be to make the most of everything — go to lots of exhibits, tours, networking events, and really immerse yourself in the program! Things like blogging about topics you find interesting, attending arts events, and volunteering, if you can, are also great ways to build up your experience and CV before you graduate."
Gabby is now working at an art gallery in Toronto where her day-to-day responsibilities vary. "I do a lot of social media and website management, I correspond with clients and other galleries over email, and I help with logistics, such as shipping artworks. I usually work at the desk in the gallery, so I get to interact with people and look at the art on the walls all day, which I love."
Recently, the gallery that Gabby works at was exhibiting at Art Toronto, an annual art fair that showcases works from galleries around Canada and abroad. "I was in the booth all weekend speaking with visitors and posting photos and updates on our social media. In the weeks leading up to the fair, I also assisted with preparing our booth design, curating works, and figuring out the logistics of getting the works to the fair and installed in our booth. 
Gabby is a great example of the success that the MCM post-graduate program can provide students, and we are absolutely thrilled at her success now and as she continues to progress in this industry.
Written by: Alexandra Few