Memorial Bench for Degrassi Co-Creator, Kit Hood, Presented on Story Arts Centre Campus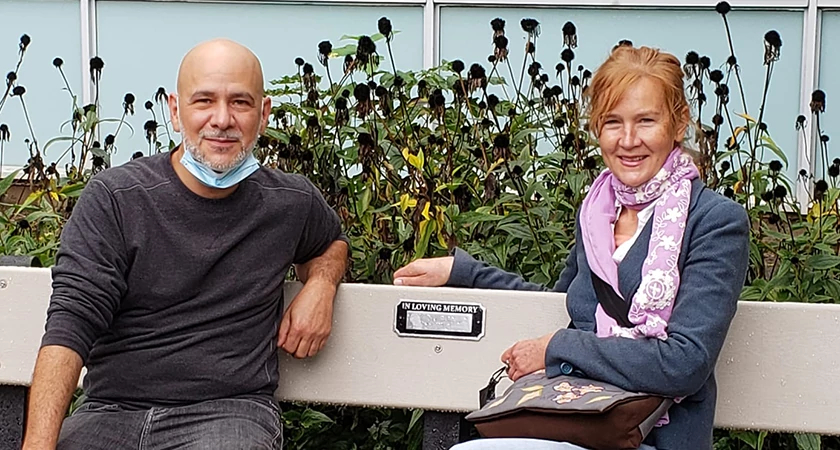 Christopher "Kit" Hood, along with Linda Schuyler, formed the production company Playing With Time Inc., which produced the first series in the Degrassi franchise in 1979 called The Kids of Degrassi St., in addition to the subsequent series' Degrassi Junior High and Degrassi High in the early 80s. 
Not only was Kit part of the production team, but he also helped direct a large majority of the episodes that aired during that time. "He was the creative force on set; he was the captain of the ship, and we all looked up to him," shares Pat Mastroianni, the actor well known for his role in the Degrassi franchise and who worked with Kit directly.
For those that do not know, Degrassi High, which first aired in 1987, was filmed on our Story Arts Centre campus, which acted as the setting for incredibly important and massively entertaining storytelling that countless amounts of viewers watched.
Sadly, on January 20th, 2020, Kit suddenly passed away, and a small memorial was held at his home in Nova Scotia. Due to the pandemic putting things on hold, it was difficult for anyone other than family to make plans to honour his passing, up until more recently when Kit's daughters came to Pat with their idea of creating a laneway in Kit's name behind 935 Queen St. E., where Playing With Time Inc. was once located.
With the support of Kit's family, Pat helped raise more public awareness about the laneway project and the family's petition for the laneway, but he also wanted to do more. He shares, "This past year and a half, I was thinking to myself, what can I do as Degrassi alumni on behalf of the cast, crew, and fans… and I thought a bench was really the nicest, simplest gesture I could come up with." Pat wanted to put this bench in the spaces that were most important to Kit during the height of his career, which includes the Story Arts Centre campus and Vincent Massey Public School in Etobicoke where they filmed Degrassi Junior High.
After reaching out to the Dean of the Story Arts Centre, Nate Horowitz, who Pat says has always welcomed him into the school when he had guests he wanted to show around or when fans of Degrassi came to Toronto, things began to fall into place as everyone involved was immediately on board.

The image above is the plaque displayed on the bench, which is now in the courtyard on campus. The quote, "Be in the moment" is something that Pat and the additional cast and crew that worked alongside Kit, hold very close. Pat explains, "Kit did everything possible to draw on our experiences as young kids, and that's why the plaque says 'be in the moment' in quotes because Kit would say that to us all the time on set. He would say, 'guys, I don't want to see you acting, I want you to be in the moment and react.' – that was sort of his 'thing' he would always try and make us remember."
He continues, "As young actors, we didn't understand about all the different techniques that are out there, and we were learning on the job. Kit said to listen to what the actor is saying to you, absorb it, be in that moment as if you were really in that moment, and just react." 
On October 16th of this year, Pat invited a group that was close to Kit, and who also donated proceeds to the benches on both school campuses, to the Story Arts Centre for the unveiling of the bench. "I'm having them come with me to the school because, for them, it's also a spiritual journey. [The Degrassi franchise] is something that meant so much to them that they carried for the past 30 years… and this is their opportunity to actually give something back and say thank you." 
Pat adds that for the majority of fans that watched the early series of the show, it was out of pure entertainment. But a small percentage of fans really connected to the show, and it spoke to them when they wanted a friend and needed to feel less alone in the world. "That's what fans say to me all the time when I meet with them. When we talk, we have open discussions about the show and what it meant, and they often say to me, 'you guys were there for me when I had nobody else. I couldn't go to my parents with issues, and I didn't feel alone when I watched that show'". This sentiment is a great representation of the power of this television series, which Kit contributed immensely to.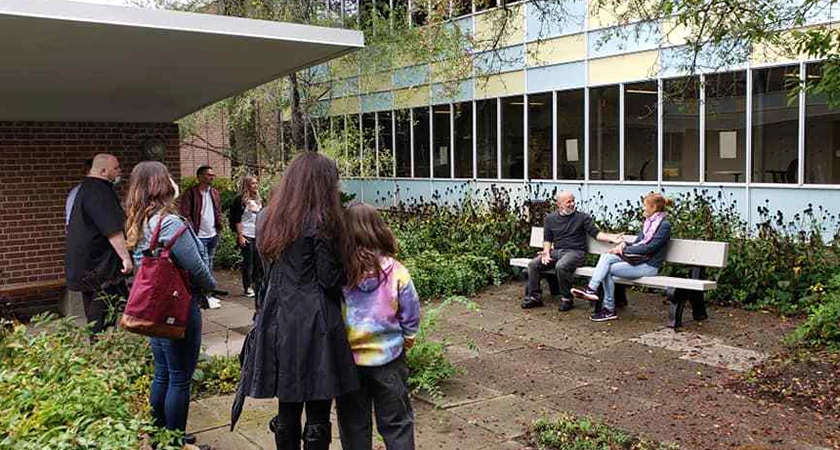 The Story Arts Centre campus means a lot to the cast and crew that filmed there, as Pat shares, "It is like visiting a home that I used to live in, in my childhood. When I walk into that school, and I see the ramp, and I see the central open area and the hallways… it still kind of has the bones that I remember back in the day, and it's nice. It's a very comforting feeling that I can easily go back in time in my mind and remember the fond moments I had working as an actor, but also the friendships that I made that I still have today."
He shares that the campus is an embodiment of his childhood career, so being able to leave something there for students and staff, and whoever may happen to use the bench, is a wonderful thing. "It's a nice little keepsake for me, my fellow cast members, and the fans of the show that will hopefully be there for a long, long time."
We are so thankful that our campus could provide such great memories from such a monumental show, and we proudly display this bench in Kit's honour.
Written by: Alexandra Few