Broadcasting Grad, Cathryn Naiker, Writes for New CBC Comedy "Son of a Critch"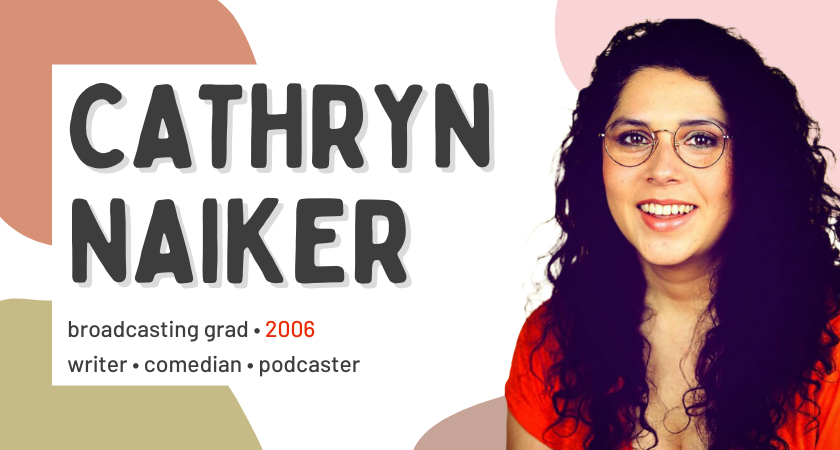 Cathryn Naiker graduated from our Broadcasting program in 2006 and has since gone on to immerse herself in the world of writing, comedy, and podcasting. Fascinated by film and television all of her life, Cathryn shares, "I always loved those how did it get made specials on TV. My whole life, I always just knew."
Entering the Broadcasting program after high school, she says, "I picked Centennial College because it had these beautiful yellow benches and a grand piano under a massive wooden ramp. Every other school was stale and didn't spark creativity. It felt like home." One of her main takeaways from the program that she still carries with her is networking. She explains, "My classmates became my first contacts in this industry, and many are still my friends to this day."  
After years in the broadcasting industry as a Production Coordinator/Manager and Producer, she decided to follow her passion and jump into the world of comedy. After searching how to become a comedy writer, it led Cathryn to take a sketch writing class with Paul Bellini (known for The Kids in the Hall), who told her that she should do stand up. "What drew me to it was I was tired of wanting to be a writer without really going for it. I realized I would rather be a person who fails than be a person who never tries."
Looking back at her favourite memories as a comedian so far, she shares, "My favourite comedy memories are honestly like really crappy open mics. I have been in so many dreadful urine-smelling bars talking to random people who have nowhere to be on a Wednesday morning for some reason. To an outsider, it would look dreadful, but to me, I felt so alive. We all did."
In terms of comedy writing, Cathryn explains the experience has been a roller coaster. "Being a writer is hard, but the good days are great," she says. Cathryn's first writing job was writing for The Beaverton, an online Canadian news satire publication, which she acquired after one of the editors saw her do stand up. She has also written for several productions, including This Hour Has 22 Minutes, where a sketch she wrote went viral with over eight million views.
More recently, Cathryn has been a writer for a new show that will air on CBC in January 2022 called Son of a Critch. This will be her first half-hour episode written by Cathryn, and she says she can't wait. Also set to release in 2022 is Cathryn's first live comedy album called I'm your #1 Dad which she will start to record later this year. 
Among these exciting opportunities Cathryn has going on, she also hosts a podcast called The Pick Up – A WNBA Podcast. "I started The Pick Up – WNBA Podcast with my co-host Freddie Rivas on the Sonar network because as lifelong Raptor fans we wanted to learn more about WNBA basketball. It's a great podcast for beginner fans, people who have been curious or have wanted to follow the sport but didn't know where to look," she explains. Listen to their Introduction episode here.
To find out more about Cathryn, check out her post on Where Are They Now? – our social media series that highlights grads and their cool jobs.
Congratulations, Cathryn!  
Written by: Alexandra Few