Meet the Story Arts Centre's New Librarian: Muyi Ogunleye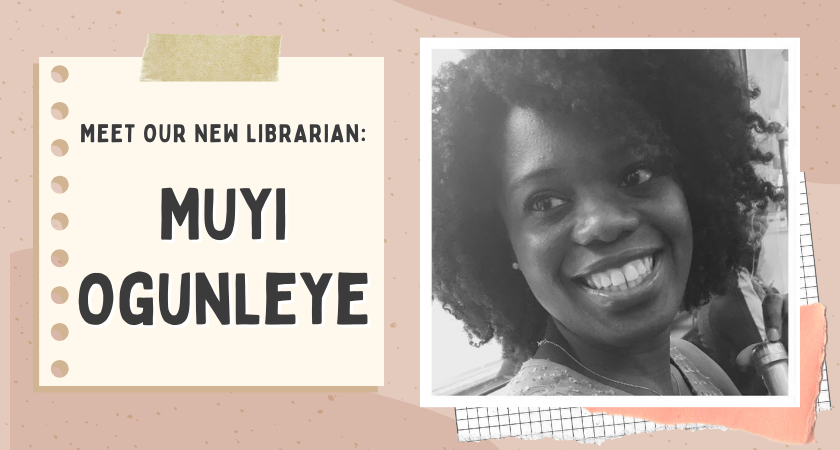 To help welcome the fall semester, we opened the doors to our brand-new library! After a complete redesign, we are absolutely thrilled with the results and what this new, creative space can offer students and staff. We are also delighted that accompanying the library is our new librarian, Muyi Ogunleye!
Originally from London, UK, Muyi has an extensive background, having worked in a variety of roles that she says have provided her with different perspectives and challenges. She has also acquired an international accredited library qualification, which she explains was for the sole purpose of working abroad after 10 years of library experience.
"I am so delighted and proud to be working at Centennial College. I love the diversity, its aims, and the library team, and it reminds me of home. Having worked for a similar institution in the UK, it is like a dream come true to work in a field you love and still working with aspects that made me happy to stay in my previous organization for 10 years," she shares.
On a personal note, Muyi says, "I am proud to say that I am a 5K runner and I have started to write, paint, and knit. I hope to continue to learn and master these hobbies as well as explore Canada."
Now starting her journey at the Story Arts Centre, she says she is enjoying every aspect. "The challenge for one! The challenge of being in an international academic institution and library is terrifying at times but exhilarating. I'm working with a blank canvas, no expectations, but immersed in the whole experience. Secondly, I am enjoying the variety of my job. I know most librarians would say that, but this role is truly diverse. I am working with both static and dynamic collections, emerging technologies, and supporting students in an accolade of ways. Thirdly, I am working with great minds, passionate souls, and people I want to learn from and grow with."
Muyi's day-to-day responsibilities differ given the nature of the job. For instance, she is responsible for familiarizing staff with library resources and services. "As we know, if your instructor directs you to a resource, you'll use it. So, it is important we have this dialogue, plus, I like this part because I'm learning too," she explains. 
Additionally, she is the lead for innovation and digital fluency (Makerspace and Emerging Technologies) in the library and says the hope for this part of the job is to embed the use of the tools within the library, as well as the space itself, in the curriculum and in the minds of students. "I know our students are multifaceted; they have hobbies, ambitions, projects outside their studies. So, I hope they utilize the Makerspace and the [Emerging Technologies] collection to support their goals, hopes and dreams."
The campus library offers a variety of tools to help students succeed. Muyi says that apart from the collection of books, e-books, journals, guides, and services, as described on the library website, there is a library team full of knowledgeable and supportive people who are committed to helping students succeed. She explains, "We provide research support sessions, virtual drop-ins, and you can reach us by email, telephone and virtually. We live by what we say, if you need help you can connect with us in a multitude of ways, and we will be there."
Muyi also wants students to know that the library team is working to provide resources that are equitable, accessible, and timely, and she hopes students will use the open access and open educational resources that are available through the library website.
As a way for students to utilize the library and make their experience on campus even better, Muyi suggests getting familiar with the Library Guides. "They are an amazing resource; it helps you to become familiar with the types of information sources that are out there, and these sources are subject-specific and are for you, your program and courses."
She continues, "The guides provide topic-specific, saved searches of different course materials, links to the journals, databases, and websites. The guides cover a range of areas that you will need throughout your academic experience: referencing and citations, what are creative commons and how to use them, technical support, employability and much more."
Muyi adds that as the campus begins its way back to a new normal, she is looking forward to meeting students, as she loves supporting and working with them.
We are sending Muyi a very warm welcome to our campus and we are excited to have her join the team of incredible library staff.
Written by: Alexandra Few