Broadcasting Students Come Together to Work on Classmate Isaac Henry's Project After His Passing
A group of Broadcasting students and grads came together this year to work towards completing a film project that has been on hold since the pandemic began. Finishing the project carried significant importance for them, as it was a film written by Broadcasting student Isaac Henry, who unfortunately passed away in October of 2020.
Jim Lambie, one of the instructors within the Broadcasting program, explains that in March of 2020, right before the pandemic caused major shutdowns, Isaac's 16mm film assignment was about to go to camera. This project required students to create an eight-minute dramatic film shot on 16mm film, which provides those in their fourth semester an opportunity to shoot using film.
Jim shares, "It was a bit of an uphill battle for this group, but the stars, and their hard work, had finally aligned, and they began filming. Their first day was 'in the can,' and they had two days left to complete. Their location was the student residences where Isaac lived."
He continues, "When the crew arrived at call for day two, they were told by security that they were no longer allowed access due to the threat of COVID. Many panicked phone calls were made by the group and both Barry Waite [Chair of Communications & Media] and I did everything we could to allow them to continue. They were so close, but it was early days in the world of lockdown, and the risk was too great under the circumstances."
Students ended up processing the footage they shot during the first day of filming and edited it in order to salvage some of the assignment. Jim adds, "What made the situation worse was the fact that the other sections were able to complete [the project], as they had all filmed a few days earlier. It was very tough on this group."
Although the project remained unfinished, many members of the group always had the intention of completing it. Jim shares, "They were getting closer to this reality when another tragedy struck, the sudden passing of Isaac in October 2020. This was devastating to all who knew him, and when the shock began to subside, the importance of finishing Isaac's work increased."
In the spring of 2021, the completion of this project was approved by the College and pre-production began. Two members from the original group of students, Juliana Mansano and Zheyu Liao, came back to complete the work, with Juliana taking on the role of director. They also enlisted the help of current students along with recent graduates and alumni.
Jim explains, "Pre-production began in May and filming took place over three nights in early June with all the equipment and production expenses being supplied by the college. I continued my role as instructor from the original assignment and oversaw the project through all phases of production. As we were still dealing with COVID, the location needed to be changed to the Story Arts Centre, which lent itself nicely to Isaac's script." 
Although the project is currently in post-production, Jim says the footage looks fantastic. "The students did an incredible job. They were passionate and professional, and they understood they were doing important work by bringing Isaac's script to life.
It was cathartic on so many levels; they were able to complete an assignment they were all passionate about and they were honouring Isaac by doing so. It was also one of the first times we could all be together again in person! Masks were worn, and precautions were taken, but we were together, which was incredible all on its own."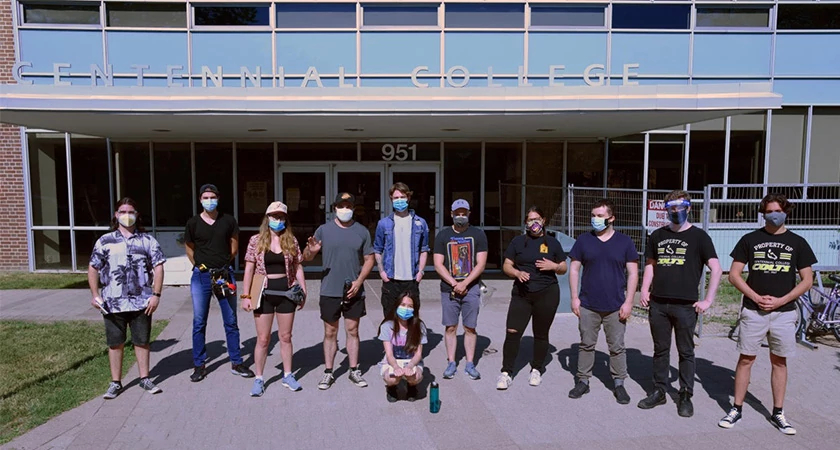 From left to right: Dimitri Galanis, Vinicius Burger, Mackenzie Floyd, Ian Walls, Juliana Mansano (crouching), Aidan Glassey, Adam Linhares, Liliana Vera, Kevin Costa, Jakub Wingell and Joseph Gibson. Not shown: Lucas D'Angelo and Zheyu Liao 
Thoughts from Juliana Mansano, Producer & Director for the film
"The first time we filmed this project was in March 2020, and at that time I was a Co-Producer alongside Isaac and also first AD. It was all very exciting because, at that time, we were shooting with film and not digital, so there was a lot of pressure to get the shots right and not waste film. Even though we were only able to shoot one day, it was a fun experience, and I will forever cherish those memories.  
After Isaac's passing, I got in touch with faculty from Centennial and together we were able to make a plan and work together to make sure this project would happen. I'm forever thankful to the faculty that helped us make this come true; it meant the world to me and even more to Isaac's family. For this second time shooting, I was the Producer and Director of the film, which was an honour."
Juliana says that when the pandemic hit and caused a halt on filming, the crew discussed alternative dates to film the project. However, as the pandemic carried on, it was more difficult to find a date. "The film got a little bit forgotten in 2021, but it was always in the back of my head that I wanted to finish filming it because it was a great script. When Isaac passed away, I told myself I would do anything and everything to make sure his script would be shot and that his film would be made."
She continues, "This experience was a roller coaster of emotions. When we filmed Isaac's project, we were all graduates. We were not students anymore. So, that was already a weird feeling, to be back in Story Arts Centre with friends I haven't seen for so long because of COVID and knowing we were all there for Isaac.
It got very emotional at times, and when we wrapped it was the best feeling of accomplishment. After so long we made it, and this time, it had a different feeling to it because the person who wrote that story that we were filming wasn't there anymore. But I know he's happy we did it, and I just wish we could see his reaction to the finished project, which hasn't yet been completely finished."
Jim wants to give a special thanks to Dean Nate Horowitz and Chair Barry Waite for making this all happen. To find out more information, you can access the film's IMDb page.
Written by: Alexandra Few