Sports Journalism Students Gain Thousands of Views on Tokyo Paralympic Games Coverage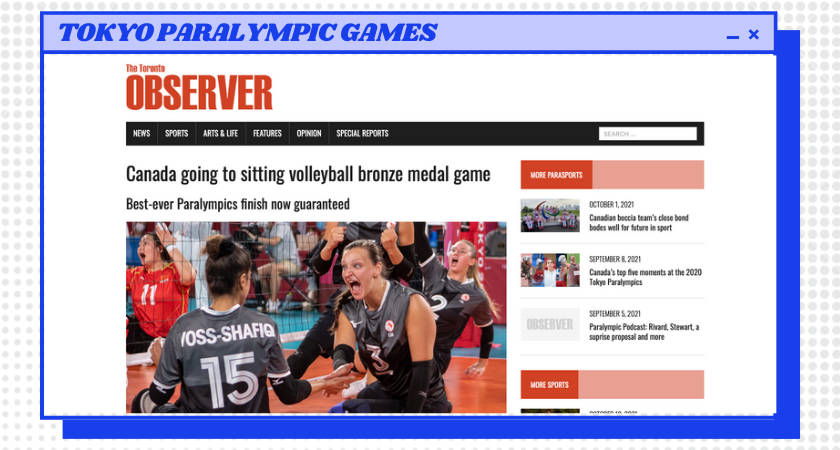 With 106 stories, 14 daily radio/podcast updates, 7 television shows, extensive social media updates, and a cumulative 20,000+ reads on the Toronto Observer, students from the Sports Journalism program impressively covered the Tokyo Paralympic Games – a 12-day event with athletes competing from more than 160 countries.
Malcolm Kelly, Instructor and Program Coordinator of Sports Journalism, says that ever since 2015, the program has been dedicated to covering para-sports among the other sports covered by students. Since 2016, when half the cohort of students travelled to Rio de Janeiro to cover the Paralympics, Malcolm says they immediately began planning for the 2020 Tokyo Paralympics with every intention of bringing students to Tokyo to cover the Games. However, with the unexpected shutdown caused by the COVID-19 pandemic, this was no longer possible. 
Instead, the program came up with another way to provide coverage. Malcolm explains that for a program that always tries to match what occurs in the professional world, virtual coverage was not far off from what the professionals ended up doing to cover the Games, especially since travelling to Tokyo was out of the question.
Covering the Paralympics is important for the Sports Journalism program, largely because of the lack of coverage it receives in mainstream media. For instance, in the 2016 Rio de Janeiro Paralympics, Malcolm shares that other than the group of journalists from CBC, students from this program helped raise the number of Canadian journalists there from two to nineteen. "Even this year it didn't get the coverage it deserved. For example, Canadians would win gold medals overnight, and local radio would barely mention it," Malcolm explains.
Even with some of the extra efforts that virtual coverage can bring, and the significant time zone difference, students did not let it stop them from extensively covering all of the exciting action from the Games. This helped bring some much-needed attention to the phenomenal athleticism and skill displayed within the Paralympics that many may not get to see because of a lack of media coverage.
Students decided whether they wanted to cover the digital side or more of the broadcasting/television side of the Games, and it ended up being an almost even split among the class. Those who did the broadcasting roles utilized the newsroom broadcasting facilities on campus, while those on the digital side worked in one of the large classrooms to ensure everyone was properly spaced out and COVID-19 protocols were followed.
"We were so proud of the staff and so proud of the students. They have had a very difficult year in terms of them not being able to get out and cover anything because of COVID restrictions, but this was finally something to do. To do a major games is quite an event because everything happens so quickly, and there is stuff coming at you all the time, and you've got to have it right, but they did a wonderful job. The instructors were wonderful, and… the Story Arts Centre made things so easy for us," Malcolm shares.
Thoughts from some students who covered the Paralympics
Brenna Kavanaugh, who took on the digital role of covering various sports and game previews, says, "I mainly focused on Canadian women's goalball, but I also wrote about Canadian archer Karen Van Nest and the Canadian women's sitting volleyball team. My favourite piece that I wrote was on Canadian goalball team captain Amy Burk. I had the chance to interview Amy over the phone after her team was eliminated from play. She was unbelievably kind and helpful – a great interviewee! She also gave me my first big break as a journalist! Amy told me that, despite rumours, she is intending on competing in Paris in 2024, and I got to break this news!
Writing about the Paralympic Games gave me the chance to continue my growth as a writer and to build my portfolio. The work that we did in this project will help me tremendously in taking the next steps in my career as a journalist. Throughout this program, I have been adding to my portfolio and skillset – the skills that I have learnt throughout this program helped to prepare me for covering the Games, specifically with interviewing, interacting with media contacts, and organizing clean and concise writing.
I hope to have the opportunity to cover more games and tournaments like the Paralympics in the future. I love the idea of giving coverage to things that are not celebrated enough. The Paralympic Games are engaging and riveting and deserve to have more eyes on them. I am very proud of the work that I put in and the material that I created during the Games."
Brett Honeysett was a member of the broadcasting team that produced a daily show for the Toronto Observer YouTube channel. He shares, "As part of that team, I filled a number of different roles; I anchored a couple shows, was a member of a panel chat, cut a number of highlight packs and did some other work behind the scenes (audio, floor director, etc.)
Overall, it was a fun and rewarding experience. While it could be a bit stressful day-to-day as we were under pressure to get a show taped every day, in the end, I think we produced some excellent work that improved with every show. Additionally, it was great to work with our instructors in a closer and more hands-on setting. They provided invaluable advice and direction that allowed us to produce quality content every day we were in the studio.
We had been practicing some broadcasting over the summer semester, so I was familiar with most of the roles going in, but it was nice to go more in-depth with those positions during Para week. I believe the whole experience provided me with valuable skills and reps as I look toward pursuing a job in this industry in the near future." 
Everyone did such a wonderful and professional job covering the Paralympics, and their dedication to the industry was magnificently displayed. Looking ahead, the next Olympic and Paralympic Games take place in Paris in 2024, and Malcolm shares they are looking forward to continuing the exceptional coverage.
Written by: Alexandra Few