Live Performance Documentary Enlists Help of Centennial Broadcasting Students and Grads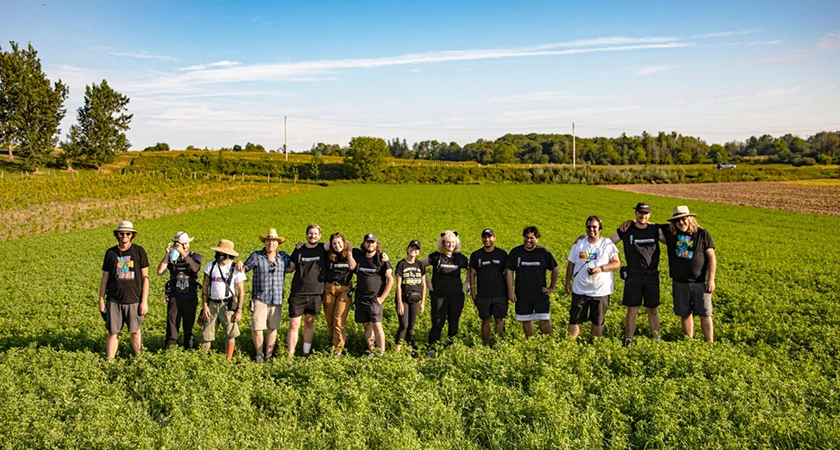 At the beginning of 2021, Broadcasting Professor and Peterborough Folk Festival Chair, Malcolm Byard, applied for funding to produce a performance documentary and corresponding album entitled, We Can Do This. With funding secured during the summer, the project was green-lit shortly after, and work on the project began.   
Being long-time friends, colleagues, and collaborators, Broadcasting Professor, Jim Lambie, joined the project as the Producer, and around mid-June, the prep work began with the hopes it would go to camera mid-to-late August.
"We shot over a period of seven days in mid-August with the live performances happening over four days at the picturesque Rolling Grape Vineyard in Ballieboro Ontario. The remaining dramatic elements were filmed around the city of Peterborough, ON," Jim explains.
When assembling the film crew, Jim says that they first enlisted the help of 2011 Broadcasting grad Adrien Mehes to be the Director of Photography. "Adrien is very talented and has been working steadily since graduating. He also has his drone license, which was important as there were many drone shots planned."
From there, Jim explains the process of acquiring Centennial students and grads was a snowball effect. "In addition to Adrien, we hired alumni Keaton Evans as our gaffer, Joel Souza as our Covid Co-ordinator and assistant director, Mackenzie McDonnell as our production manager, Ferdiand Orlain and Sean Sweeney as camera operators, Andrew Park as our DIT and assistant camera, Haru Sasaki and Marvin Roux as sound recordists and Keith McKeegan, Juliana Mansano and Zoe Laviolette as production assistants. In total, twelve Centennial students were employed on the production with the majority of them in paid positions."
Malcolm also shares similar sentiments, as he says, "Our graduates and students worked together in a very challenging environment." He continues, "Jim and I were assembling the working budget of the We Can Do This budget and were assembling a crew. So many times our first pick were alumni that we eventually decided to invite current students to round out the remaining positions. So many great connections between recent and past alumni and current students, in a safe, enjoyable project location."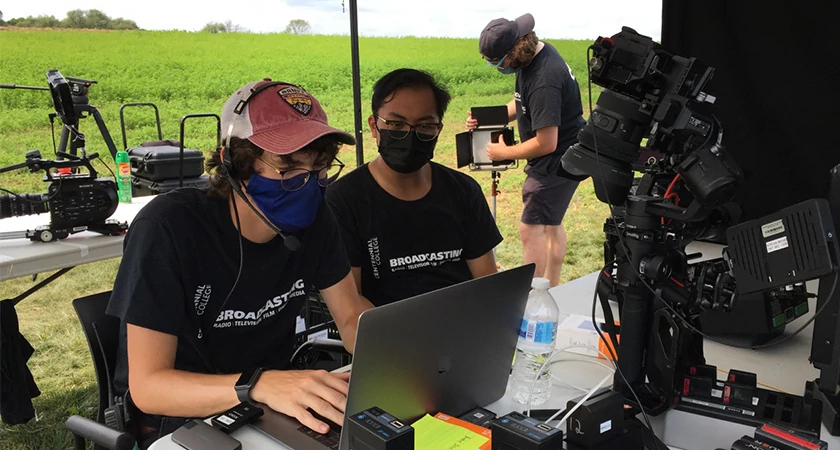 The experience of being on a professional set provided students with a great opportunity to gain hands-on experience, as Jim explains, "With both Malcolm and I overseeing the project, we took on the role of mentor walking them through the process and helping them along the way. Filming went without a hitch, and the crew was incredible! Our only complaint was that it was the hottest week of the summer, but we stayed out of the sun whenever possible and drank a small lake's worth of water!"
Both Jim and Malcolm share that it was a great experience overall. Jim says, "Wonderful for the festival to remerge after the lockdown bringing live music back and fantastic for the students who were able to expand their education and get some real-world experience with a couple of their instructors at their side." While Malcolm notes, "Our students have great potential as professionals and certainly met the challenges of this difficult project."
The project is currently in post-production, with an expected release date of spring 2022.
Written by: Alexandra Few