Two-Time Centennial Graduate Writes Defining Book About Toronto Graffiti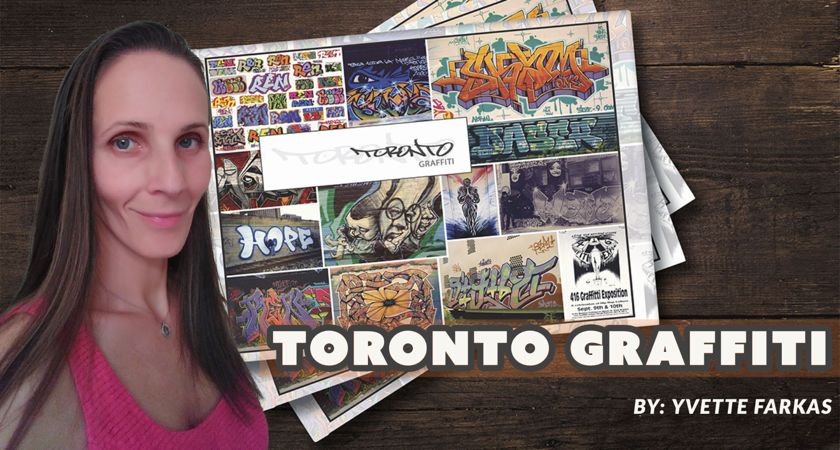 Graffiti has the power to tell stories, inform, and liven up a once bare space, but behind the work is a culture full of artists that can often go unnoticed. Yvette Farkas, a two-time Centennial College graduate, republished her book Toronto Graffiti: The human behind the wall to celebrate its 10th anniversary. Within the 520-pages is a compilation of 20 interviews with artists and over 1,000 full-colour photos, maps, definitions, timelines, and opinion pieces.
A bit about Yvette
Yvette graduated from the School of Communications, Media, Arts and Design in the early 2000s from the Foundation Arts program (now known as Art and Design Fundamentals) and the Communication Arts program (now known as Communications and Media Fundamentals).
She shares, "The two programs I took at Centennial were instrumental in laying the foundation for this book project in terms of technical skills. I was the 'everything person' and did much of the photography, graphic design, layout for print, web design and development, content creation for marketing, and interviewing artists, to name a few."
Yvette has years of experience in the arts, specializing in healing, martial, and internal arts. "Storytelling as a means of sharing wisdom, insight, and encouraging a kind heart was a large part of my life growing up, whether in written or visual forms and is something I greatly appreciate. Storytelling is an undervalued treasure."
She adds, "Like photography, words have tremendous power and can be wielded as a magical balm or deadly weapon. It is truly an art form unto itself, capable of capturing hearts or cultivating fascination, intrigue, wonder, and much more. I've also had a long-term love affair with photography. Ever since I got my first camera at the age of eight, the satisfaction of sharing people's stories through photos that capture a tender or intense moment or inspire curiosity has driven much of my work."
The Inspiration and Work Behind the Book
Yvette shares that she had a deep curiosity for the creators behind the art, such as what drove them and how they developed their skills. She knew there were stories hidden behind the walls and wanted a first-hand look at what the stories were. She explains that as she researched further into the graffiti scene, she realized the amount of skill and effort that went into the pieces of art upon those walls, and the process of how they came to be impressed her even more. 
For a little over a decade, Yvette did extensive research on the culture of graffiti by engaging with the pioneers of the graffiti scene in Toronto. "I was honoured to connect with many of the foundation artists in Toronto, such as Ren, known as the "king"; La Bomba, who has created incredible, powerful works of art all over the city (and beyond) that bring hope, inspiration, and healing to communities; The Graffiti Knights; Hope; Daser; Sec, and many others," she shares.
Yvette also took photographs and was committed to checking out graffiti shows and hip-hop events. She shares that although there were many long nights, with times that she would be under a bridge in the early AM following up on new pieces of graffiti and meeting new artists or jumping over fences and running along train tracks to take photographs of incredible pieces in hard to get to places, it was all part of her vision for the book.
Meaning Behind "The human behind the wall"
This profound statement within the title of Yvette's book holds a deep meaning when discussing graffiti, and it came to her during one of her meditations. "It instantly fit, and the artists seemed to really connect with it too. To this day, I feel it is the most fitting descriptor of this project. Every single artist is such a unique human being. I learned a lot from them. They pushed me, challenged me, and questioned me."
She continues, "It was an intense experience navigating such different points of view and energy that wasn't always the friendliest, at least not in the beginning. That sounds so cliché because aren't we all unique after all? No, these men and women think in such different ways that you can't help but be changed by your conversations with them; you look at the world differently, you see how things can be taken apart and put back together, you begin to notice patterns you never knew were around you, and become aware of approaches to not only art, but life - which one could argue is one and the same." 
Yvette wants people to know that graffiti artists are human and like to be acknowledged and appreciated for their work, and this exudes from her book. However, what the public thinks about their work is not top of mind, and like all art forms, beauty is in the eye of the beholder.
Republishing After 10 Years
Toronto Graffiti: The human behind the wall has been refreshed as a way to celebrate its ten-year anniversary. "It was nearly a year in the making with a new cover, history, testimonials, revamped website, and brand-new Graffiti Knights section, which, by the way, is incredible," she says.
Yvette shares that the book was extremely difficult to create, as she explains, "Often the most significant and growth-oriented experiences are the ones that push you the hardest, and this project pushed me hard. I grew as a human being in the process of working with the artists and am very proud of the work. The entire point of the book was to highlight these outstanding artists, their work, offer the public a rare glimpse into their world, and create a sense of appreciation and greater understanding for them." 
She continues, "It's such a rare thing to be a fly on the wall of someone's inner world, perspective, and deeper thoughts. This book allows the reader to delve deeper than ever imagined since the artists were kind enough to share so much of themselves. The ten-year anniversary was a refreshed version meant to give more people the chance to get to know these artists."
The Popularity of the Book
Featured in the Globe and Mail, CBC Radio, and on several local, national, and international media, Yvette's book continues to provide deep insights about graffiti, politics, history, and humanity through its pages. It is also used as reference material by the City of Toronto and sold at Indigo, the York University Bookstore, and, for the first time ever, at the Art Gallery of Ontario. It is also part of The National Library of Canada and is being translated into multiple languages.
In response to the immense popularity of her book over the years, Yevette says, "I'm thrilled! It is deeply satisfying to hear so much positive feedback from readers of all ages and backgrounds." She also adds, "Many thanks to the Story Arts Centre for sharing this with your readers. I appreciate your willingness to cover something a little outside the typical and encourage readers to be courageous in life by choosing to sometimes take 'the path less travelled."
To find out more about Yvette's process in creating this book, and to purchase it for yourself, click here.
Written by: Alexandra Few