Children's Media Grad, Marel Alemany, Creates Educational YouTube Channel for Kids
When you think back to your childhood, there were likely a variety of shows you watched that had important lessons embedded with them to help you obtain a better understanding of the world. These pockets of wisdom are one of the wonderful components of children's media, and as the industry continually grows and creatively expands, there are even more imaginative ways this gets carried out, such as through a variety of digital media platforms.
Taking part in this creative expansion is Children's Media graduate, Marel Alemany, who created a YouTube channel called Tope Tope, which originated from a class assignment. Marel says the content he creates is born out of his passion for music and writing for children, as he shares, "In every episode, four friends use songs to satisfy their curiosity and learn about important topics. The first two episodes [that are already published] focus on why it's essential to wash our hands and why pain prevents us from re-injuring ourselves, even though it's uncomfortable. Other songs will explain how whales sleep underwater and why fruits change when ripe, among other exciting topics."
He continues, "The main target is children 3 to 7, who are curious about the world and enjoy finding music and learning new things. My children are in that same age range, and after watching the episodes, dancing, and singing to the songs, I find them proudly teaching the subjects to other children. Right now, the channel is only in Spanish because the Danish/Dominican dairy company Milex is sponsoring us. Still, our goal is to translate it to English, Swedish, and Russian when the first season of 11 episodes is over."
His journey to the Children's Media program
Marel did not initially pursue children's media, despite growing up as a child actor and singer-songwriter. "There is not much of a children's media industry in the Dominican Republic where I came from, so it wasn't in the cards," he explains.
After 18 years of working as an advertising film director, Marel began looking for a program to complement his filmmaking experience. He says, "After having kids of my own, I realized I enjoyed creating content for them. My mother had been an educator, and I'd been around creativity and music since I was little. Searching the internet, I found Centennial College's Children's Media program, and I immediately felt drawn to it. It was like the planets were aligning; I was interested in learning about the industry and writing for children in their different stages of development."
Some of the key lessons he obtained from the program center around effort and passion. He shares, "The main lesson is that you need to be ready to give your best effort. There is so much to learn from, that assignments become overwhelming at some points. The good thing is that if you love it, you will appreciate it. Another critical aspect is that creating for kids requires a great deal of passion for the industry. After the program, you need to stay immersed in it. Writing, making connections, and getting a job that allows you to continue developing a unique language: the language of children."
Wearing several hats
To develop the content on the Tope Tope channel, Marel and his brother-in-law, and co-creator, Ruben Lora, wear many hats. As showrunners, writers, composers, producers, and character animators, Marel and Ruben run the channel along with 11 other people, which Marel lists as a graphic/designer and illustrator from Colombia, voice-over actors from Venezuela, a music producer, an editor, and an after effects animator from the Dominican Republic.
He shares, "After writing the songs and scripts for all episodes this season, we are running an animation pipeline to have episodes ready for the second or third Friday each month. Using Adobe Character Animator allows us to simplify the animation process because otherwise, it would be impossible to make the channel work on a tight budget."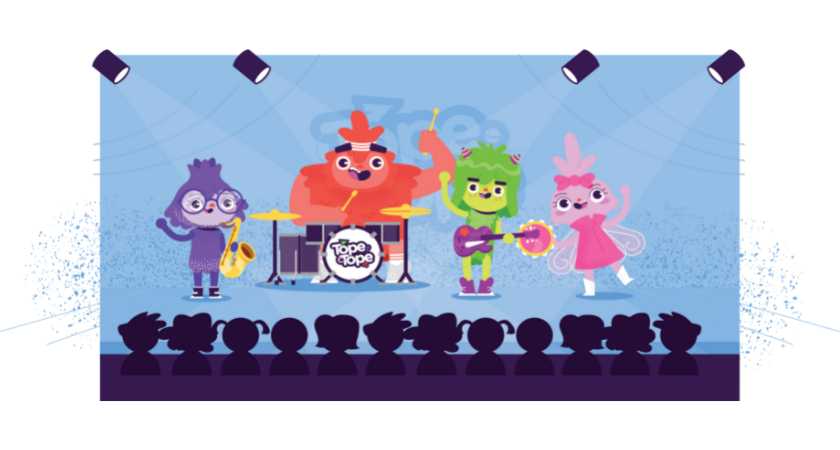 Creating entertaining, yet educational content for children is a product of Marel's immense interest in the industry, and he shares that the work involved in making songs and writing the scripts for Tope Tope is the most rewarding part. "Still, when we manage to overcome the animation challenges that we thrust on ourselves, we get a rush of adrenaline. Every step is a learning process, and the results so far have been outstanding."
Not only does Marel work on creating new content for the Tope Tope YouTube channel, but he also works at Story Planet. "I get to work with kids, mostly 9 to 12 years old, guiding them through fun workshops that allow them to use their imagination to come up with characters and stories. Through them, I'm also exercising my own creative process."
Marel also produces Story Planet's podcast and provides media support for several programs the company runs, as well as the communications team. "I feel I get to do many things that I learned while at the Children's Media Program," he says.
Congratulations on your continued success, Marel!
Written by: Alexandra Few