What a Personal Support Worker really does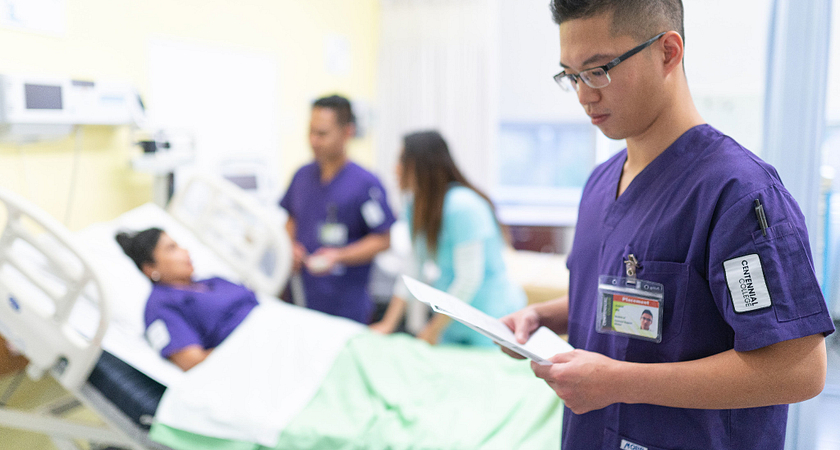 As Canada's population gets older, we'll need people to take care of seniors, on top of the many ill and injured people that already need care. If you're looking for a career rooted in helping people, becoming a Personal Support Worker is a way to do so that fulfills an important need. But what does it mean to become a PSW? Here's some truths about the job, according to the Ontario Personal Support Workers Association, Herzing and Settlement.org. In short, you're giving support and care to the people who need it the most.
What does a Personal Support Worker do?
As a personal support worker, you spend time with those in the community that need it the most, namely the elderly, people with special needs, children, patients recovering from illness or injury, and more. You're enhancing their wellbeing through helping them get through life. You do this by assisting patients with things they can't do on their own, including managing their health, hygiene and other daily needs, in addition to emotional support.
Most people would prefer to stay in the home they're used to, with family, memories and familiar sights. An important part of your job is that your presence allows patients to remain in their own homes, instead of needing to move into long-term care facilities. Essentially, you're granting patients independence and dignity, which are important for happiness.
Who does a Personal Support Worker work with?
Mainly, you're caring for people that are elderly, ill, or who otherwise need assistance from day to day. And it's not just your patient you're helping. If they already have family or friends looking after them, your help frees those people to continue to work and live, and stops them from becoming exhausted and overwhelmed. They might be juggling work, kids, and other life tasks, so the respite you offer will be very welcome for preventing burnout.
Are personal support workers essential?
When it comes to elderly patients, age could leave them increasingly isolated as their support network of friends and neighbours move or pass away. This kind of isolation can lead to accidents in the home and even depression. As a Personal Support Worker, you're protecting them from that, and also making sure they stay social.
In terms of the future of the career, according to the Government of Canada's Job bank, the outlook is going to continue to be very good. It all comes down to Canada's aging population, and how there's a need for more caseworkers to accommodate that, as the number of patients increases. The PSW field itself also contains a lot of professionals on the verge of retirement, freeing up more opportunities for yourself.
What kind of person can become a PSW?
Making a difference in people's lives is the biggest reason people get into the career to begin with. If you value personal connections and helping those in need, you'll find it to be a rewarding career. You need to be observant and attentive in terms of your patient, their feelings and their surroundings. As a PSW, you spend a lot of meaningful time with patients, something that nurses, doctors and even family members sometimes cannot do. It's a serious responsibility, as you have another person's life in your hands. But with that great responsibility also comes great satisfaction.
How can I get this career?
Centennial College's Personal Support Worker Program, that's how. It'll prepare you with the skills you need to provide compassionate care to those who need it, reflecting the latest standards and practices in the field. The program's courses focus on the full range of services you need to work with a broad variety of patients, and give you the flexibility you need to adapt to all the different settings you could be working in. You'll also be able to take what you learn out into the community by directly caring for individuals.
By: Anthony Geremia