Ladder up with health studies and communication skills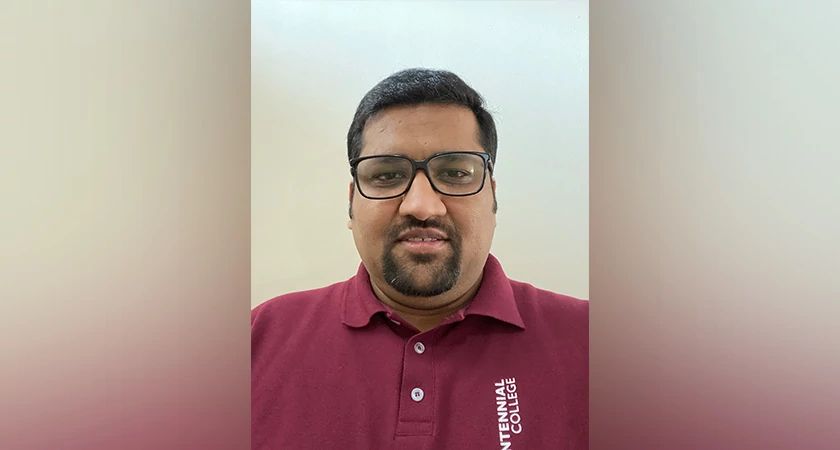 Today, as he attends Centennial College's Practical Nursing for Internationally Educated Nurses program, Blessen Gracevilas is confidently on his way to doing what he loves: caring for people as a nurse. That confidence, he says, was instilled in him through the college's Health Studies and Communications Skills program — an academic pathway to further education.
"I became more self-assured and I was able to brush up on my anatomy skills," explains Gracevilas, who, in 2012, arrived in the country from India with a nursing background. "Centennial faculty suggested I do this program after I didn't get the score I needed on the (English language proficiency) test. It helped me a lot."
If public recognition is any indication, Gracevilas isn't the only one who has found it helpful. Health Studies and Communications Skills has consistently been a recipient of the President's Academic Program Recognition Award for Graduate Satisfaction.
An "alternate offer" program, Health Studies and Communications Skills is proposed to students as an alternative route into college-level health programs in which English skills and fluency are a professional requirement for safe practice. Currently, students must be internally referred.
Lorraine Nelson is the program's coordinator. She says during two semesters, students work to gain relevant English skills for careers in health care settings in Canada. They also explore health-related topics, such as medical terminology, anatomy and psychology, while mastering academic strategies for future learning success.
"The program is really designed to introduce, strengthen and refresh students' knowledge," says Nelson, also a Health Studies and Communications Skills teacher. "It's an immersive experience that typically helps people who were medical professionals in other countries transition back to being students while also preparing them for further education and their careers."
Gracevilas, who completed Health Studies and Communications Skills in April 2020, credits the experience with helping him to gain the confidence in his English skills to meet the admission requirements for his original program choice. He says it also helped him to master his role as a student.
"There's a course called Academic Success Strategies, and it was quite helpful with teaching us how to manage our time and think critically," he says. "I still have my textbook from that course. I am keeping it to refer to."
To adhere to COVID-19 restrictions, last April Health Studies and Communications Skills made the transition to virtual learning. Nelson wanted to ensure the benefits of face-to-face interactions translated to the online learning environment. To do so, she relied on her Doctorate in Educational Technology to create modules of interactive learning activities. Among them were instructional digital storytelling videos, which she then storyboarded with a combination of text, images and music. The resulting material encourages engagement and a mastery of foundational concepts for learning.
"If we can make content more enjoyable for our students and teach them foundational concepts from their textbooks in a fun way as an introduction or as a review, students will have more confidence with the material," says Nelson, who also creates interactive online quizzes and practice activities. "They will return to their textbook and the content now will resonate more."
As a by-product of the transition to online learning, Nelson says Health Studies and Communications Skills students are acquiring capabilities that will serve them well in post-COVID settings where online education, communication and even career elements will be facilitated virtually.
"Many bridging to degree programs have online components, so students are developing the skills they will need to assist them to successfully navigate those programs simply by learning the various platforms and virtual tools we are using," she says. "We also try to embed educational technology objectives directly into the assignments so students will have an advantage when they pursue further education. Examples of this include teaching them how to create a PowerPoint presentation; how to search and find multimedia resources like open images, video and animations; and how to insert these resources, using URLs, into their work."
Gracevilas was just one month shy of completing the Health Studies and Communications Skills program when the pandemic began. He says while the transition to online learning challenged him, it did increase his tech skills. He also felt his teachers, who he describes as responsive and understanding, were supportive.
"They give you the proper guidance, no matter what the issues are," says Gracevilas, who plans to pursue further education in a registered nursing undertaking once he graduates from the Practical Nursing for Internationally Educated Nurses program. "I'm not surprised to hear people say Centennial is one of the best colleges in the Greater Toronto Area."
Students in this program benefit from the possibility of earning transferable credits. Those who earn a C in both parts one and two of the Introduction to Psychology course receive one transferable credit. If they successfully complete Foundations 2: Building College Communications Skills, they can also earn one English equivalency credit. Acquiring these credits can potentially reduce students' workload in related School of Community and Health Studies programs.
By: Izabela Szydlo