What's In a Name? The Roles of a Professional Kitchen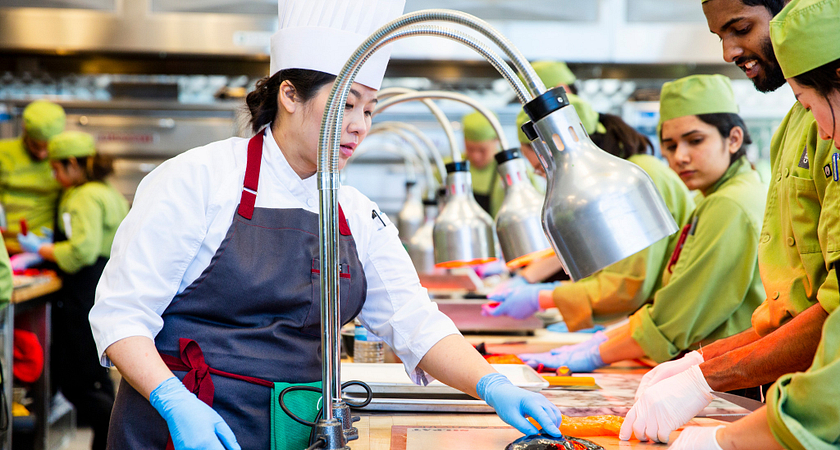 If you've ever dined at an open concept restaurant that gives you a glimpse into the establishment's kitchen, passed by a restaurant's kitchen on your way to the washroom or watched one of the many reality TV programs featuring behind-the-scenes looks, you'll know it is a hectic place. There is a lot going on at once and if the roles aren't well defined, it can really throw things off. That's why everyone in the kitchen knows his or her role. Here is who you'll typically find coming together as a team to create the dishes you love and to keep a restaurant running smoothly.
Executive Chef
While the word "chef" is still in this person's title, the executive chef doesn't actually do any cooking because his or her role is primarily managerial and administrative. As a result, the executive chef is responsible for tasks such as designing a menu, which can occur more than once a year. In fact, when a restaurant hires a new executive chef, he or she typically redesigns the menu to reflect his or her style, which includes adding his or her signature dishes. Beyond menu design, the executive chef leads the kitchen team by determining the best presentation of food, ensuring the quality of each meal, inspecting kitchen equipment for cleanliness, and monitoring sanitation policies.
Chef de Cuisine (Head Chef)
While you can think of the executive chef as the "big picture" person, the head chef's duties involve a managerial role directly dealing with the kitchen. He or she, however, also isn't involved with cooking. Rather, the role of a head chef is very hands-on: training new staff, supervising and managing staff, ensuring purchases remain within budget and controlling costs, and also helping to guarantee the kitchen remains a sanitary and hygienic place. A head chef is also usually the face of the kitchen when it comes to media.
Sous Chef (Assistant Chef)
While sharing a lot of responsibilities with the head chef, including filling in for him or her as needed, the sous chef spends his or her time on the day-to-day kitchen operations, especially supervising all the chefs de partie (station chefs). One of the sous chef's chief roles is teaching the other chefs correct techniques and correcting them as necessary. While this person also often takes a hands-off approach to cooking, he or she does cook as necessary.
Chef de Partie (Station Chef)
Finally, we get to a chef who actually performs the traditional tasks associated with the role. A chef de partie manages a kitchen station. Depending on the size of a kitchen, he or she may prepare particular dishes, recipes or carry out certain techniques with expertise. There are traditionally 10 station roles, but many restaurants combine them. They are: sauce chef (who is at the top because of the chef de partie hierarchy due to the skill it takes to cook multiple sauces at once), fish chef, roast chef, grill chef, fry chef, vegetable chef, swing chef (who is experienced in all stations), pantry chef, butcher and pastry chef.
Commis Chef (Junior Cook)
Working under any of the chef de partie is a commis chef, who learns the ins and outs of a specific station. This is a person who may have recently completed his or her culinary training. With enough experience, a commis chef may be promoted to the role of the first commis, overseeing other commis chefs.
Centennial College's Culinary Management program will give you the information that you need to create exquisite menus and dishes inspired by global food trends and flavours. The diploma program will blend the art of cooking with the skills of team leadership and business entrepreneurship, ensuring that when you graduate, you'll find exciting career opportunities in this fast-paced, ever-changing industry.
Written by: Izabela Szydlo
Resources
https://www.centennialcollege.ca/programs-courses/full-time/culinary-management/
https://www.cordonbleu.edu/news/chef-roles-modern-kitchen/en
https://work.chron.com/many-levels-chef-there-24514.html
https://www.besthospitalitydegrees.com/faq/what-does-an-executive-chef-do/