What it's like to be an automotive technician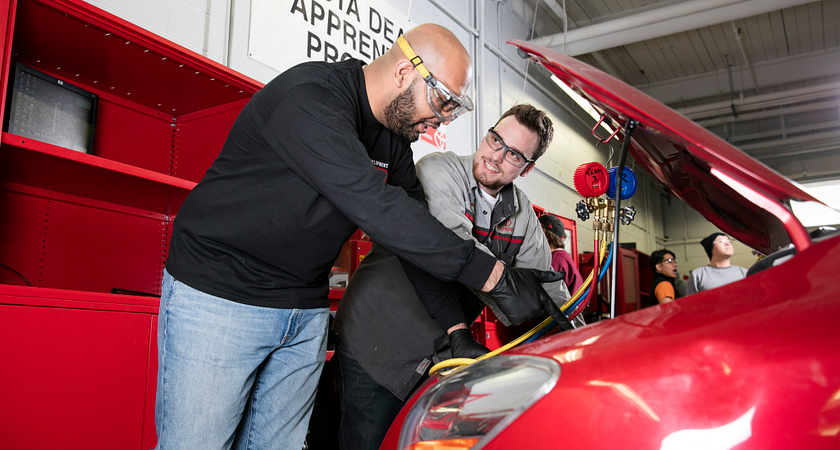 Ever wondered what it would be like to work on cars for a living? In the Automotive Service Technician Toyota program, you can learn all about the industry and advance your skills. The program has been designed specifically for existing or new Toyota/Lexus dealer apprentices who want to brush up on their skills. During your time in the Toyota Automotive Service Technician program, you alternate between in-school lessons and apprenticeship work terms at your Toyota/Lexus dealer every four weeks, for a total of 32 weeks of schooling and 32 weeks of work placement. Coming out of this program, you can expect to work as an automotive service technician, advisor, service writer, or service and parts manufacturer specialist.
Some of the highlights of the program are:
Learning from the traditional apprenticeship curriculum and receiving additional training on Toyota/Lexus products description, operation, diagnostics and repair.
Exploring electronics and gaining further knowledge in diagnosing computerized control systems.
Gaining hands-on practice on Toyota vehicles and components in fully equipped automotive labs, which gives you an edge when you enter the market.
Gain the technical skills to embark on a career as an automotive service technician.
Life as an automotive technician
As an automotive technician, you are a service professional who repairs, inspects and maintains both commercial and privately-owned vehicles. In a customer-based industry, technicians provide repair services and discuss mechanical issues with their customers. Depending on the size of the company, some technicians may have specific expertise such as brakes or engines. You will be diagnosing and fixing both mechanical and electrical issues due to the advancement in modern cars.
According to career builder, some of the responsibilities you will have as a technician include:
Running diagnostics and testing parts to identify the source of automotive mechanical problems.
Completing preventative maintenance on vehicles, including tire rotations, oil changes, filter replacement, and any other pertinent repairs.
Providing advice to customers on how to improve their car care.
Following any state laws regarding emissions, safety and other standards.
Using customer satisfaction skills to establish a trusting relationship with clients.
Following rigorous checklists to ensure that every aspect of the car receives an inspection.
Taking continuing education classes to further mechanical knowledge on late-model vehicles.
From working in an office setting to working at a job site or in a garage, auto technicians play a diverse role. While most technicians will work in a garage throughout the day, they are in a truly unique, special kind of career.
Written by: Savanah Salazaar
Resources
https://www.centennialcollege.ca/programs-courses/full-time/automotive-service-technician-toyota-map-32/
https://www.nationaltransmission.ca/automotive-repair-industry-trends-whats-driving-car-maintenance-and-repair/
https://www.mindshape.com/7-interesting-trends-in-the-automotive-industry-in-2019/
https://www.careerbuilder.com/advice/whats-it-like-being-an-automotive-technician