A Career with Options: Ford Automotive Service Technician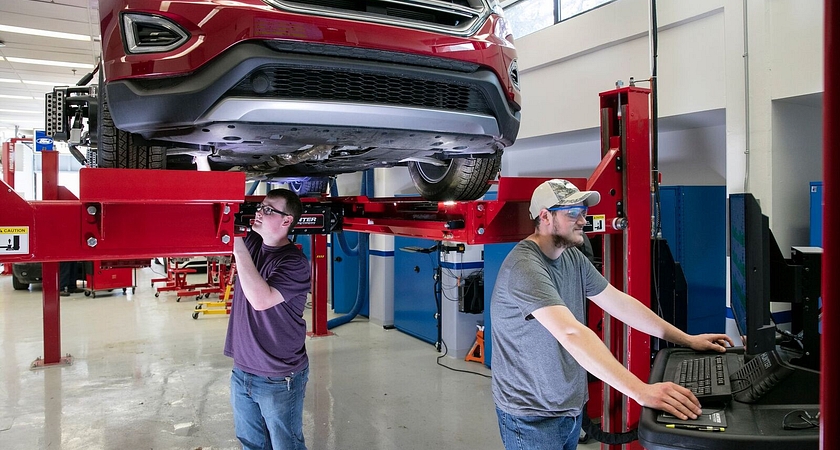 In Canada, Ford Motor Company has a long history. In fact, it goes back to Windsor, Ontario, 1904, according to Wikipedia. That's when the founder, Gordon McGregor, convinced a group of investors to invest in Henry Ford's new automobile. Historically, Ford has been one of the most powerful companies in the country and today, it continues its long tradition of being known as one of the most successful automakers in the world. That's why training to be an Automotive Service Technician with special training on Ford vehicles is a smart career move.
That training can take place at Centennial College, which facilitates The Automotive Service Technician Ford Asset (MAP 32) program, which is a longer and more robust offering than a traditional apprenticeship. That means it will cover Ford's electronics and vehicle management systems with training in labs featuring Ford components while also having you alternate between the college and an employer where you'll obtain on-the-job training.  After you complete the program, you may start or continue your apprenticeship and train to fill roles such as: 
Automotive service technician
The most traditional of the roles you can take on in this field, the automotive service technician gets his or her hands dirty, performing preventative maintenance, diagnosing faulty operations and repairing automotive vehicles. According to Trade Secrets, Alberta's apprenticeship and industry training system, among the duties you'll fulfill in this role are: "adjusting, testing and repairing engines, steering systems, braking systems, drive trains, vehicle suspensions, electrical systems and air-conditioning systems, and doing wheel alignments". In larger shops, Trade Secrets also reports, auto service techs may specialize in repairing, rebuilding and servicing specific parts such as engines or transmissions.
Service writer
If you really enjoy working with people and the general public, this role may be for you. As a service writer, you'll be the connection between a customer and a business, which will require you to take on tasks, reports Study.com, such as "tracking repairs and their causes, scheduling technicians and processing warranties." You'll also be responsible for maintaining customer profiles stored in a computer system, developing cost estimates and contacting customers to advise them of additional costs if their vehicle requires work beyond the original estimate.
Service and parts manager
The parts department of any automotive servicing operation, including those in dealerships or repair facilities, is extremely important because a lot of money is invested in parts. So, a mismanaged inventory can cause a lot of issues. As a service and parts manager, you'll keep the inventory properly updated and maintained, which can mean the difference between a customer who receives her car repaired on time and another who encounters long delays while the proper parts are shipped, received by the garage and then installed. While working in this specialized role, you'll not only purchase inventory (keeping in mind that parts such as belts and hoses are in higher demand so more are needed on hand) but also maintain relationships with vendors, organize sales to move inventory and manage other staff members.
Written by: Izabela Szydlo
Resources
https://en.wikipedia.org/wiki/Ford_Motor_Company_of_Canada
https://study.com/articles/Service_Writer_Job_Description_Duties_and_Requirements.html
https://work.chron.com/service-writer-8218.html
https://www.autotrainingcentre.com/blog/understanding-auto-parts-management/
https://www.bcautocareers.ca/careers/parts-manager/
https://tradesecrets.alberta.ca/trades-occupations/profiles/009/