Questions
Purchasing a permit?
Call 416-289-5000
Information on parking regulations
Contact the Life Safety and Security Services Office
416-289-5000, Ext. 5240
Parking Services
Parking Services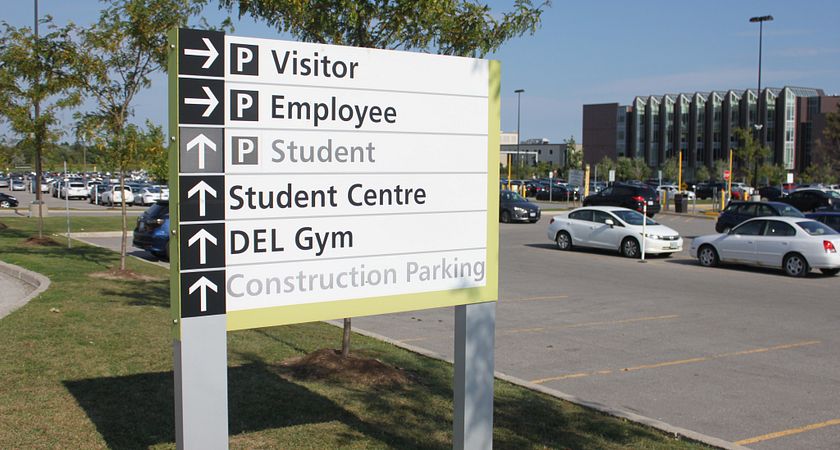 Centennial College will continue to provide free parking where applicable throughout the Winter 2021 and Summer 2021 semesters for those staff and students who are authorized to be on campus either to teach or participate in a lab/studio class or for administrative purposes. Bear in mind most classes and many services will be delivered online or remotely, so most staff and students will not be permitted on campus.
While our parking gates will remain raised to provide free access, the lone exception will be the upper-level parking lot that serves Morningside Campus, located off of Military Trail. As this property is owned by the University of Toronto, they will begin to charge for parking as of September 1 and Centennial staff and students, unfortunately, will not be exempt.
The gates to the lower lot accessible from Morningside Avenue – which is operated by Centennial – will be open throughout the day. Free parking will be available on a first-come, first-serve basis. If you cannot find a space, please do not block other vehicles or fire routes as your car will be ticketed and towed away. You do have the option to pay to use the upper-level University of Toronto Scarborough parking lots adjacent to Military Trail.
Thank you for your anticipated cooperation, and please drive with care when on campus.
Centennial College's parking services make sure you have a safe commute and hassle-free parking
Parking services are available:
Monday to Friday from 6 AM to 11 PM
Saturday and Sunday from 7 AM to 5 PM
Centennial Place Residents: Please use Lot #2 (rates apply 24/7)
Short-Term Parking
When visiting Centennial College, you can get short-term parking two ways: Pay and Display or Pay on Foot systems. Pay and Display terminals are located in designated parking lots. Pay on Foot terminals are located in convenient locations at Progress and Morningside campuses.
Short-term parking costs $3.00 an hour, or $10.00 for a day pass.
Ashtonbee Campus
Visitor Pay and Display Parking is available in Lot #3, just off of Ashtonbee Road. Visitor parking is also available in Lot #1 on the north end of the campus, payable by credit card only.
Story Arts Centre
Visitor Pay and Display Parking is available in the southeast corner of the campus, just inside the entry driveway.
Progress Campus
Visitor Pay and Display Parking is available in Lot #3 South and Lot #6 South, near the Athletic and Wellness Centre.
Visitor Parking is also available in Lot #2, Lot #3 North, Lot #6 North and Lot #7. You can pay for parking with a credit card at the exit gate. You can also pay with cash, debit or credit card payment at Pay on Foot terminals located in the A Block second floor main entrance by the bridge, the L Block first floor main (west) entrance and the Student Centre main (north) entrance.
Morningside Campus
Visitor Parking is available in Lot #1 at the 755 Morningside Avenue entrance adjacent to the campus. Parking is limited. Payment for parking can be made by credit card at the exit gate, or by cash, debit or credit card payment at the Pay on Foot terminal located by Enrollment Services.
Downsview Campus
Please refer to the Downsview Campus parking map.
Centennial Place Residence
Visitor Pay and Display Parking is available in Lot #1 (West of the Centennial Place Residence) and in parallel parking spaces immediately North of the Residence.
Please refer to Progress Campus visitor parking for additional short-term parking solutions.
Parking Permits
Parking permits are available to all community members on a first come, first serve basis. For hassle-free parking, purchase a parking permit at the Enrolment Services Office, or online through your myCentennial account.
For more information about parking permits, rates and regulations call 416-289-5300.