Centennial Fashion Business and Management students enter the Dragons' Den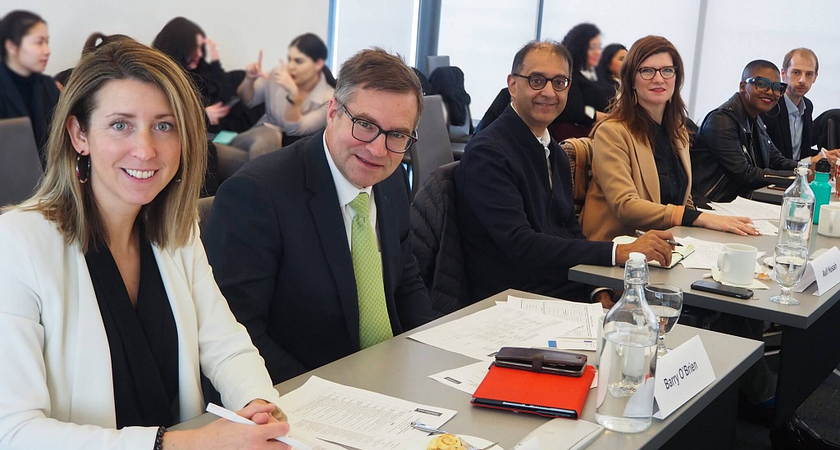 The Fashion Business and Management students at Centennial College got a true taste of the fashion market last week. Led by professor Pamela Richards (@CreatingPamela), students presented their capstone projects at a Dragons' Den-like initiative to an impressive panel of judges.
The team of "Dragons" included our very own Amy Morrell (@ChairCCTBS ), Chair of The Business School, and Barry O'Brien (@DeanCCTBS), Dean of The Business School. Rounding out the panel were fashion business industry experts Bryan Bell, Monique Bryan (@MoniquebryanTO), Donna Bishop (@thisisdonnab), and Asif Hussain.
The panelists challenged the students at the end of each presentation with tough questions. It was clear that the panelists paid close attention to each project as they zoned in on their strengths and weaknesses. From revenue, numbers, logistics, and HR strategies, to competitors and branding, the "Dragons" tested students on all aspects of their business plans. The students were well-prepared and responded confidently. The "Dragons" ended each question period with constructive suggestions for the students to help develop their business ideas further.
"We had the opportunity to get a taste of the market – a taste of what's to come when we leave school and actually work on our creations," said second year Fashion Business and Management student Patricia Feitosa. "We got to present an innovation to actual people who work in the fashion market. The interesting thing about the panel was that they pretty much cover all the aspects of the fashion market – each panelist specialised in something different."