Fashioning your Future: How Centennial College Helps You Network your Way into a Career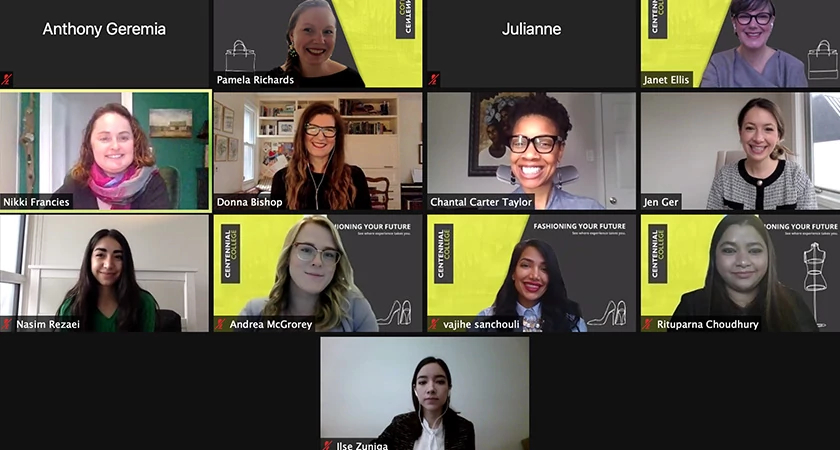 One of the most important steps in moving from your education to your career is making connections with the professionals who you'd like to work with, and Centennial College programs like Fashion Business and Management do everything to help students make those connections. A unique look into the business behind your favorite companies, Fashion Business and Management teaches you how to get clothing off of the design page and into the world, as you learn trend analysis, product development, sourcing, manufacturing, digital marketing, omni channel retailing and entrepreneurship through a series of interactive projects.
Even during a pandemic, the program finds ways to connect its students to careers, including a special virtual networking event held in March over Zoom. Called Fashioning your Future, the aim of the event is to put students in front of professionals that they could one day work with and help them build their brand. It's a guided experience, where students are given the advice and tools they need to successfully network, before getting right into it. Here's what a Centennial College networking event looks like.
A continuous career
First up in the Zoom presentation was Annie Sun, from the college's Career Services and Co-Operative education department, to talk about job searching, professionalism, networking and job success.
"I wanted to talk about the career as a holistic journey and process," she said. "There's a distinction between a job and our career. Our career is continuous throughout our lifetime." One of the elements of that constant journey is to never stop networking, even when you don't need it for a career.
"People continue to network throughout their lifetime. Professionals who are established in their career continue to network, whether it's for career advancement or to pay it forward. It's about building that relationship of reciprocity, and networking is always effective when it's about giving as well as receiving."
The life of the party
Amanda Cosco, Canadian media entrepreneur, founder of Electric Runway and a member of Fashion Business and Management's Program Advisory Committee, was up next to talk about personal branding and finding your niche.
"A personal brand is how people perceive you. It's how you show up for the party," Amanda explained. "Your personal brand is often what precedes you when you enter a room. The corporate world is a dinner party. What do you show up to the party with?"
"A niche is a focus-targeted area of the market. The reason I believe in finding a niche is you can really make an impact in a specific area." Her niche, for example, is the intersection between fashion and technology.
Meet the pros
Soon it was time to meet other professionals in the Zoom presentation, who began by fielding questions from students.
"We are working with clients differently, as they are not venturing into stores as they used to, so we are looking for people with an ability to connect to others digitally," said Janet Ellis, Assistant General Manager of Merchandise at Saks Fifth Avenue, when asked about modern fashion retail challenges in response to the pandemic. The attitude towards these pivotal changes is a positive one, as explained by Nikki Francies, Co-Founder and Director of Development at CRW Design.
"Throughout COVID-19, our business has doubled in size," Nikki said. "We now need to increase our staff!" In other words, now is the time for these students to get hired, which is exactly what they were there to hear.
"Are you ladies ready to practise that pitch?" said Pamela Richards, Program Coordinator and the event's host, referring to the separate Zoom breakout rooms where students could meet one-on-one with industry guests.
What the students gained
"One year before coming to Canada as an international student, I decided to import apparel," says Vajiheh Sanchooli, one of the Fashion Business and Management students who took part in the event. "Because of the sanctions in my country, Iran, there are no brands there like H&M or Zara. So I felt that there was a need for something fashionable, and people were looking for these brands in their wardrobe." This would be the inspiration for her career.
"I've been working in the fashion industry for more than 10 years," says Rituparna Choudhury, another student who took part in the event. "The reason I decided to choose Fashion Business is because one of my buyers said, why don't you upgrade your skills so you can actually work as a buyer instead of working for a buyer?"
Both would get a chance to network with each of the Fashion Business pros, and walk away having started something great.
"At the very beginning when I wanted to go in a breakout room and talk to them, I was very nervous," Vajiheh admits. "They're professional people in the industry, how can I go through with it? How do I talk? How can I be polite? But they were very nice."
"The best thing that I gained is the feedback of professional people in this industry, which is very valuable, because when you have that feedback, it helps you a lot and it gives you self-confidence," she adds.
"One panellist asked me what my future plans are after I graduate," Rituparna says. "Another panellist, she just told me before she left, I'm sure we will meet again."
"If you have the base, and these industry professionals help you to build the bricks, you can make the building," Rituparna says. "It's like cooking, you know your recipe. Now I have my recipe, which I got from all the panellists, so all I have to do is make it in the right way."
By: Anthony Geremia