QUESTIONS
P.O. Box 631 Station A
Toronto, ON, M1K 5E9
Centennial Residence and Culinary Arts Centre
Centennial Residence and Culinary Arts Centre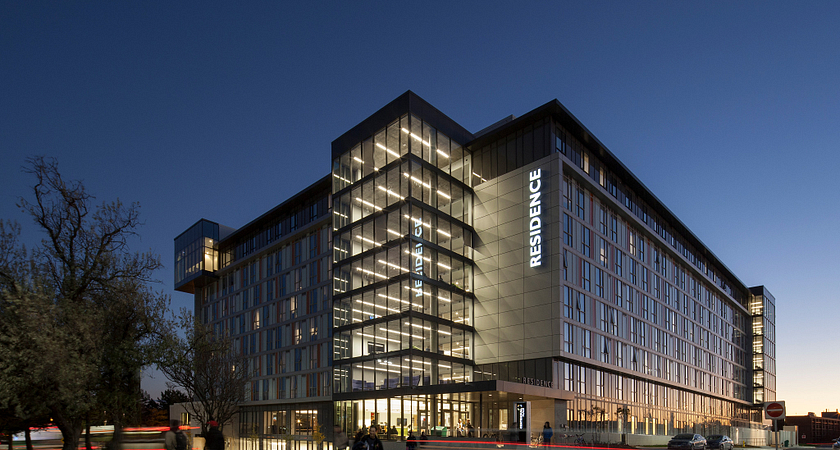 Centennial College has grown rapidly over the past several years, and demand for student housing outgrew the capacity of our older facility on Progress Avenue. Knowing that a lack of access to a residence is an impediment for students from outside the GTA, Centennial constructed the eight-storey Centennial Residence and Culinary Arts Centre at its Progress Campus.
The striking new building takes the shape of a quadrangle with a central courtyard to allow natural light to reach all of the residence rooms. Housing up to 740 students in two- and four-bedroom arrangements, each suite includes its own kitchen and bathroom. Students also have access to communal kitchens and lounge spaces for larger social gatherings. Every resident has his or her own bedroom.
The building is also home to the School of Hospitality, Tourism and Culinary Arts programs, complete with seven kitchen labs, a teaching restaurant and nine new classrooms with capacity for up to 600 students. On the top floor, naturally-lit, multi-purpose rooms serve as our new Events Centre, which can accommodate up to 425 guests.
The $85-million Centennial Residence and Culinary Arts Centre was planned, financed, constructed and project-managed by Knightstone Capital Management. The student residence is managed by Canadian Campus Communities. The facility, which opened in September 2016, is targeting a LEED Silver certification, which involves sustainable "green" practices as they apply to the hospitality industry.