Four alternative ways to approach the food industry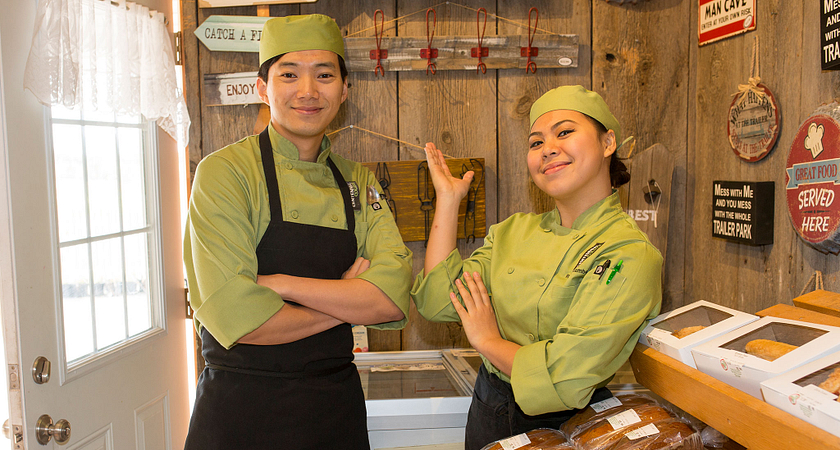 They say you should always do what you love, especially when you're picking a career. If you like cooking, baking, or preparing food in general, there's a lot you can do with that passion when it comes to turning it into a job. Obviously, you can become a chef, or a baker. But that's not the only career available that involves food, or the only way to get into a food-related industry. If you want to get involved in business, management or health, and also want a career that involves tasty things, there's a few alternate career paths you can be taking.
1. Enter the business of baking
For example, let's say you're looking to become a baker, who specializes in making dishes like Chocolate Ganache Tarts. But instead of just being the one putting the food together, you want a position that's more business-oriented. If you like baking, but seek more than just the food-making part of the job, you could enter our Baking and Pastry Arts Management program. While there, you can learn how to run the bakery you work in, or how to become an entrepreneur and start your own bakery. You'll still learn the practical parts of baking (because after all, what's the point of running the place if you don't know how it works). On top of that, you'll also get to learn about the business side of the field, like how to manage resources (both the food and human versions), and how to mass-produce the tasty treats you create. The program finishes with an internship with one of the school's industry partners, perfect for networking your way into your ideal career. Best of all, if you've done our Baking Skills program, you get to enter this one in its third semester, skipping the bits you already know.
2. Teach others about nutrition
If you're knowledgeable about what's inside food, you can use that knowledge for social good. The average age in Canada is increasing, and with it comes a growing need for professionals to care for that population. Among the many kinds of people in demand are those who know about nutrition to lend that knowledge to the healthcare world, to help ensure the nutritional needs of that aging population are met. To become one of those professionals, you can take our Nutrition and Food Service Management program. It combines knowledge of nutrition needs and principles with administration and healthcare knowledge, wrapped up in a career with a growing need, putting you in demand in the job market.
3. Manage a hotel (with a restaurant!)
If you're a Food Network junky, you may have noticed that some of the finest five-star restaurants are attached to world-class hotels, and if you're in the hospitality industry, you could be the the one responsible for running the place, including that restaurant. That's what our Hospitality - Hotel Operations Management program is for, connecting you to a position in the hospitality industry by teaching you practical skills at our Culinary Arts Centre which, in addition to its kitchen labs and student-run restaurant, also features four operational hotel suites, letting you experience every part of the industry before you move onto a practical field placement.
4. Take part in the science behind the food
If you're more into science, and are interested in the chemical and biologic process behind the food we eat, Food Science Technology program examines these processes up close, in a "field to your fork" approach. It's an Engineering Technology and Applied Science program that combines biology, chemistry and food science. Learn how to preserve, process, package and distribute foods that are healthy, affordable, desirable and safe to eat. The skills you gain (augmented with a co-op position) are applicable to a wide range of areas within the food industry, all focused on the science behind it all.
By Anthony Geremia