How to turn a skill into a career: Kleyr Ombao and Event Management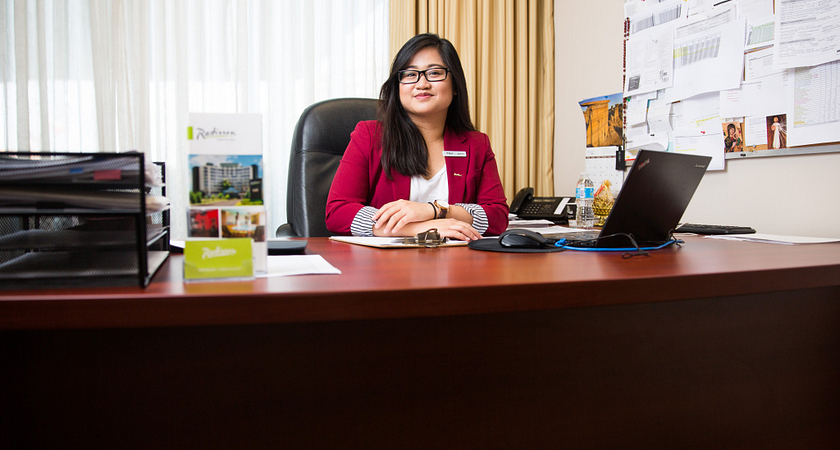 A key to career success is to do what you're good at. If you're doing what you love, then your career doesn't have to feel like a job at all. For example, every group of friends has a planner, someone who organizes and puts together the birthdays, the gatherings, and the trips. If that's your skill, you can build a career with Centennial College's Hospitality-Hotel Operations Management program, where you learn to organize special events in the hotel industry.
Kleyr Ombao had those planning skills, and would use Centennial's two-year program to turn them into a career faster than she'd even intended, securing a job before she even finished her college plans. She went into the program with the intention of moving into event management afterwards, but ultimately gained enough knowledge about the hospitality industry to put it into practice. Here's how she turned her event planning abilities into a career, and the secrets to her success.
Turning a skill into a career
Going into event management was natural for Kleyr, because it was something she'd been doing for fun for a lot of her life.
"I was always the friend that had stuff planned out," Kleyr explains. "So, from a very young age, I had the natural ability to just plan stuff. Once my best friend's 18th birthday, which is a big thing in the Philippines, came about, her mother reached out to me, and asked me to help her out. It was a big success. After the festivities finished, my best friend's mom actually said, 'Hey, why don't you do this for a living?' Turning it into a career just made sense and so she pursued the Hospitality Operations Management program in order to introduce herself to the hospitality industry.
Gaining practical experience
An important part of the Hospitality program was how Kleyr would spend time working behind the scenes at events thrown at the college, learning the mechanics of making an event happen. That way, when it came time to plan one, she knew exactly what went into it.
"We were actually required to work events as porters," she says, "so that gave me experience in actually helping as an event person, to service the event and not plan it, but to actually know what has to be done in order to execute it." That wasn't all that would help her out in her career, though.
She also credits the professors that pushed her to do her best with her success.
"My events professor, Bob Dallas, really believed in my potential and pushed me to not only do well in my studies, but to do well in all of the group projects," she says. "He picked me as a team leader to push me into leadership, because he believed in my potential. The most rewarding thing was to work really hard and know that my professors were noticing that."
That hard work would soon pay off big time.
The secret to employment
Kleyr had intended to do a third year at Centennial College, in one of our postgraduate programs, but didn't wind up returning for one reason: She landed a job at the Radisson Toronto East thanks to the program's co-op component.
"Centennial got me a co-op position where I work now," she says. "So I spent my entire co-op there, and luckily enough, the timing of everything worked out."
She filled in for a supervisor that was getting married, then transitioned to part-time work, and then, in the new year, the company hired her full time.
How did she do it? She made a good impression.
"I don't think I would have been able to stay if I didn't push myself to work as hard as I can to really show them I can do this," she explains. "Because if I had slacked off or if I had shown them that my work ethic was not right, they would have easily chosen another co-op student or just hired somebody else full time."
On the job
"I'm the Sales Coordinator at the Radisson Toronto East," Kleyr says, explaining her current position. "I assist my director of sales and my senior sales manager with any of the group and guest rooms, mainly with administrative stuff. Whenever there's an inquiry for a meeting space, I take it from the inquiry all the way down to finalizing the event."
"I like that I have a really great team behind me," she says of the job. "The best part of my job is that I have a team that will back me up, support me, advise me on what the next steps are."
"Another part of my job that I like is that I get to meet people from different walks of life," she adds, "and since we are an open function space, we don't only have all the social functions and parties, we also have the corporate side where it's a little more formal. So I learned to adapt to those different situations and to those different clienteles."
How you can succeed
As someone who managed to quickly turn her education into a career, Kleyr has advice for others that would follow in her footsteps.
"If you do get a co-op position, and you see yourself really growing in that company, really make an effort to show what you can do," Kleyr says. "Stay later if you have to stay later!"
"If they can use you for any job, just do it," she adds. "You can always learn from everything, down from housekeeping, up to management. If there's a slot open for an opportunity to learn, just take it when you can."
"If I was done for the day in sales," she says as an example, "I would still go to housekeeping and ask if I could help out, or say, how does this work? Just so you can understand more about the business."
"On the contrary," she cautions, " if you're in an environment, and you know for yourself that it's not for you, don't waste your time in it, just back out. Take every chance you can get, but use your time wisely. If you're not benefitting from it, then don't bother."
"I love my job," she concludes. "I love the people in my workplace, I like what I do, and there's never a day where I go, ugh, work. I hope other people can find the same passion in their workplace."
By Anthony Geremia