Seven questions you need to answer now that college has started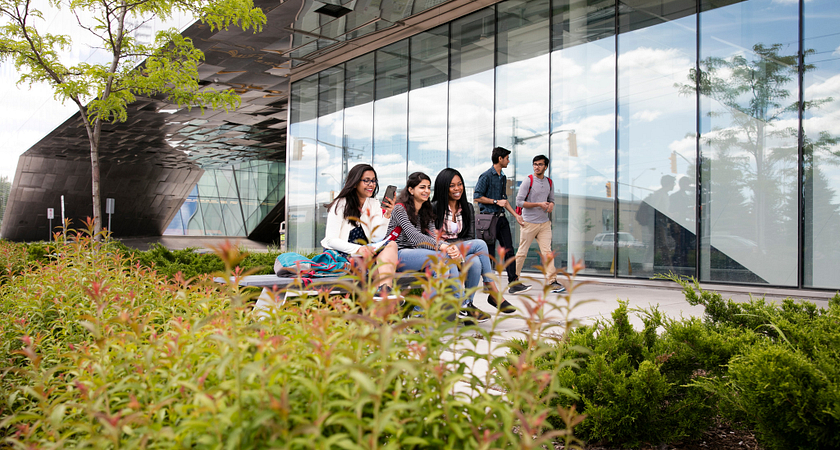 Well, the summer's finished if you're a student, and it's time for the fall semester at Centennial College to begin. It's the time when most students start their college programs, and if you're one of them, you've probably got your books, your bags, and your school supplies, and know where and when your classes are. But there's more that you need to be ready for. If this is your first time in college, there's some unexpected changes and challenges waiting for you. Centennial College is there to help you prepare with resources to answer these questions, and help you figure out any problems. Here's what you need to be prepared for, and how we can help you with it.
1. Where's the money coming from?
Everyone's financial situation in college will be different, depending on where you're living, whether you're working, and how college is being paid for. College is a perfect time to start figuring your finances out. If you don't have a credit card or proper savings account, now's the time to get them and start developing good habits. When it comes to the rest of your money, you'll need to do some research. For example, if you're getting OSAP, you need to be sure of how much you're getting, and when you're getting your payments. You'll also need to figure out what your expenses will be. The college's Financial Services department can help with this, offering both resources and counselling.
2. Does your program fit you?
As you proceed with your education, it's normal to have doubts about whether or not the program you've taken is right for you. Maybe your expectations for what you're learning or the career you're getting into doesn't quite match how it's actually turning out. You shouldn't drop out over it, but you also shouldn't feel obligated to just "stick it out" and keep going. Switching programs is always an option, and, depending on the circumstances of the program, you can even skip ahead thanks to some of the things you've already learned. This is a job for our Counselling Centre, which can help you figure out a career and program that works for you.
3. How are you keeping healthy?
It's important to stay healthy in college, because if your body isn't healthy, you'll find it harder to focus and learn. It's easy to let your health slide when you start college, because you can be eating meals at strange hours, not getting physical activity, or not sleeping well. The most important thing is that you need to stop assuming you're going to be healthy and start staying active and eating right. Activity can be as simple as finding a little bit of time for running on one of the treadmills at our Athletic and Wellness Centre. You have free access to all of our athletic facilities, offering plenty of workout options on top of that. Another thing to watch out for: Getting enough sleep. Between classes that happen at unusual times, homework and other responsibilities, you can burn out if you're not careful, and coffee isn't always the way to fix it. Pulling an all-nighter isn't really something to be proud of, and sometimes you need to just drop everything and go to bed early.
4. What's for lunch?
This deserves its own separate section, because it affects both your health AND your money. Put some thought into where you're getting lunch and dinner, especially if you have late classes. Buying food at school can be convenient, but those costs add up, and the food isn't as healthy as food you'd make yourself. Groceries are always cheaper than pre-made food, and every step you do yourself is a step towards saving money. On the other hand, that means taking time to prepare your meals. One thing the college has that can help is the CCSAI's Good Food Boxes, which provides you with healthy fruits and vegetables cheaply.
5. How are you getting to class?
How you get to school could be a bigger part of your life than you think. If you're coming from someplace far away, public transportation can take hours out of every day. On the other hand, if you can get a seat, you can always read, study, or get work done during the trip. Even with traffic, driving or carpooling can be a faster way in. However, you need a car that you can keep in good shape, and you need to pay for gas, insurance and parking, or at least contribute to someone else's car if you're carpooling. There's only one thing to do: Plan ahead. Whether you're taking transit, driving in, or living on campus, you'll need to figure your situation out. Even if you're living in our residence and going across the street to class, you need to think about how you'll get around the city.
6. What are you doing after class?
The activities you take part in outside of class can help build your confidence and communication skills, and expand your real-life social network, so you don't want to just head straight home after class. You could help out at orientation or graduation, join a club, or just participate in the activities the CCSAI has around campus. You don't have to do everything, but look into it, and see if there's something you'd like to take part in.
7. How's the job hunt going?
Develop your resume and online footprint early. Even if you're not graduating soon, it's never too early to start making yourself job-ready. If you haven't written a resume, it's a good time to start, and if you already have one, you can touch it up. At Centennial, you can connect with our Career Services department to help you out. They can give you tips, and review the resume you already created. Similarly, you should spend some time creating and cleaning up your "online footprint," which is what employers will find when they search you online. This means setting up a LinkedIn profile, cleaning up your social media, and my own personal recommendation, creating a personal website or online portfolio using a free web host.
By Anthony Geremia