How to get your career started with Design Jam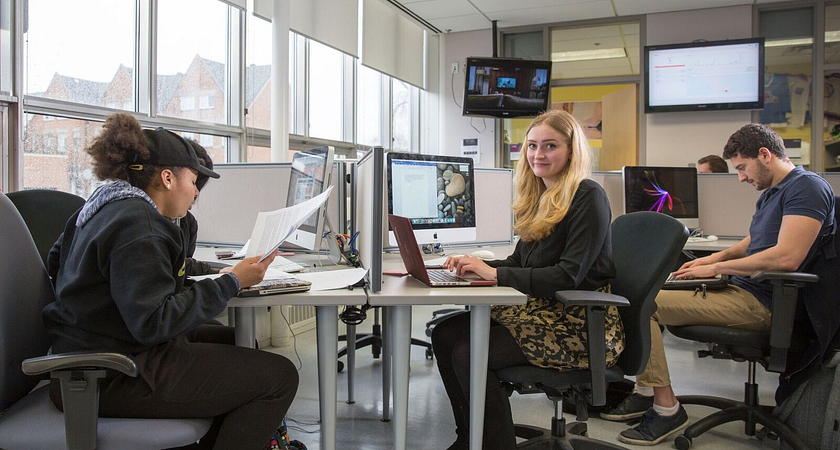 One of the many challenges when it comes to getting your career going is the need for previous experience. If you're graduating, or have already graduated, and you're looking to get career experience to break into the job market, then Centennial College has a solution for you, Design Jam.
What it is, and how it works:
The Design Jam is a partnership between Career Services and Cooperative Education, SIER, and the Centennial College Leadership Academy. They all work together to engage employers from the community looking to solve business problems, and partner them with students looking to use their skills for work experience. Over 16 weeks, you'll work with that employer on a project, using your skills to solve their challenge.
To take part in the program, you have to be graduating soon or have already graduated in December 2016 or later. It doesn't matter what you studied, any graduated or graduating student can sign up, and we'll match them to a task with their skillset. To apply, simply send your resume to careerservices@centennialcollege.ca. We'll take you through an interview process, figure out your skills, and match you to a project that fits. Right now, the Design Jam is working with ten different employers who gave them project proposals. Based on who's applying to come in, they'll pair you up.
So, that's the how, and here's why you want to take part:
You'll get work experience
That's one of the most important things the Design Jam gives you: Real work experience to add to your resume, and show employers since you're spending time on the job while you complete one of these projects. If you're an international student that needs Canadian work experience, this is also an excellent way to give you time (and contacts) in the Canadian working world.
A chance to collaborate
While on one of these projects, you'll be working with students of different educational backgrounds from yourself, as you all collaborate to solve a business problem. Some examples of these projects that have been worked on previously or will be worked on include:
Developing a mobile application for FOCUS inspired, a career mentor bot that helps students search for jobs. Helping the marketing agency Insight Creative market itself to other companies. A design project building panels for a museum, featuring a team effort between graphic design and marketing students Working with the Department of Imaginary Affairs on a special project to assemble a database from stories of newcomers settling in Canada.
A chance to use your skills, and to develop new skills
Another major point of the design jam project is to build your transferable skill sets. It means transferable skills you can put on your resume, regardless of where the programming takes you.
In-school career training
You won't spend the entirety of the Design Jam at your industry partner's location. You'll also spend one day a week at Centennial College, at workshops on career-development topics like professional development, personal branding, your LinkedIn profile and career advancement. You'll also be assigned employment advisors who will help you through your career search.
A chance to network with the industry and collaborate
You won't just be interacting with the company you partner with during the Design Jam. At the end of the 16 weeks, you get to present your final product in an Employer Showcase, where every employer involved in the Jam will come together, and every group of graduates will present what they accomplished, letting you network with even more employer groups, and make more connections.
It's free!
Another great aspect of the Design Jam: It won't cost you anything. You just have to be a Centennial College graduate who finished school in December 2016 or later. In fact, the program will even be offering a stipend of $500 to cover transportation and other expenses, since we recognize that it's challenging to do it for free.
By Anthony Geremia