What students are saying about Fashion Business and Management at Centennial College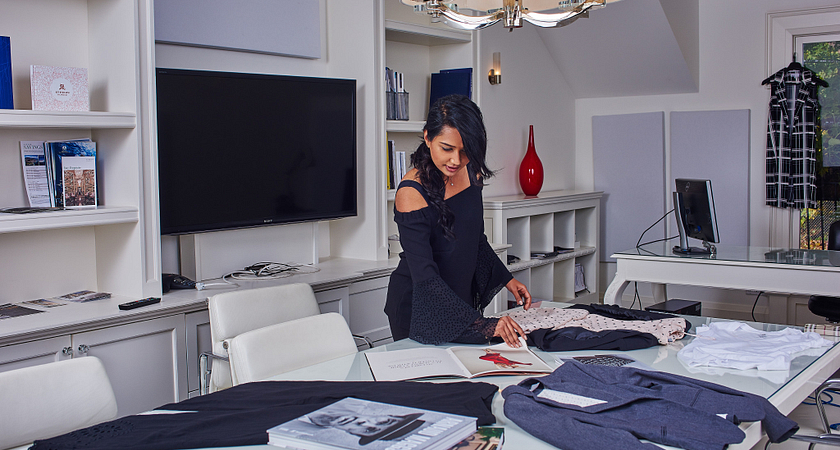 The fashion world is a changing industry, full of corporate upheaval, technological advancement, and changes in the global market, so you need to keep current. In Fashion Business and Management, you'll learn to work in the business behind the outfits, the industry that creates the fashion you see in the runway and in the store. You'll learn about the design and development side of the industry, from the creation of products to the business of selling them, both through practical experience and through a hands-on field placement. It's a new program at the college, and one of our earliest graduating classes is about to complete it. Here's what students Margarita Colorado, Caitlin Latchman, Ria Rozario and Siyuan Wang have to say about this engaging program.
Why they took the program
There's a common link between the students who took this program: They all love fashion, but want a way to make a rewarding career out of that love.
"Fashion has been an influence on my personality now, and I never thought that I would be able to learn and get a career out of it," says Caitlin.
"I have always had a love for fashion and beauty since a young age," adds Margarita. "In high school, I gained an interest in business and the aspect of building relationships while maintaining a business. I pieced together the idea of combining my passion and interest together and with research, I found that Centennial had exactly what I wanted."
It even motivated students to come from other countries, to get the unique knowledge the program offered, like Siyuan, who came all the way from China.
"I came to Canada looking for new challenges," he says. "I was walking in the campus and opened a door for a nice lady, she thanked me and told me that my pants look fabulous. I like to be complimented, and I want to look good, which is why when I decided to change my major, I changed it to fashion business and management. Coincidentally, that nice lady is one of the professors of this course when I first joined the program."
How Fashion Business and Management gave them practical experience
From the start of the program, Fashion Business and Management got its students on their feet, practicing their skills in real-world scenarios.
"Through this program, I was given the opportunity to show my practical skills with communication through presentations, and written communication through reports and case studies," says Caitlin. "This program helped me to build more confidence in my opinions and thoughts through in-class discussions and asking questions."
"We were also assigned some exciting projects," says Ria, "like designing our own storefront and retail store concept, creating our own clothing collection, 3D printing an object, Augmented Reality advertisement… to name a few. My personal favourite were the field trips we went on, starting from factories to showrooms, to malls. Even though we were still learning, it was fun being in a practical setting where we could observe our surroundings and hold tangible goods to understand things that mere textbooks couldn't teach."
This in-class experience was augmented with a field placement, where students and the school worked together to find a real-world company for them to spend time learning at.
"The field placement in fourth semester gave me the ability to gain hands-on experience and work on my portfolio," Margarita says. "It was a way to put everything together that I had learned for the past two years. This was a really cool start-to-finish process and rewarding in the end."
What's next?
There's a lot these students can do with the education they've received, and, fittingly, these graduates are all taking that education in different directions, from more learning to entering the job market.
"I plan to pursue further education in the field, at a university," Ria says," and after attaining extensive knowledge through more studies, I look forward to working in the marketing side of the fashion industry."
As for the students working on getting a job, they feel prepared thanks to the program's emphasis on portfolios, resumes, and career-building.
"Centennial College has been very helpful," Caitlin says. "My professors and career services have offered me great advice in areas such as updating my resume, interview skills, how to apply for jobs and communication skills, both verbal and written."
"I hope to get a position in marketing or public relations," Margarita adds. "Centennial College helped me with this by helping me build my portfolio and confidence."
What they liked the most about Fashion Business and Management
In the end, each of these graduates is leaving Fashion Business and Management with positive experiences and happy memories.
"The most rewarding thing for me is every time I write down a new idea in an assignment and get it approved by the professor, when the professor is professional in the fashion field, I feel like I can really do something in the field," Siyuan says.
"The most rewarding part of the program was seeing not only myself, but my classmates grow through the two years," says Margarita. "Not only has my communication improved, so has my confidence and work ethic."
"Prior to studying at Centennial College, I was not even aware of my own passion for fashion," Ria concludes. "I always admired the glam from a distance, such as by watching fashion shows on television, observing street style, and stalking fashionistas online. However, after joining the program and studying several different areas of the fashion industry, starting from product development, marketing and promotion, sourcing, retail management, and entrepreneurship – I have come to recognize the endless possibilities."
By Anthony Geremia