A researcher's best friend: Centennial College prepares marketing students for success with the ENVISION research tool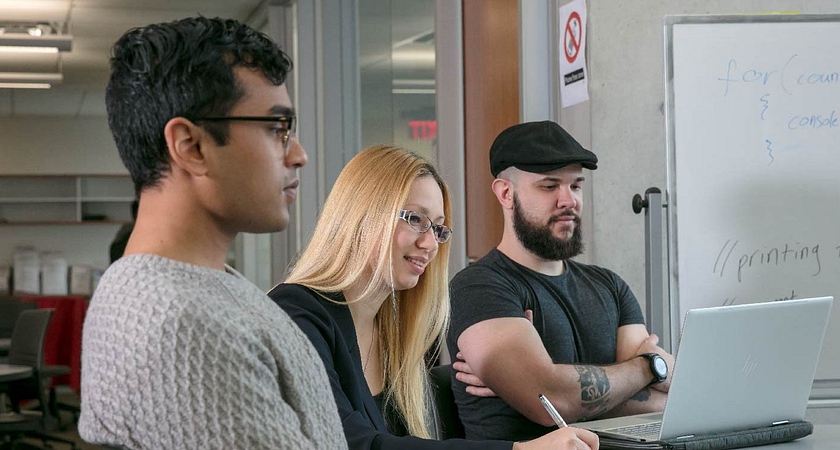 When you're getting educated for career success, no matter the career, you need hands-on time with the tools of the trade. In our Marketing Research and Analytics program, you get hands-on experience with one particularly valuable tool: Environics Analytics' Envision software, which is used to tell a marketer everything they need to know about the markets they want to target. Here's how marketing students Tanya Vyonh and Nawshaba Chowdhury used the program in their projects. It's something that helps marketers make better decisions, and Centennial College puts you front-and-centre with it.
How Envision works
"We were the first post-secondary institution to integrate this program into our courses," says Danica Lavoie, the Marketing Professor responsible for bringing Envision to Centennial. "It's offered at the undergrad level, and the graduate level as well. If you are enrolled in one of our marketing programs, you'll also get a chance to work with this amazing software. And if you do a minimum of eight hours of hands-on work, then we provide a certificate that is co-branded between Environics Analytics and us, which students can put on their resume."
As for what it does, the ENVISION software is a marketer's ultimate micromarketing tool. By typing in a postal code, and setting the size of the region you want to scan, you'll learn everything about the people who live in that area. Some of the details that you can learn about the people in a region include: Their interests and opinions, their social values, their media habits, and the activities they like to do in their free time. ENVISION also figures out the composition of a particular household and gets into the finer details like the job sectors they work in, what kind of cars people drive in that area, what magazines they read, even what kind of drinks they enjoy. It even analyzes the social values of a target market, including details like their openness to other cultures, how religious they are, and their preferences for sports and leisure activities. ENVISION does this by being a front-end entry point into rich databases, like Statistics Canada, Vividata and Numeris.
"For a marketer, it's a goldmine," Danica days, "because you don't have to try to come up with a big idea, you just need to find out who you've got here, learn everything about them, and then develop your strategy, and that's the key. You can make better marketing decisions because you've got data to base it on."
Here's how some of that data can be applied.
Nawshaba's housing project
"I have an undergrad in finance, but I was looking to diversify myself," Nawshaba Chowdhury says of her background. "Marketing is not my forte, but this program interested me because it'll show you how to use numbers to get a sense of who people are and what they do."
Nawshaba's project was to design a housing development with a shopping mall next to it, for a particular demographic.
"Our project was on the housing market," she explains. "We did it on all of Ontario, and we picked target groups. We chose three segments, and it turned out they were older adults. They were middle-aged, not at the start of making families. They're not retired yet, but are looking to retire."
"When we were analyzing this segment, we figured out the perfect place for them: Elora, Ontario, near Guelph," she continues. "We deep-dived into the information to find out who they are, what's their age range, what are their needs, what type of housing they prefer. So we figured out that they're people who'd like to downsize and prefer bungalow-style homes because they're looking to retire to them. They like walking, so we included a community centre with a walking trail on it, and they like to bicycle, so we made a bike trail, too. Golfing is their favourite thing, so we put our housing alongside a golf course."
Amazingly, when her team investigated the actual area in Elora, she saw that those types of homes were already being built there. Evidently, the industry came to the same conclusion, based on the same data.
Project 2
"I had my undergraduate degree in international economic relations and banking, so I had two degrees," Tanya Vyonh says of her previous education. "After that, I came to Canada and took a postgrad program in Marketing Management. I chose that program because I was interested in something creative that I thought would be useful, but it turned out to not be a practical program, so I  switched to Centennial College."
"My project was creating a travel package for a destination that Danica assigned," Tanya explains. "Our destination was Victoria, British Columbia, and we needed to create a travel package to target people who are in Ontario. Our target included two segments, one is 'empty nest,' and the other was 'aging in suburbia.' They're in suburban areas, they had a lot of disposable income, and they're older than millennials, about middle-aged. So, we actually tried to discover their behaviour patterns, their psychographics, what they value, and the activities they prefer to do."
"We tried to find destinations in Victoria to target them in our total-package advertising," she adds.  "We also tried to find, in terms of travel, what hotels they'd like, what kind of room they'd like to stay in and what type of transportation they'd like to use to travel. In our case, it was specifically Air Canada. Based on that, we tried to define the price range for the package."
"We also created a whole marketing strategy for them," she concludes. "Based on the data from Envision, we created a video and Google advertising banners."
What they gained
"Nothing is accidental," Danica says of these projects. "Every piece of it is because there was a piece of data to support them using it." What they've learned, and their experience using Envision software will directly play into their future marketing and analytics careers, too, something Nawshaba explains with a story.
"Last provincial election, I was watching CP24," she says, "and there was a person from Environics Analytics. He was showing a little area in Guelph. They predicted that in that area, in that small city, the Green Party was going to win over the two other candidates, and get their first-ever seat. He showed why and how. It was amazing to watch him explain how Envision predicted before the election that it was going to happen. The next time I had a class with Danica, I said, I finally found my life goals. He showed me how data can tell you what's going to happen, and you don't need a magic ball. So that's my plan, I want to be a data analyst."
By Anthony Geremia