We asked an expert why you want a career in Fashion Business and Management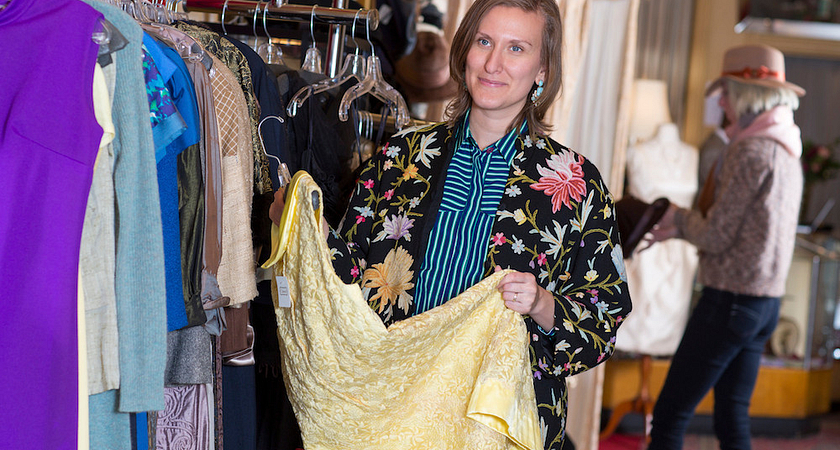 Let's say you love fashion, style and clothing, but you're not a designer. Maybe you think that means you can't have a career in that world. Well, that's not true at all. The clothes on your back took a long way to get to you, and lots of people made it happen. In Fashion Business and Management, you'll learn about how clothes get from the runway and into the hands of customers. It's all about finding a new way to get a career working on the clothes you love.
Odessa Parker's long career has involved publishing, marketing and writing for many kinds of media, like the Globe and Mail newspaper, but it was always in a role that had to do with fashion.
"I've always loved fashion design, art, music and photography," Odessa says, "and grew up watching Fashion Television and Fashion File. Unfortunately, I don't have the fine art skills to be a designer, but I love writing and styling, and found that I could make a career in the industry using those skills instead. I love being able to tell the stories of interesting creative people, and working on photo shoots to make the clothing come to life."
Does that sound like you? Do you like fashion, want a career in it, but can't draw or design? There's still a career for you in the industry, thanks to Centennial College's Fashion Business and Management program, which teaches you about everything else in fashion, like production, marketing and distribution. Here's how the program will give you a way into this stylish career.
Experts put the program together
The best thing about Odessa's experience is that she used it to help put the Fashion Business program itself together, along with other industry experts.
"I was the lead developer for the program, as well as being on the Program Advisory Committee," Odessa says. "I was approached by staff at Centennial who knew my background in the fashion industry. They wanted to develop a fashion program, and I said that instead of doing one focused on design, it should be one that teaches people how to work in the other sectors of the industry."
 In other words, what you're learning in the program has been created and approved by the people who know the most about it.
There's jobs for you
There's way more to fashion than designing clothing. But, since so many people only think about the design part, all of those other jobs need people to fill them, which is where this program comes in.
"Designers and brands rely on suppliers, manufacturers, stylists, editors, retailers and more to support their businesses," Odessa says. "There are so many careers, from being in the retail sector to publishing, marketing, manufacturing, sourcing and styling. "
You learn useful skills
In order to help you get into these roles, Fashion Business and Management gives you a diverse set of business skills. You'll pick up an understanding of business math, procedures and best practices, critical and creative thinking, and writing skills, among others.
You'll get these skills through in-class learning, and special projects to source and manufacture real fashion products, like socks or pencil cases. You'll also take part in field placements, where students put what they've learned to the test in the real world. As a graduate, you'll have an understanding of the many sides of fashion production. 
You get real career connections
Obviously, the biggest career connection is the program's field placements, but outside of that, the program gives you plenty of other opportunities to make job connections, including through the instructors that teach it.
 "Both the instructors and PAC members are industry professionals who are connected and able to give their students a well-rounded idea of the key players within the fashion landscape," Odessa says. "Networking is very important, and we encourage students to become part of the industry by going to events as soon as possible."
The Bottom line: You want in
In Fashion Business and Management, we'll give you essential skills and career connections, and there's lots of places these skills can take you, because there's way more careers in the fashion world than you think.
"There are so many interesting opportunities within the fashion industry that aren't just being a designer," Odessa says. "Be open-minded, curious and collaborative, and heed the advice of your instructors."