How to get your career started: The Career Resilience Podcast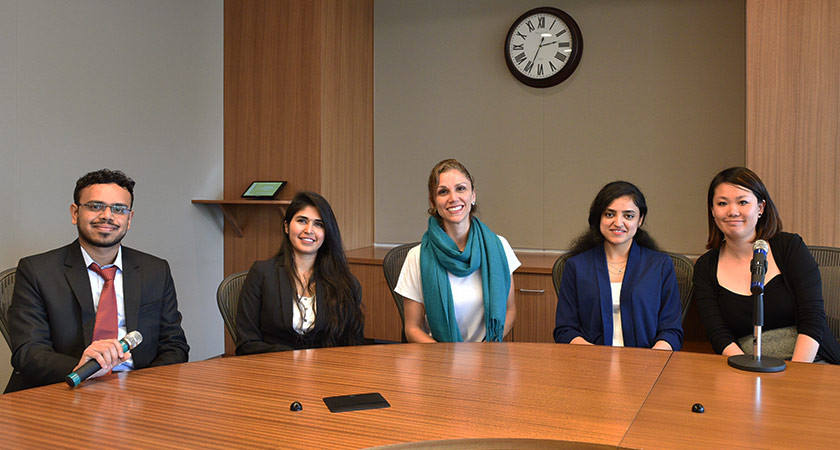 As you graduate from college and move out into the working world, you're going to run into obstacles. What happens when you're applying for jobs, and no one calls you back? How can you make sure you do well at the co-op placement your program has? You're not alone on your journey, though, and there are ways to get through the job hunt and succeed in your career. To help you find solutions, Centennial College created the Career Resilience podcast series. Alice Hsiung, Elizabeth Manzato and Annie Sun, all from Centennial's Career Services, host this six-episode series of short podcasts, where they interview both students and professionals about career resilience. Here's what you can listen to in our first series of episodes:
Episode One: Centennial Alumni
When you leave school, don't expect to instantly get a job. You need to put the work in and be ready for rejections. Daedreen Peterkin is a former Centennial student from Project Management, who graduated in 2018, and now works as a project manager at Impact Packaging. Before that, though, she ran into job rejection and the classic problem of not having enough experience. What did she do to get where she is? Listen to find out.
Episode Two: Centennial Alumni  
In the podcast's second episode, Elizabeth talks to Rashab Kanodia, an alumnus of Centennial College's Financial Planning program. He tells personal stories about what he did when his job search didn't work out, and reveals the strategies that helped him bounce back. To Rashab, getting through the job search process is all about faith and conviction.
Episode Three: Employer
So, you've finally got the job. Now, how do you keep it? For the Podcast's third episode, Annie speaks directly to the employers you want to hire you. Piotr Mierzejewski, the director of DB2 Development, IBM Data and AI at IBM Canada, and Greene Verweij, Senior Recruitment Consultant from Blackberry share an employer's perspective on career resilience, with personal stories to go with it. They also talk about what to do when you make a mistake, and how you can react to it.
Episode Four: International Students
Have you ever had a big change in your life that you had to adapt to? Moving to another country for school is one of the biggest changes you can make. In this episode, Alice speaks to four different international students, who share their school and career experiences coming to Canada. This episode is about big choices, major life decisions, a change of setting, and how to be resilient during the process of change.
Episode Five: Indigenous
Most students come to college because they want a meaningful job when it's all done. What's that look like from an indigenous perspective? In this episode, Alice speaks to Eli, an Indigenous student from our Social Service Worker Program, and his Indigenous Studies professor, Dani Kwan-Lafond. Eli also works at Egale Youth Services, an LGBTQ youth support organization, and grew up in foster care, while Dani is also a social worker. To Eli, career resilience means being allowed to dream, have hopes and push forward, without getting sidetracked. The pair also talk about the importance of connections, and when to change your career's direction.
Episode Six: Sarah Law
Careers aren't a straight, upward path. After you land that co-op placement or that job, then what? Especially if either one is not what you thought it would be. Sarah Law is the Senior Manager of Early Talent Acquisition (TNO) at the Royal Bank of Canada. In this episode, Annie talks to her about thriving during your co-op placement, or even in your working career. To Sarah, there's two key aspects to being resilient: Recovering quickly, and the ability to be elastic.
Written By: Anthony Geremia