Three times Public Relations was used for social good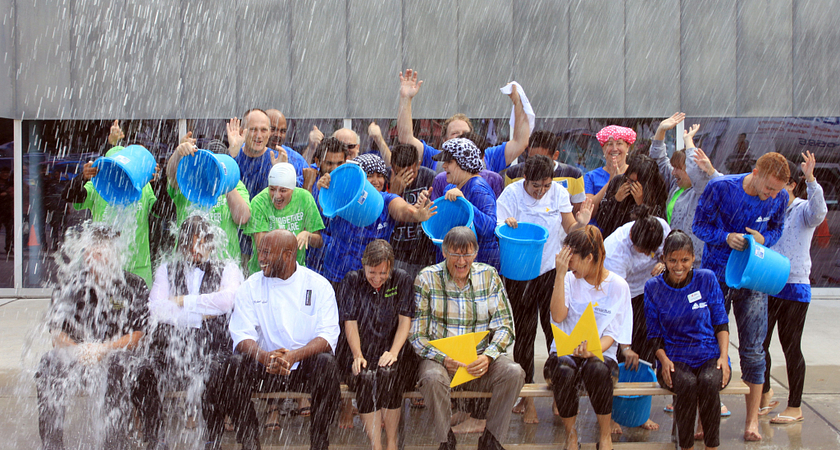 We tend to only think of public relations professionals as being the people companies call in when things go wrong. While that's certainly a part of their job, what they're usually doing is finding new ways for companies and their customers to interact. More importantly, though, it isn't just for the sake of commercial advertising. The art of public relations can also be used to do real good in the world. Here's three examples, taken from the Digital Marketing Institute and Launch Metrics. If you're taking our Public Relations - Corporate Communications graduate certificate program at the Story Arts Centre, you'll be learning how to launch campaigns like these.
1. The Ice Bucket Challenge was actually successful
A sure sign of success: We all remember those videos of people getting ice water dumped on them, mostly celebrities.
What you may not remember is that it was to support research into a disorder called ALS, or Lou Gehrig's Disease. And it worked: In 2013, the ALS association raised about $2.8 million in donations, but in 2014, they received $100 million.
The important part, though, is that all that awareness and money actually worked: The gene responsible for ALS was actually found in 2016, meaning that a treatment for the disorder is much closer to reality.
2. Save the Children's powerful "one second" videos
"One second a day" videos were popular online around 2013, thanks largely to an app released around that time. The idea was, simply, you'd take a second of footage a day for some period of time, like a year, and edit that footage into a video. You could use them to tell stories about aging, hair growing, and other innocent things. Save the Children co-opted the idea into a shocking fictitious video that imagines what would happen if London were Syria, telling the story of a little girl who has her life totally changes over the course of a year due to an ongoing war.
What makes this one interesting is that the creators eventually came back to it. When the Syrian refugee crisis was making headlines, they produced a sequel video, detailing that same girl's time as a refugee.
3. Breast Cancer Awareness through Lemons?
In a case of using hashtags and sharing to spread something useful, Worldwide Breast Cancer launched a campaign earlier this year called Know your Lemons, using the #KnowYourLemons hashtag to spread something important: Breast Cancer warning signs. Women shared their personal tales, and took part in conversations about the subject, and, of course, led to donations to Worldwide Breast Cancer going through the roof.
How an organization deals with a crisis is important, but, a good public relations professional knows what to do to create positive buzz. If you're a student in one of our Public Relations - Corporate Communications programs, you'll be learning how to craft the correct response, and launch memorable campaigns such as these.
By Anthony Geremia