Interactive Media Management Students Showcase Their Work at 'Solved!'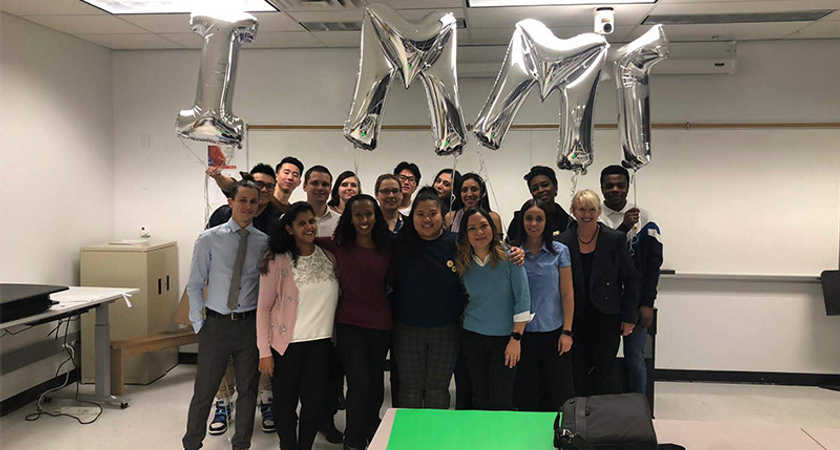 On October 16, 2019, students from the Interactive Media Management program held their annual trade show, which this year was titled: "Solved!". The event allows students the opportunity to showcase their hard work in a professional environment and is an assignment component for their course Career Networking.
Originally, the course only focused on contributing to students' portfolios, but in 2017, Pamela Kostur, Professor and program coordinator of the Interactive Media Management program, decided to incorporate the trade show as a way for students to show off their work. Pamela said the students took initiative in setting up their table displays and had the opportunity to talk about their projects and practice their pitches. The projects the students presented this year were incredible and Pamela describes the event as a great success!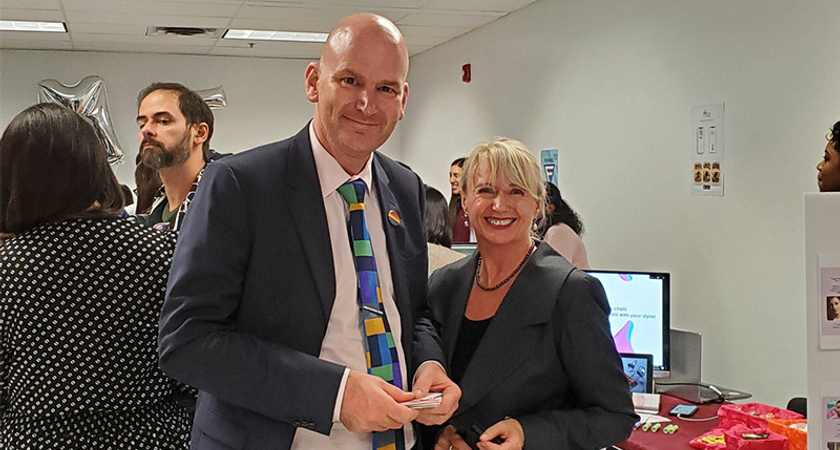 Will Huang, an Interactive Media Management student, presented his project called Kojo, a "gamified plant-care app" at the trade show this year. Will says, "I love plants, but I found a lot of my friends are killing their plants either by neglect, or improper care. I did some searching, but all the existing apps are very bland and simple, so I decided to create my own". Will describes his app as having an "emphasis on creating a genuine relationship between an owner and their plant, which is accomplished by creating digital avatars of their plants when they import them into the app." Kojo is a Japanese term for friend, so Will says this app "allows owners to see their plants as more than a piece of décor, but rather, their friend." The app mimics a social media platform, so Will says, "When your plants have a need, they will 'post' about it and you'll see it in your homefeed."
In regards to the trade show, Will says, "It was unlike anything I've experienced before. I'm quite a shy person, so I tend to stay away from networking as much as possible, however, being forced to talk to strangers this time really helped me for the better. For starters, it was about a topic I'm passionate about, so naturally it was far easier to keep conversations going, and not experience too many awkward pauses." He added, "I'm not from a business/marketing background, so it was really insightful to receive numerous business and growth tips from industry professionals."
Kristen Cruz, also an Interactive Media Management student created a "travel platform application curated for the LGBTQ+ community called SCOUTY." Kristen says, "It allows LGBTQ+ travellers to research core information about the destinations they are looking to visit. Such as laws protecting the LGBTQ+ community, views on same-sex marriage, and different LGBTQ+ neighbourhoods among other things. It will also allow users to book different components of their trip such as flights, accommodations, and excursions, with the help of an, AI travel agent called a 'Travel Scout'. This is a project that I'm taking further through the ACCEL center and is what I presented when I competed in the Student Pitch Competition."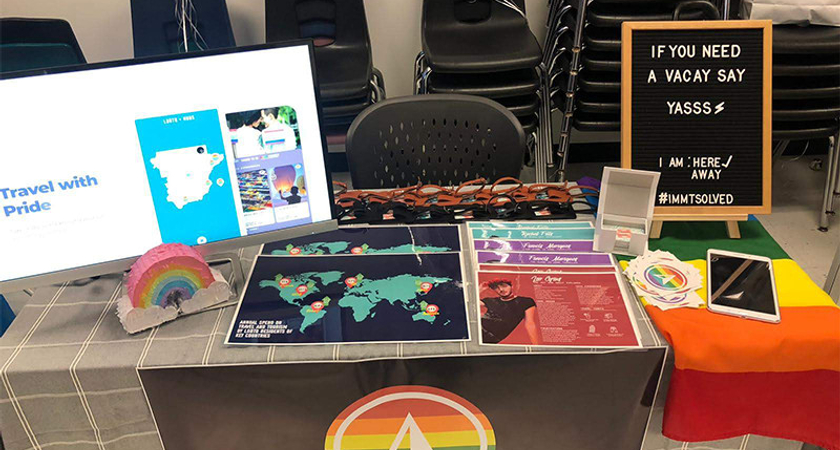 In regards to the trade show, Kristen says, "The tradeshow was a bittersweet cumulation of my time in the Interactive Media Management program, it was the final time my cohort was going to be all together in one room, which was really hard to believe. I got the opportunity to not only showcase my project but view the work of my colleagues as well in a different light than just presentations. All their projects are amazing; they're amazing! There's going to great things in the future for us! All in all, it was a night just to be together and celebrate what we got to accomplish over the past year!  
Kristen gained valuable skills from the trade show, as she mentions, "I learned how to communicate with other industry professionals, while still being myself. I'm pretty outgoing and use my sense of humour as a good ice breaker when meeting new people, I learned how to adapt this to a professional setting. It worked in my favour as I got to make some new connections and always had people coming to my booth to learn more about my project."
Overall, the event was a great opportunity for the students to gain experience and showcase their amazing work. Congrats to the Interactive Media Management students on a job well done!
By: Alexandra Few, Communications - Professional Writing Student