Frederico Neumann | GRAD-preneur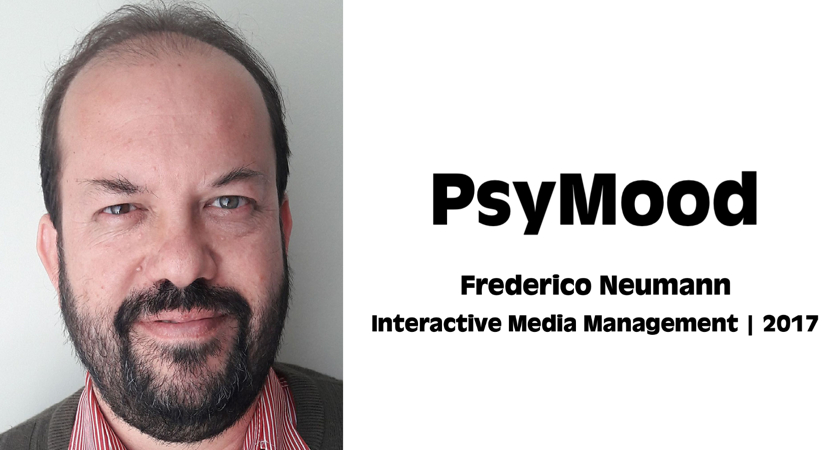 Frederico Neumann is a 2017 graduate of the Interactive Media Management (IMMT) program. He founded the online platform PsyMood with long-time friend Rodrigo Bergel in November 2019. "We offer mental health support based on language and cultural background. I am one of the founders and CEO."
What's the most interesting thing you've done professionally since leaving the School of Communications, Media, Arts and Design?
PsyMood, for sure! This is a dream come true for both of us, to have a business together where we can help people to solve their problems. We are accomplishing it via PsyMood.
What's

your

favourite memory from your time at the school?

I liked the fact that it was a smaller campus. I had a nice group of classmates and some amazing teachers. Great memories!
How did your experience at the school shape your entrepreneurial goals?
What I learned at the IMMT course, I was able to use it in my first full-time job in Canada, and now in my business.
What advice can you offer students who have entrepreneurial dreams?
You must be very passionate. Never quit. Work hard and inspired. Don't believe in get rich quick schemes. You are in this for the long road.
What's the best piece of advice you received when starting your business?
Choose wisely a co-founder. You can also fly solo, but the business path is much more fun if you share it with someone. It's not easy to find a co-founder that will add up to your business on top of what you already add to your business. So take your time. But don't wait too long. Actually, don't wait at all. Stop waiting. Accomplish at all times!
In one sentence, what does the School of Communications, Media, Arts and Design mean to you?
A great starting point for my Canadian Experience!
How did you come up with the idea or concept for your business?
Rodrigo and I always wanted to help other people through a business. We both had and have therapy. So when Rodrigo was searching for a therapist in Canada, he realized that he felt understood and comfortable having therapy with a specialist with the same language and cultural background. That's where our idea started to become a business.
What have the results of your business been?
We incorporated our business in June 2020. Then we went to develop our software. The platform was ready to be tested by September 2020. We tested it for three months until we officially launched the platform in December 2020. We are now in the soft launch phase until the end of April. We have closed our first round of investments.
What's next for your business?
Our next step is to launch it commercially in May 2021, with an increased budget for marketing and for PR efforts.
It's your call - tell us something interesting, cool, odd, unique etc. about you or your business. 
I am a singer and songwriter. Toronto is the third city that Rodrigo and I lived in at the same time, by coincidence. Before it was Sydney, Australia, then Sao Paulo, Brazil and now here. 25 years of friendship and now a business that we run together to help change the world for the better.
You can find PsyMood on Instagram, Twitter, Facebook, and LinkedIn.  
--
GRAD-preneur is a weekly series that highlights some of the outstanding School of Communications, Media, Arts and Design graduates who have successfully started their own businesses. This series shares the stories of our graduates and their time at our school, as well as provides valuable advice about being an entrepreneur.