PR Students Launch "The Deep Listening" Campaign to Highlight Indigenous Communicators
A group of students in the Public Relations – Corporate Communications program worked with The Communicators Collective – a group that fosters diversity, equity, and inclusion in the communications profession – within their Storyworks course and launched a campaign that focused on highlighting Indigenous communicators and communications in Canada.
Kate Morris, one of the students who worked on the campaign and who was responsible for the research and writing for this project, as well as liaising with the client, says, "Our class was given a presentation about The Communicators Collective and how its organizational objective was to foster diversity, equity and inclusion in the field. I liked that the client was open to all ideas and campaigns and hadn't done their own leg work that might have limited our options."
Once the group started working with the client, on what they later named "The Deep Listening" campaign,  they ended up crafting a review of Gregory Younging's Element of Indigenous Style, a podcast, and a blog post that provides recommendations for organizations looking to improve Indigenous relations.
During the initial steps, Kate explains, "We had begun researching and planning for what we called The Deep Listening campaign in March. We knew then that the TRC calls to action had not been adequately understood or taken on board by most organizations and most Canadians, and we wanted to think through whether our profession could facilitate those pending processes. Were there Indigenous communications protocols (like the land acknowledgement) that should be part of communications in Canada?" 
She continues, "After getting approval for our campaign spotlighting Indigenous communicators, and just as we were beginning to set up interviews for our podcast, the news broke about the Kamloops residential school unmarked/mass graves. That slowed us down--not because it was a challenge or because we had to pivot necessarily, but it gave us the opportunity to listen more and to see how organizations responded either appropriately or not from a communications perspective. We also delayed reaching out to communicators during those early weeks of June, because we did not want to further burden Indigenous communicators (who were already out in droves doing so much of the work) many of whom were grieving and potentially retraumatized by the findings." 
Overall, the project was successfully carried out and accomplished what the students, and the client, set out to do. Kate says, "I love researching and writing, so for me, it was a great experience! We had many frustrating challenges, but I think we learned a lot in terms of both how we overcame those challenges and what we learned from the work itself – from meeting Indigenous communicators, from reading and researching, and from following journalists covering the stories of last June."   
She adds, "It was also wonderful to hear from all of these generous, thoughtful communicators about their experiences in the profession. As someone entering the field, my understanding of what communicators do is now inextricably bound to and informed by what I heard from them. It was foundational and that is really important. I hope that my group members and I can take that learning, along with all the comms tactics and strategies, and extend it into our professional lives and careers."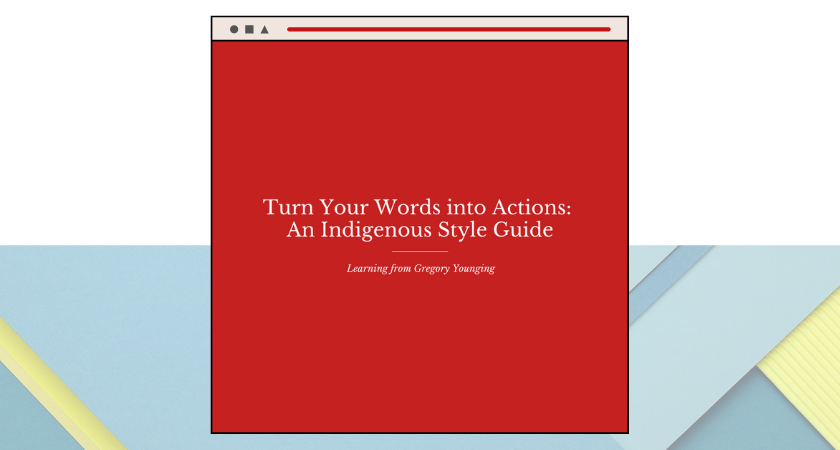 Palweet Kaur Parmar, another student involved in this project who was responsible for a range of tasks within the campaign such as identifying possible interviewees, creating questions to guide the interviews, and taking part in most of the interviews, found the project to be a great, but challenging, learning experience.
She shares, "It was a challenging experience because this was a real campaign for a real client and so the stakes were very real. It was a learning experience at the end of it because I learned what works and what doesn't, how much time you have to allocate for approvals, edits, and fine-tuning. I also learnt how a campaign can be affected by emerging news stories and changing sentiments. This was an experience in learning how to adapt and pivot our campaign in order to respond appropriately to sensitive issues. Regardless of the obstacles we faced, I really enjoyed being part of a dedicated and passionate team. We all believe that we have learnt through the campaign and shared through the content we create is incredibly important for our profession."
As the campaign came to an end, Palweet says she was very proud of the work the group produced. "We put a lot of work into it, conducted a lot of research and were able to make connections with some talented communicators. I hope that our program's faculty members will be able to include the content as a part of the courses as well, specifically when it comes to looking at diversity in the profession."
Laurie Hall, Public Relations Instructor, shares similar thoughts about the great work that was produced within this Storyworks project and campaign overall. She says, "I am extremely proud of this Storyworks group - Kate, Palweet, Edouard and Julia - who went above and beyond to interview many Indigenous communicators to create this podcast and blog posts.  Their final project reflects the very relevant and important work that we, as Canadian communicators, need to do. Their work will live on as Canada continues to learn, understand and respond to the TRC, TCAP and the Calls for Justice in the MMIWG report."
The work this group of students accomplished is vital in the necessary push for diversity, equity, and inclusion within this industry. Congratulations on such a successful campaign!
Written by: Alexandra Few