Centennial Students Collaborate with the Ontario Professional Engineers Foundation for Education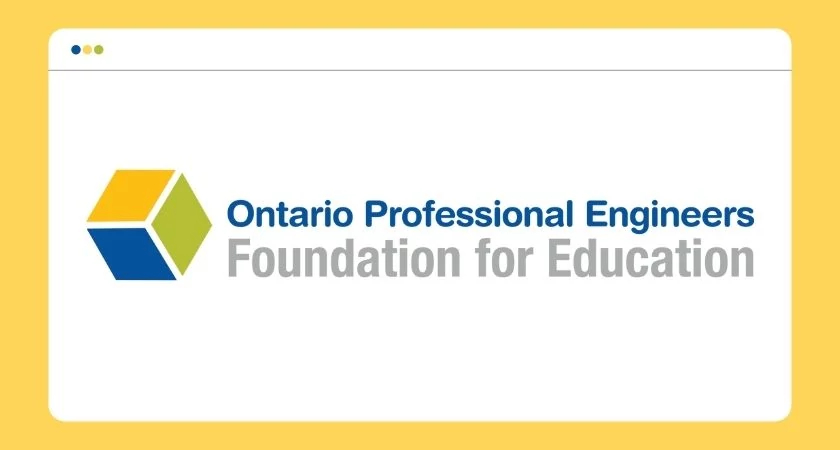 A group of students in the Interactive Media Management program worked with the Ontario Professional Engineers Foundation for Education (FFE) during their time in Storyworks – a course based on experiential learning that connects students with real industry clients and provides them with the opportunity to gain experience in their field through work and projects that are assigned by their client. 
The FFE has been in existence since 1959, and with an entirely volunteer-run board, members help to arrange scholarship funding and awards of recognition to engineering students across Ontario, who demonstrate a high engineering aptitude and leadership excellence, who can use the financial support. The FFE's vision is to "expand the assistance that engineering students receive and encourage the network of professional engineers to give back to the next generation."
The group of students, Katie O'Brien, Avrie Mason, Farhad Khan, and Viviam Santos, worked together throughout the entirety of the course, which included arranging the initial steps with their client, organizing and delegating the work amongst themselves, and wrapping up with deliverables they could provide to their client, all while maintaining consistent client communication and demonstrating immense professionalism.
Jonathan Hack, Treasurer at the FFE and Executive Director of Applied Research, Innovation, and Entrepreneurship(ARIES) at Centennial, as well as Baijul Shukla, one of the Board Directors at the FFE and the Director of Member Services and Strategic Partners for the Ontario Society of Professional Engineers (OSPE) were the two main points of contact for this collaboration with students.
Baijul explains that they approached the group of students with a project scope and pointed to what the FFE's biggest challenge was. Students immediately got to work further defining the project scope and came up with a project plan and deadlines to achieve the deliverables they set out to accomplish.
Some of the tasks that students tackled included interviewing stakeholders/donors and creating personas and user journeys based on those interviews. What was presented to the clients included recommendations for the FFE website that stemmed from the personas they researched and created and how to make the FFE website more robust. Jonathan shares, "From a programming point of view… whoever the instructors are, they are obviously advanced because this is the stuff that is going on right now in the marketplace." 
Needless to say, the work students crafted was something you would recognize by professionals well into the workforce, and the recommendations from students are currently being implemented on the website now. Jonathan says, "What impressed me most about the student teams was their initiative, so we didn't have to keep on them to do things. They were self-starters, and they seemed to realize what to do. Number two was their professionalism, and we could see that early on. We didn't hesitate to bring them in front of the entire board for a presentation at the end and give them that experience of presenting to a board and presenting their findings. They did it well, everybody participated, and like I said, it was very professionally done; the kind of thing you would pay for." 
Baijul shares similar thoughts about the work students completed, as he says, "It was amazing – that is the easiest way to explain it. The students are very professional, very easy to work with, and we had lots of great communication between us and them. They always kept me in the loop if there was a delay, which there wasn't, but if there was anything that they wanted, I was always kept in the loop. I got an email from them every week, and we met with them almost every week."
Based on the communication with students, something Baijul recommends to future clients is to ensure there is a commitment to time. "Students do need a little bit of time. It's not a lot but meeting with them once a week for half an hour is not a big deal. I was really impressed by the quality of work, and I didn't tell our [FFE] board much, I just let them make their own decision, and you could tell that they all loved the work," he shares. 
Pamela Kostur, Program Coordinator and Professor of the Interactive Media Management program, also found the work students completed to be quite impressive, so much so that she selected the group, who named themselves Team Minerva, to receive the Dean's Entrepreneurship and Innovation Award.
While presenting the award to them, Pamela said, "I am presenting the Dean's Entrepreneurship and Innovation Award to the first semester Storyworks team of Katie O'Brien, Avrie Mason, Farhad Khan, and Viviam Santos—who named themselves Team Minerva, presumably after the Roman goddess of wisdom. Team Minerva displayed their entrepreneurial and collaborative approach from the get-go, with rave reviews from their client after only their first meeting."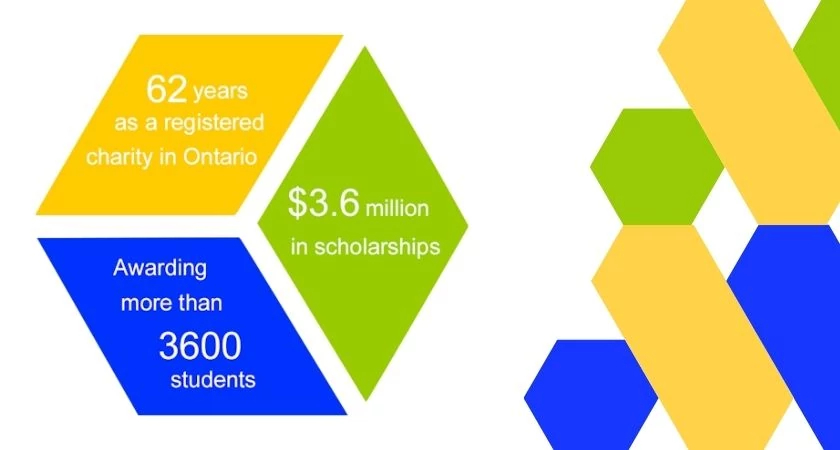 The FFE was also looking for someone to fulfil the communications aspect of their project, and that is when Jennifer McIlroy, Storyworks Coordinator, recommended Nayab Khokhaar, a graduate of the Communications – Professional Writing program.
Baijul explains, "The Foundation (FFE) had a bunch of documents with different messages, and you could tell that it was different folks that had written it over the course of the last five to ten years, so when Nayab came on board, the first thing we did was we took all of that and put it into one message manual instead. It outlined everything – who we are and what we do – that way if anybody ever wants to write a piece on us, we can just give them right from that book… just copy, paste and you go, and it's a document we can revise all the time."
Nayab also worked on writing key messages for each of the FFE's target audiences, which involved crafting a 12-month rolling calendar of social content for each FFE channel. "The Foundation is constantly messaging throughout the year, but the good thing is he ended up revising a lot of this stuff. He didn't just copy, and paste, he actually wrote it from scratch. Now everything is streamlined when it comes to our communication," Baijul shares. Both Baijul and Jonathan were absolutely thrilled with the work Nayab produced, so much so that they hired him as a Canada Summer Jobs Grant student, and the work he produced in his placement, he was able to implement.
Based on his experience, Nayab shares, "After the pandemic struck, I was quite anxious about completing my placement for Communications and Professional Writing. Fortunately for me, I contacted Jennifer McIlroy at the perfect time. She told me about the Story Arts Centre collaboration with Ontario Professional Engineers Foundation for Education (OPEFE) and helped me get in contact with Baijul and set up the placement. My primary project for OPEFE was to create a content calendar for an entire year's worth of content across various social media platforms to engage with different audiences: students, individual and corporate donors, and partnered institutions such as universities. It was a great opportunity to put what I had learned in my classes into practice. I also collaborated with a group of Centennial students to improve the Foundation's website. I focused on writing and editing copy, while the other students worked on UI design. After I completed my placement, I stayed with OPEFE for a summer internship as well. I had a great time working with the fantastic people at OPEFE, and the experience I gained there will be great for my future endeavors." 
Overall, Jonathan and Baijul are extremely impressed with the work students accomplished. Jonathan shares, "At a higher level I think why this worked well is we are a not-for-profit board. Everybody on the board is a volunteer director, so we are reconstituting the board all the time, and we had a lot of new expertise on the board and some very specific expertise. Baijul is really good on the communications, the web piece, but we didn't have people to implement what it was we needed to do. We needed to do a lot, and were able to go to the Story Arts Centre and… get that expertise."
Written by: Alexandra Few