Mubashira Farooqi Paves the Way for Diversity and Equality in Public Relations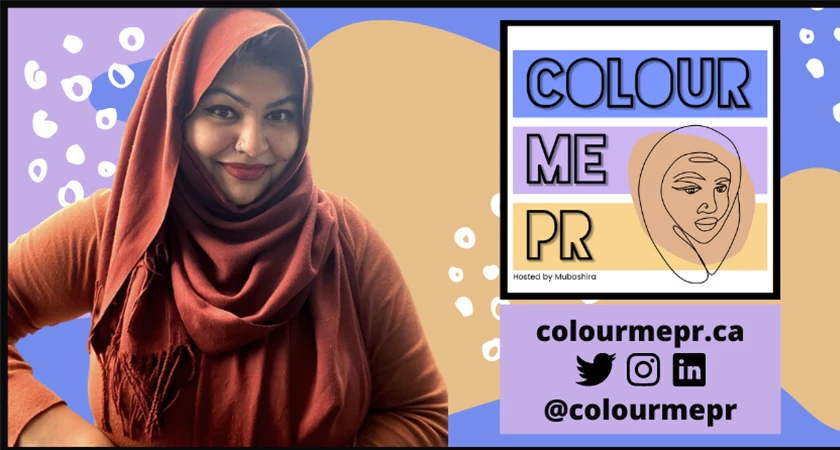 For the majority of Mubashira Farooqi's life, she was used to people completely butchering her name and thinking it was normal. Until, one day, she woke up and realized that if they respect you, they'll learn how to pronounce your name properly. That's one of the many topics this Centennial Public Relations alumnus dives into on her podcast, Colour Me PR.
This realization came about for Mubashira as she positioned her education to focus on diversity and equity work. Mubashira graduated from Ryerson University with a B.A. in contemporary studies with a major in diversity and equity, and a minor in sociology. She then decided to apply for the Public Relations and Corporate Communications program at Centennial College.
Mubashira did not make this decision lightly. She did her research, reviewing similar public relations programs in Toronto. She decided that Centennial College provided the most well-rounded and diverse learning experience.
Centennial College values experiential learning, and the program's Storyworks project allows students to grip the wheel with confidence and create a campaign for a real client.
"The Storyworks piece is what really sets Centennial's PR program apart from other colleges." Mubashira explains. From developing a communications plan to reaching out to media relations, this project is real portfolio building.
"That's something I didn't see in the other programs and what made me excited for Centennial," she adds.
Not only does Centennial's Public Relations program provide experiential learning, but Centennial College is known to value diversity, equity and inclusion. Centennial College's diversity, particularly in its PR programs, is especially valued by students and staff for how it drives change in PR education and the industry. This year, with students learning from the Philippines and Cameroon, diversity is recognized as a core strength of Centennial College.
Mubashira explains that learning about the importance of equity and inclusion allowed her to recognize the things that were missing. And in the PR industry, what was missing were the voices of women of colour.
"Women that looked like me in this industry were missing, and I didn't see them until researching for my podcast," Mubashira says. If you haven't heard of the Colour Me PR Podcast, you need to take a listen. It's a motivating podcast hosted by Mubashira, where she has created a space to be inspired and inspire others. She shares conversations about the importance of representation, Diversity, Equity and Inclusion (DE&I) and recognizing the work diverse women in communications have accomplished.
"You can't be a successful communicator until you understand the value of diversity, equity and inclusion," Mubashira says, explaining why DE&I is imperative to understand as communicators.  Centennial College lends a hand in painting the picture of a successful communicator, and Mubashira Farooqi is in the  frame as an inspiration for junior communicators and especially for women of colour.
Centennial College's Public Relations programs have not only equipped their students for the workplace with practical and experiential learning, but have taught them to value diversity. The students in the graduate certificate program at Centennial College represent such diverse faces because "Centennial goes out of its way to encourage students to enroll from all over the world," Mubasharia explained.
Mubashira has now landed her dream job, one she would describe as "a match made in heaven." She has been recently hired as a communications fellow at FleishmanHillard HighRoad. At FHR, Mubashira combines her passions for communications and DE&I. Here, Mubashira focuses on diversity work and bringing humanity back to the work communicators do. "When you value humanity and authenticity, the work is more meaningful, and you will have better results," she says. 
As Mubashira helps pave the way for women of colour, there is no doubt that the world of Public Relations will know her name.
By Sarah Heiman