Advertising Students Win Gold at the National Advertising Challenge
The National Advertising Challenge is a unique competition where over 200 advertising agencies from across Canada are provided with a brief created by some of the top brands. Starting from scratch, competitors compete with each other to create concepts that answer their brief and then enter their work in the show where it is judged by Creative Directors and Marketing experts. Winners in the student competition receive a paid internship at one of Toronto's premier agencies. The competition is in its 15th year, and there have been over 2.5k entries to date.
We are proud to announce that two of our very own Advertising – Creative & Digital Strategies students, Lindsay Newton and Christina Gregoire, won Gold this year!
Their work, titled Reunite, stemmed from the student brief provided by Simons – a popular fashion retailer in Canada. Lindsay says the retailer wanted to expand its reach from Quebec (where their HQ is located) to the rest of Canada, in order to compete with stores like Hudson's Bay. Lindsay and Christina took on a perspective that Simons cares deeply about – environmentalism. The concept they created involves taking masks used throughout the COVID-19 pandemic to create a "post-pandemic re-entry collection" made from recycled mask fabric donated by Canadians.
Lindsay explains, "The idea behind Reunite came to us surprisingly fast! Sometimes you sit there for hours trying to will an idea into existence. Luckily, in this case, we're both big into sustainability and conservation and had already discussed this reality of millions of masks becoming obsolete at some point in the future and likely being sent to the landfill. When we read this brief, we saw a perfect opportunity to prevent textile waste as well as symbolically reunite people at a time when they'll also be able to reunite physically. After that, we had a week to build our idea out including nailing an insight and developing visuals for the final board. Even then, I kept Christina up until the last minute the night of submission, tweaking and second-guessing things – she loves me for that."
Working on this project involved dedication, organization, and immense talent, as each student brought their expertise within the industry to this project. Lindsay says, "My initial introduction to the industry gave me the impression that creative teams are typically composed of a copywriter and an art director who more-or-less stick to their respective roles. While I lean more towards art director and Chris more towards copywriter, we both love to blur the lines and make everything a total collaboration."
Reflecting on the work put into the project, she says, "I'll start out on visuals, she'll start out writing copy, but by midway, I've written some lines, and she has jumped in on some of the mockups and art direction. We just help each other out where we can. It's a very fluid process and may seem chaotic but it works so well for us! It also definitely helps that we're also just incredibly good friends at this point, so we definitely don't shy away from critiquing each other."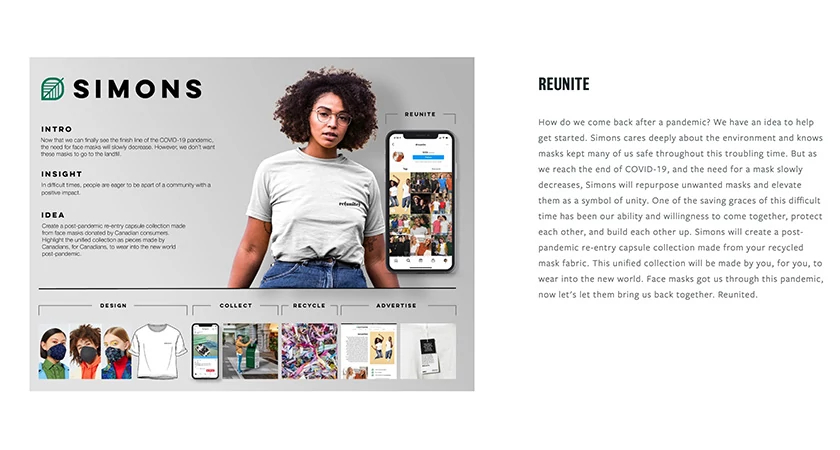 When the winners were announced that Reunite won Gold, Lindsay says, "I think I cried while Chris ridiculed me. Seriously though, I was SO happy. I did my undergraduate degree in Architecture and Human Biology at UofT while Chris did hers in Photography at Sheridan. Switching to careers in advertising was a bit of a last-minute pivot for both of us, so I don't think we'd expected any kind of recognition to happen so quickly! I'm so grateful for Centennial for giving us the tools to succeed, as well as NAC for giving us the platform. This award really gives us the incentive to keep pushing ourselves and our ideas further." 
One of the exciting opportunities, in addition to winning Gold, is the two-month internship winners receive! "We'll be starting our internship at Rethink in the fall. The work that they do is so inspiring, and I'm incredibly excited to experience the culture there and push the limits of my creative process. I still have a lot to learn, so I think what I'm most looking forward to is being challenged and having my work criticized by leaders in the industry," Lindsay explains.  
The experience Lindsay received from her program at Centennial, she says was absolutely instrumental to the success of the Reunited project. "I entered the program already having a creative background, and that helped immensely. It meant I had already worked with some of the software that we were introduced to and knew the basic principles of design. However, the other skills that you learn - the strategy behind campaigns, the key to successful collaboration, how to develop an insight, how to create a persuasive presentation - those are hard skills that I hadn't learned before. The sheer volume of information that was condensed into six months of class was incredible, and I'm endlessly grateful to all the amazing professors that continue to offer their support and expertise even after graduation."
Professor and Program Coordinator Tony Cleave, is immensely proud of the work Lindsay and Christina put in. He shares, "Winning gold in the National Advertising Challenge is an outstanding accomplishment. We are incredibly proud of our two winners, Christina Gregoire and Lindsay Newton. In fact, we are proud of the entire 2021 cohort. It was no easy task completing the demanding Creative & Digital Strategy Program in a pandemic while remotely learning."
He continues, "It is very rewarding to see how these two students worked strategically and creatively to develop a campaign for Simons that was smart and connected to all stakeholders, while winning over the judges. We wish you both great success and adventure in your awarded Rethink gig and beyond. To the moon…"
Congratulations, Lindsay and Christina, on such outstanding work!
Written by: Alexandra Few