Lisbeth De La Cruz | GRAD-preneur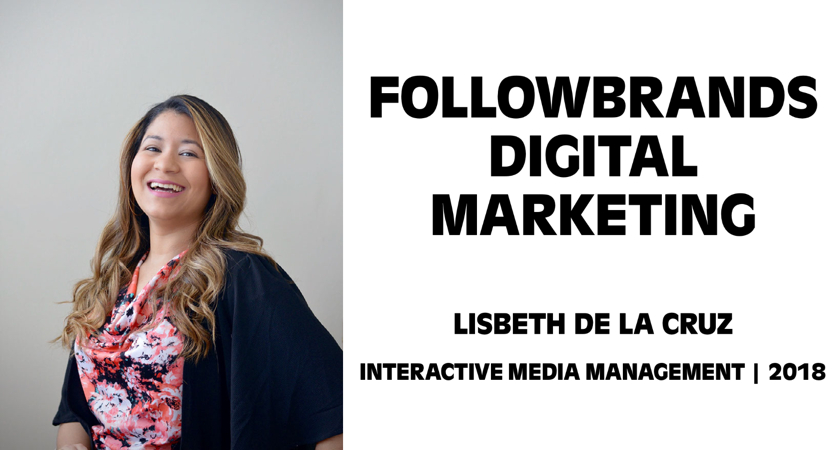 Lisbeth is a 2018 graduate of the Interactive Media Management program. She started her company, Followbrands Digital Marketing, in 2019 and has taken on the role of Digital Marketing Consultant and Partner.
What's the most interesting thing you've done professionally since leaving the School of Communications, Media, Arts and Design?
I've been able to help many businesses reach their business goals using online marketing, which is very fulfilling to me, but I've also enjoyed many projects on starting the digital transformation and creating the online presence for brands.
What's your favourite memory from your time at the school?
I made wonderful connections. I enjoyed connecting with my classmates, which are very bright people I'm still in contact with.
How did your experience at the school shape your entrepreneurial goals?
I remember taking an entrepreneurship class with Sasha Boersma who shared a lot about her own entrepreneurial journey and taught us really important things as how to get support for your business (grants, loans,...), and other things on how to keep the business organized: where do we register to pay our taxes and much more. She was very inspiring and helped us believe we had the capabilities to start anything we wanted.
What advice can you offer students who have entrepreneurial dreams?
You can really do anything you want if you are willing to put in the work. I think sometimes we are waiting for validation or permission before starting a new project, we might get imposter syndrome and feel there's something missing before launching. Let's get over those fears and offer our talents to the world. You might be surprised to see how many people are happy to receive the value you have to offer and pay for it.
What's the best piece of advice you received when starting your business?
Be ready to adapt and make changes along the way.
In one sentence, what does the School of Communications, Media, Arts and Design mean to you?
With every class and every project, it made me realize what I was capable of and how ready I was for the next step.
How did you come up with the idea or concept for your business? 
My business partner and I were working in the corporate world as Marketing Managers, when we realized many small to mid-sized businesses were having a hard time finding a reliable partner for their Marketing needs that wouldn't be as expensive as a large Marketing agency. We decided to join forces and create a small firm with a nimble approach that would fill this gap. We wanted to offer our audience honest advice and execute strategies that would give them tangible results.
What have the results of your business been?
We have been able to help over 12 brands with our nimble approach and results-oriented marketing solutions.
What's next for your business?
Clients really appreciate the way we teach Marketing every time we have a meeting, because we want them to understand what they are doing and why a certain strategy works online, so we'd like to dive deeper into that need and create more online marketing training opportunities for small business owners and entrepreneurs. We'd like to help them understand what's the best strategy based on their business objectives and how they can implement this online.
Find out more about Lisbeth and Followbrands Digital Marketing via their website, as well as on Facebook, LinkedIn, and Instagram.   
--
GRAD-preneur is a weekly series that highlights some of the outstanding School of Communications, Media, Arts and Design graduates who have successfully started their own businesses. This series shares the stories of our graduates and their time at our school, as well as provides valuable advice about being an entrepreneur.