Faculty Member Malcolm Kelly to Publish Aviation War Novel: Sprog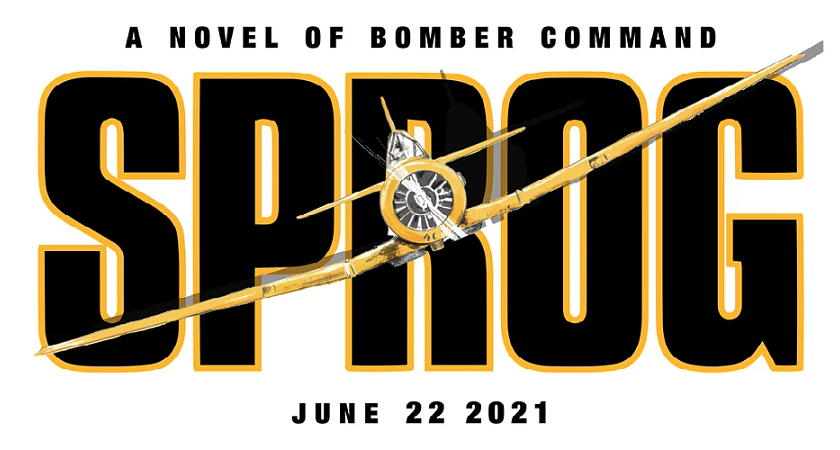 Sports Journalism Program Coordinator and Instructor Malcolm Kelly is set to publish a novel with Centennial College Press titled, Sprog. Acting as the first novel to the series, Sprog follows the story of young pilots in the Second World War as they face the dislocation of leaving home, the challenges of training, and much more. 
Malcolm's interest in writing a historical war novel stems from his military family. His father was in the British army for twenty-five years and was one of the famous survivors of the battle of Calais, while his mother also served in the British Army's Auxiliary Core, the Auxiliary Territorial Service. It is this background and familiarity of the war, in addition to his strong interest in aviation, that helped launch him into writing this novel, which is something he has always wanted to do.
Choosing this genre to write about also came from a lot of conversations Malcolm had with students over the years. He discovered through talking to young people about history, that there was an immense interest in the personal details of those who went off to war, which Malcolm says is unlike his generation where children were often frightened away from asking their parents about war. He says, "I learned that suddenly they were very interested again in what happened, but they weren't interested in terms of the strategy of war or the tactics of a battle, they were interested in a very basic question – what did grandpa/grandma do in the war?" It was the details such as what war felt like for those who served, what they did during the war, when they did it, and how it all worked that really became of interest to the young people Malcolm spoke to.
There was also an immense amount of research that went into writing Sprog, which was especially needed when discussing key details about life during the Second World War. Malcolm says this involved speaking with a lot of veterans that flew in the war, reading a lot of books, looking at old letters, going through old magazines and newspapers - anything that could help him set the scene for his storyline. For instance, one of the main characters in Sprog is from Abilene, Texas, which means that in order to illustrate the character's life with accuracy, Malcolm needed to know minute details, such as what type of alarm clocks were used back then, the time school started, what they were wearing, what was on the floor of a teenager's room back then, what was in the bathroom, what their mom made for breakfast, and so on. "You have to be able to write it in an artistic or creative way that does not bog the story down with unnecessary things," Malcolm explains. It took fourteen years for Malcolm to write the novel, mainly due to working a full-time job and life events that caused some interruptions. However, it was during this time that he was able to do the research that was necessary to get it right, and he says very early feedback has been that they have done well on getting the details right. 
Something that Malcolm wants readers to understand through his novel is that those who went to fight the Second World War were, for the most part, kids. "They were seventeen, eighteen, nineteen, and twenty years old, and they went off to fight this war because they had to," he explains.
"There is a very special house that is near to our campus, just around the South East corner of Pape and Mortimer… which in the 1930s and 1940s was the McIver House. They had two sons who went to East York Collegiate, one of them was Malcolm McIver, who was known as Mac McIver, and the other one was James, who was his younger brother. Mac McIver was well-known at East York Collegiate, was a superior athlete, leader, everything you could think of, and James, based on everything I could find out, was much quieter. They were both killed in the war in the Royal Canadian Air Force; Mac McIver in a training accident after he had already done his first tour of operations, and James very late in the war with just a couple of months to go. When you think about what those parents must've gone through, and you stand in front of that house and you think about Mac McIver and his little brother James jumping on their bikes and peddling down Mortimer Avenue to go to their school, with their innocence and everything they had right in front of them; that's really what [Sprog] is about. It's about those young people and what they went through," he shares.
It is this personal connection that Malcolm wants readers to feel. "If I can get you to understand what those parents went through, then you can understand what the sacrifice really was at a personal level, and I think that's what young people these days are interested in. It's as though those two young men, Mac McIver and his younger brother James McIver, peddled off into the distance and disappeared. When they went off to war, they never came back," he says.
Sprog will be published through Centennial College Press (CCP), as part of their expansion to include new titles this year, with this being their first novel on the list. Jeremy Lucyk, who runs CCP with David Stover, shares, "We weren't really looking to publish fiction beforehand, but it just made all the sense in the world because Malcolm is a big part of the Centennial family. We already had a bit of an existing relationship, and so there wasn't too much of a personal dynamic to overcome. When he started explaining the story to me, I was blown away. He was incredibly passionate about it and had been working on it for thirteen years at that point, and that's really something you're looking for in new authors is how dedicated they are to their ideas and their material. You can be a great writer, but if you don't really care about the end product and you don't care about bringing it to press, that can be really difficult. But anyone who is willing to give it their all and takes such a passionate approach, you can go anywhere with that kind of person."
Jeremy also explains that the subject matter is really interesting, which made selecting Sprog an easy choice. "It's a spin on a genre (historical fiction) that has been around for a long time, but it's a really unique take and a really unique story that ties into local history, and a particular aspect of the war. But to strip it all away, it's really a coming-of-age story. They are teenagers in their early twenties away from home for the first time who are coming to fight for their own various reasons. There are a lot of different layers to it, and it is kind of an editor's dream to work with an author who is as engaged as Malcolm and to get to work on a story that is frankly just good." 
Malcolm has been working away on the second novel to the series, which he is already two-thirds done, and says that the third, fourth, fifth, and sixth books are already in his head. As for Sprog, CCP is expecting its release next month! Stay tuned for updates.
By: Alexandra Few