The Interactive Media Management Program 2021 Virtual Trade Show: Nexus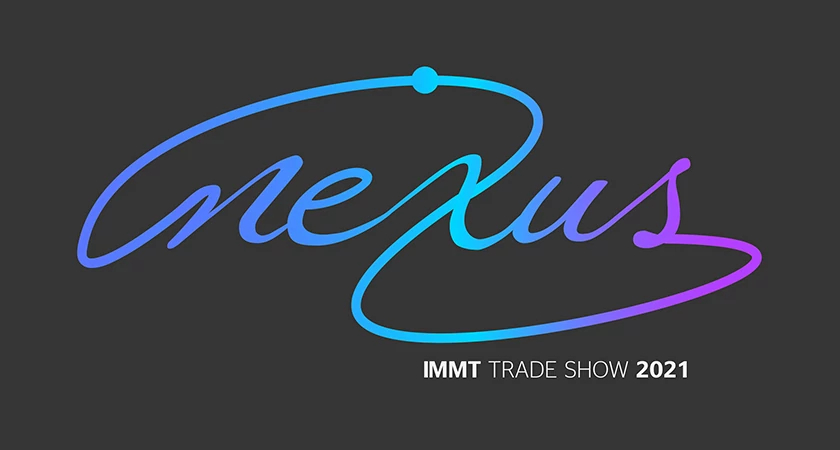 Original. Innovative. Forward-thinking. These are just some of the words to describe the incredible work Interactive Media Management (IMMT) students accomplished for their virtual trade show, Nexus.
For the past several years, the IMMT program has arranged a trade show where students can show off their talents and create incredible digital prototypes for an original product/service. Although the trade show is typically held in person, last year and this year had to be held virtually. However, what has remained consistent throughout the years is the effort and dedication to making incredible interactive designs.  
Pamela Kostur, Program Coordinator and Professor in the IMMT program, came up with the idea of the trade show several years ago when she was extremely impressed by the Senior Projects students completed and wanted to find a way to show their work to a wider audience. From there, the idea of the trade show was born, and Pamela built it into the program's third-semester Career Networking course. It has been part of the program ever since. 
This year, Laura Bunce, Professor in the IMMT program, worked with students to get them ready for the trade show. Not only did she provide her guidance and knowledge within the industry to the students, but Laura herself is a 2017 graduate of the IMMT program and was part of the first-ever trade show the program put together. Being in the students' shoes once before helped contribute to the support she could provide.
Preparing for the Trade Show
As mentioned, the trade show takes place within the third semester of the program for the course, "Career Networking". This is during the final semester for students, and Laura says that the trade show links directly to the assignments in that course. 
As for the preparation, Laura explains, "Everything from the date, timing, how many nights the trade show is hosted for, the graphics, and the write-up for the website is created by students." The name of this year's trade show, Nexus, was also created by students through a brainstorming and voting process. Almost all components of the trade show are accomplished by students, providing a great opportunity for hands-on learning. 
To help students feel comfortable and confident for the trade show, there is a week dedicated within the "Career Networking" course that strictly focuses on the trade show. "We talk about who our attendees might be and what their expectations for the event are, virtual networking, how to set up their digital booth, how to prepare etc. The earlier weeks of the course prepare them in other ways by helping them create their portfolio and writing a story of who they are as a professional."
Below is a glance at some of the topics that students explored.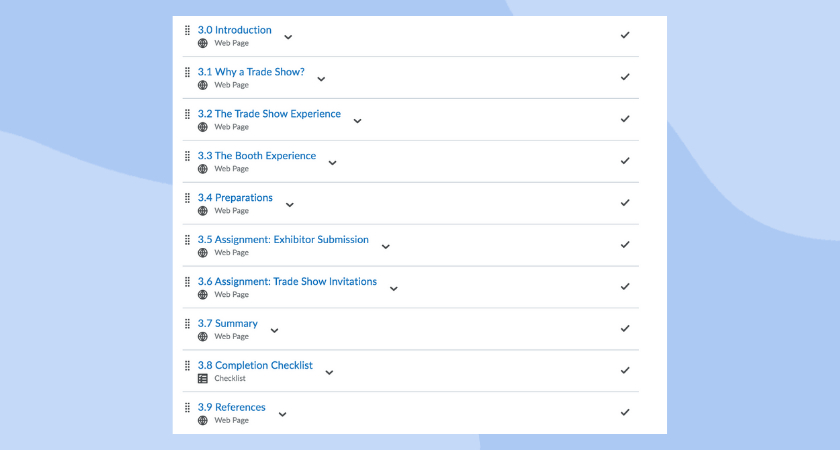 Keeping Things Online
With pandemic restrictions in place, it was the safest choice to keep the trade show virtual this year. However, a virtual setting offered a multitude of benefits to everyone involved. Laura explains, "There is nothing that will replace meeting someone in person, but there are huge benefits to hosting a trade show like this online. You are eliminating the need to be in the physical vicinity of the campus, which means we can have people participate from anywhere globally. You are reducing the time commitment from the participants as well. They no longer need to drive here, park etc. making it easier to attend in between evening activities."
She continues, "One of the challenges is an attendee can no longer physically interact with objects, like screens and paper prototypes. Our students have had to get creative to offer digital interaction instead, luckily, that's exactly what they excel at! The same goes for business cards and takeaways, we've had to reimagine how to connect and leave a lasting impression in the digital space."
The Virtual Stage
The trade show, which was held on October 26th, used an app that specializes in remote events, called the Lobby App. Pamela shares, "A colleague told me about Lobby, which he had used for a group meeting at work, so I checked it out. Really approachable people, mostly intuitive experience, gave me a price that worked, and we now have a relationship with them for our future events. Best of all, they're a Toronto-based company."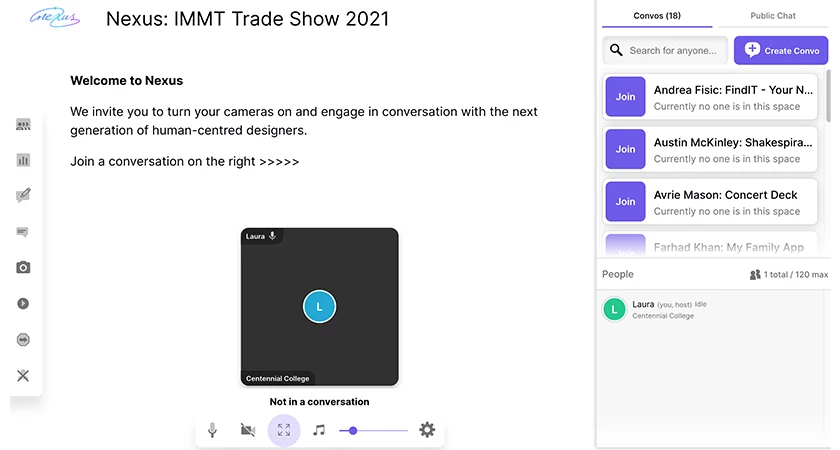 When attendees arrived, Laura explains that they entered a lobby with lo-fi music playing. They then receive instructions on how to engage with the students who each have their own breakout rooms. "Each student has full governance over how they tell their story. We encourage them to have a short explanation of their project and their prototypes ready to showcase. We also emphasize this is a place for conversation and encourage them to get to know the participants and adjust their discussion accordingly."
For future Trade Shows, Pamela says they will likely hold both a physical and virtual version, that students can show their work to a broader audience. 
Congratulations to everyone that come together to pull off such an incredible event!
By: Alexandra Few