Virtual Baking Event Fills Hearts and Stomachs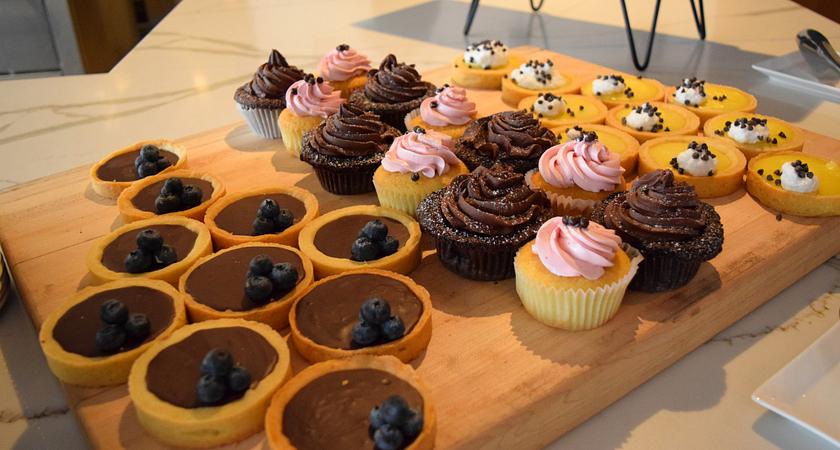 How does one rise to the occasion and help people find a new zest for life…or baking?It's a piece of cake! Or rather, Turkish Pide, a delicious, nutritious and affordable dish.
COVID-19 has heightened the impact of poverty across Canada. Food insecurity is a form and symptom of poverty impacting up to 40 per cent of post-secondary students during their education, according to Meal Exchange. Food insecurity policy research group PROOF asserts food insecurity impacts physical and mental health. It also stresses that COVID-19 is making matters worse.  
Against the odds of COVID-19 constraints, a diverse team of Centennial College Public Relations postgraduate students called AMPED Communications co-ordinated Taste of Turkish, a virtual event designed to lift spirits, build community, provide a learning opportunity and raise awareness of food insecurity in Canada. They accomplished all of this, including a livestreamed baking demonstration, with zero budget.
The evening was served up as part of their Project and Event Management course. It was filled with fun facts, music, live and pre-recorded baking demonstrations, and dynamic discussion. 
The event spanned two Centennial schools and was watched live by 720 people across Zoom, Facebook and Instagram. The demonstration is still gaining views on Facebook. 
Taste of Turkish was designed to provide a platform for students in Centennial's School of Hospitality, Tourism and Culinary Arts to demonstrate their course work and build their portfolios. 
Two culinary students, Poopak Hakkak and Luana Pranstete Fabricio, under the guidance of Centennial professor, Chef Matthew Duffy, skillfully demonstrated the creation of the Turkish flatbread, Pide. They spread the fillings across the pastries before gently forming them into the signature oblong boat-like shape. You could practically taste the savory lamb or squash toppings, and hear the crunch of the perfectly browned crusts. 
"Food has universal appeal," said Daisy Johanna Uy, communications specialist for AMPED. Their team wanted to inspire viewers to make a dish using simple ingredients while exposing them to a new culture and the joy of baking. 
Just over 30 per cent of participants baked alongside the presentation. The recipe was selected based on access to ingredients, and allows for people to make adjustments with what they have available. This is important, considering many students experience food insecurity and have limited access or options for food.
The event also benefited Daily Bread Food Bank, encouraging donations to help those experiencing food insecurity across Ontario and Canada. Food insecurity is experienced in a variety of ways, including limited access to food, experiencing worry about running out of food or missing meals entirely because of inability to afford them. Based on a survey conducted by Statistics Canada in May 2020, one in seven Canadians reported being food insecure. Daily Bread reported Toronto food banks saw a 5.4 per cent increase in visits from last year. 
Before COVID-19, many Centennial College students experienced food insecurity. In 2020, Centennial started the Student Emergency Fund to help students receive financial support for basic necessities during the pandemic.
COVID-19 intensified issues and added new stressors to student life. Disrupted incomes, isolation, loneliness and the stress of new online learning environments adds to boiling anxieties. 
Food insecurity is a "serious public health issue," according to PROOF. And, considering the current pandemic, health is on everyone's mind. Health Canada says choosing vegetables, fruits, whole grains and proteins are key to a healthy lifestyle. It has recipe recommendations to help make healthy food choices. It also recommends substituting non-perishable items in recipes to save money. 
Taste of Turkish showed that preparing a lavish and scrumptious meal can be inexpensive and not as hard as you might think. Daisy said AMPED wanted everyone to understand that "baking is doable." 
The virtual event provided students hungry for social connection with an opportunity to come together and learn a new skill. Preparing a unique dish is an affordable and fun activity. Sometimes, all you need is a bit of salt, sugar, yeast, water and flour.  
By Rebecca Moe